Table of Contents: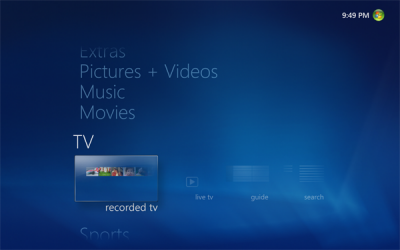 According to Microsoft, "very few" customers use Windows Media Center. In a Windows Team Blog post, Windows Division President Steven Sinofsky noted that in a particular month, Media Center was launched by only 6% of Windows 7 users globally. From there, he goes on to further reduce it by noting a quarter of those where only "looking around" or used it for less than 10 minutes, while a large number from there showed no activity at all. 
In reality, you should take those numbers with a grain of salt. I find it difficult to see how they can draw broad conclusions based on opt-in usage data, at least without disclosing the cross-section of users who actually opt in to that program (I checked 7 PCs in my house and none were opted in).
Before we dive into specifics, it's important to look at what ultimately held Windows Media Center (and HTPCs in general) back from broad usage. The way I see it, there are four things that led to such little adoption of HTPCs:
Poor Form Factors at retail - Microsoft's initial vision of Windows Media Center was to have OEM partners like HP and dell build home theater PCs shaped and styled to seamlessly blend in with other video components. In fact, Microsoft was so confident OEMs would deliver, another large mistake was making Media Center distribution exclusive to MSDN subs and OEMs. Naturally, some of the first HTPCs built and sold by OEMs were large towers that had no place in the living room.
TV Connection Woes - 2004 was a rough time to introduce PCs to TVs. PC friendly flat panel TVs and HDMI hadn't taken over in the market, and a great deal of early adopters (like those who would go for an HTPC off the bat) were rocking HD-Ready and Analog CRT TVs. Composite video and S-Video outputs typically worked fine, but video card manufacturers didn't get HD component video very reliable until much later.
Poor Satellite and Digital Cable Support - Even to this day, those served by satellite will discover a less than ideal experience using an HTPC. CableCARD support for digital cable services were exclusively available to OEMs until just a year or two ago.
Feature Stagnation - Microsoft has clearly been disappointed with the adoption rate of HTPCs. While Media Center has gotten upgrades between major Windows releases, they haven't done enough to keep it up to date with how people enjoy their media, like file support for MKV and ISO mounting, nor offering integrated experiences for streaming services from third parties (except Netflix). Fortunately, HTPC users can use other solutions for these needs, but it's affected how users perceive the value of Media Center itself.
Pages