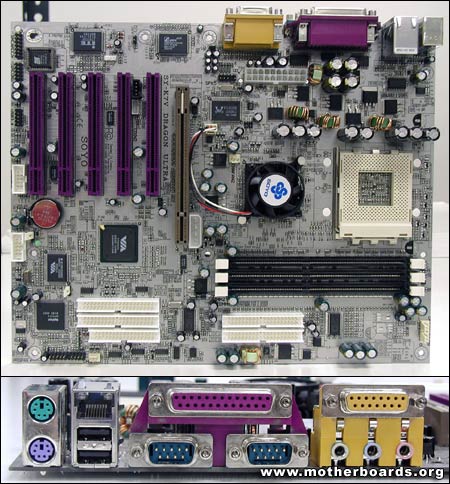 SOYO KT333 DRAGON ULTRA PLATINUM Features
Board Revision
1.0
BIOS Version
26/04/2002 K7VXBP-2AA1
Default Clock Speed (MHz)
1666
North Bridge
VIA VT8367
South Bridge
VIA VT8233A
Number of PCI slots
5
Memory type
DDR200/266/333
Number of memory slots
3
Maximum Memory (GB)
3
Universal AGP support *
N/A
AGP Pro Support
YES
Number of Physical USB 1.1 ports **
2
Number of Physical USB 2.0 ports **
2
Active Cooling on Chipset
YES
Adjustable AGP Voltage
YES
Adjustable Memory voltage
YES
Southbridge UDMA 133 Support
YES
IDE or RAID Controller other than Southbridge
Highpoint HPT372 UDMA133 RAID
Auto speed-down/shutdown on fan failure
YES
Auto speed-down/shutdown on heat alarm
N/A
On-board Sound
Cmedia CMI8738 6 Channels
On-board LAN
Realtek RTL8100B
* Voltage and Physical support for previous generation of AGP
** Not just pin headers onboard
This is a complete package. The 5 PCI Slots are more than enough for this board. If you are not a broadband addict, you may add a modem. If you are a video enthusiast you may add Firewire or a capture card. Other than that you are all set. The only thing I did not like is PCI Slots color. You can tell that I am picky, but purple slots on a platinum motherboard? The motherboard's color is cool. If you install it into a glass sided case with neon lighting it should be something to see.
You can add 3 GB's of DDR333 memory, and it may not be a registered type. KT333 with UDMA133 Southbridge support and Highpoint 372 UDMA 133 Raid will increase your ATA Device options. You may add 8 ATA devices or 4 ATA Devices on Master mode for uninterrupted data flow. Stripe/mirror drives or both according to your security or speed needs.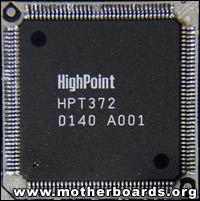 We want a lot of USB ports. Four USB ports is our minimum limit for a motherboard. It is possible to utilize 8 ports for this motherboard, but the actual physical ports number 4. Two of them are in the backplane and two on the bay drive included in the package. The bay drive ports supports USB 2.0 with the VIA VT6202 chip on-board.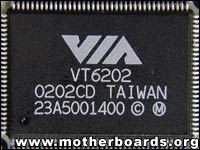 The Bay One drive will save money for most digital camera users. You can fit this drive into a 3 ½ Drive Bay or 5 ¼ Drive Bay using the rack adapter supplied in the package. On this drive there is one Smart Media and Compact Flash reader and 2 USB 2.0 ports. Most of the digital cameras include Smart Media or Compact Flash Memory for photo storage. Even if you have a camera with a USB connection, it is always easier to use Smart Media or a Compact Flash Reader to play with the contents using Windows Explorer. I play with photos a lot for our site and for magazines. I had to buy two of the readers for my house and my workplace. It is possible to carry data with this media too. For Smart Media you may go up to 128 MB and for Compact Flash you may go up to 1 GB of removable storage. It is definitely better, safer, and faster than zip drives. Memory is cheap too.

All of the top motherboards come with network chips integrated. Ethernet has become an essential device. Either you have to get hooked up to a network or you need a broadband internet connection. The Realtek RTL 8100B chip provides 10/100 MBit network connection.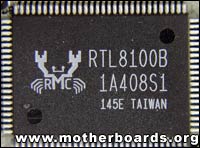 Manufacturers are adding 6 channel on-board audio these days. The sound chip on this board, which is Cmedia CMI8738, is slightly better than the AC97 solution when compared to other motherboards. There was a single CD-IN and one Digital CD-IN header on the motherboard.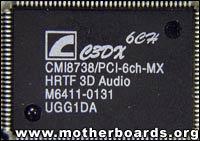 There is an additional audio bracket that comes with the motherboard, the bracket, manual, and Bonus CD Software were not included with our sample. They even had to ship us a retail version of their BIOS chip to make it work. We know their bonus pack already and we downloaded their manual. We just have this photo of the additional bracket.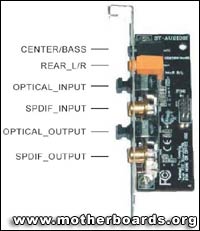 It has optical and RCA type digital in and out ports. If you will use 6 channels by analog connections, in addition to the motherboard backplane outputs, there are bass/center and rear minijack outputs on this bracket.
Starting with WOL and Keyboard Power on there are a lot of good features other than integrated chip features. We couldn't try the bonus cd as we stated before but I know that there is Norton Ghost and Norton Antivirus in it. This board totaled 41 points which surpasses our perfect 40 points features score. What else can we say?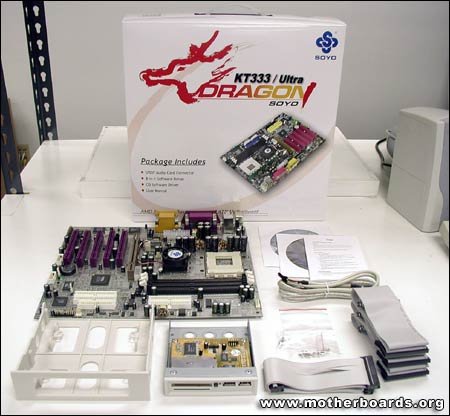 Package Contents:
SOYO KT333 Dragon Ultra Platinum
Bay One Drive
Bay One CD
Driver CD
Audio Connector Card (*)
Bonus Software (*)
User's Manual (*)
FDD cable
3 x ATA 66/100/133 cable
* - Not included in our engineering sample - Retail package includes those items.