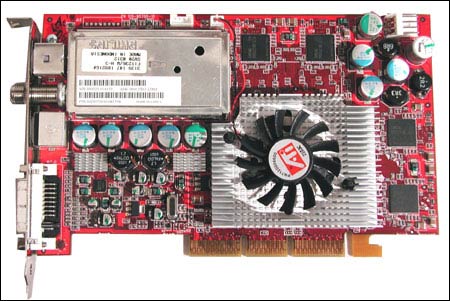 | | |
| --- | --- |
| Hardware Features | |
| Brand | ATI |
| Model | All In Wonder RADEON 9800 Pro |
| Graphics Chip | R350 |
| Graphics Memory Type | DDR |
| Memory (MB) | 128 |
| Graphics Core Clock (MHz) | 380 |
| Memory Clock (MHz) | 340 (680 DDR) |
| Memory Speed (ns) | 2.8 |
| RAMDAC Frequency | 400 |
| Active cooling on Graphics Chip | Yes |
| Heatsink on Memory | No |
| Video Capture | Yes |
| System Health Monitoring | No |
| Ports | |
| Dual Monitor Support | No |
| VGA Out Ports | VGA |
| Video In and Out Ports | S Video Out, CATV |
| Package and Support | |
| Printed Manual | Yes |
| Driver CD | Yes |
| Performance Tool Software | Yes |
| Major Games | No |
| Major Software | Pinnacle Studio 8, Matchware Mediator 7, Morrowind, muvee AutoProducer |
| VR Glasses | No |
| DVD Player Software | ATI DVD Player |
| Video Recording Software | ATI MMC 8.5 |
ATI really knows how to design a PCB (Printed Circuit Board). Unlike their main competitor, NVIDIA, ATI fit a top of the line RADEON 9800 Pro, a cooling solution, 128MB of memory, and a TV Tuner among other things, on a card not much longer than the AGP slot on the motherboard and taking up only one slot. NVIDIA's GEFORCE FX 5800 and 5900 Ultra, on the other hand, take up 2 slots on the motherboard (the AGP and 1 PCI slot) and are much longer. Further, NVIDIA's cooling system covers much more real estate on the 5900 Ultra, while the 9800 Pro's cooling solution only covers the VPU and has a much smaller footprint.
The AIW 9800 Pro comes with 8 16MB memory chips 4 on the front of the PCB and 4 on the backside. Each chip is rated for 2.86ns memory. The 9800 Pro's core clock speed is 380 MHz, which is quite a step up from the 325 MHz on the RADEON 9700 Pro. The memory is rated for 340 MHz. With a 256 bit memory bus, this gives a theoretical memory bandwidth of 21.8 GB/second (340 MHzx2x256bit/8= 21.8 GB/second). By way of comparison, the RADEON originally had a raw memory bandwidth of 5.9 GB/second, the 8500 a bandwidth of 8.8 GB/second, and the 9700 Pro a memory bandwidth of 19.8 GB/second.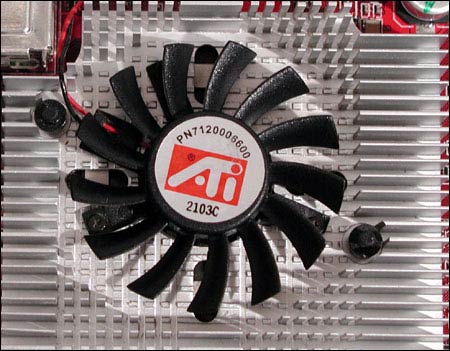 The cooling system on the AIW 9800 Pro resembles the cooling on the standard 9800 Pro. A 13 fin fan covers the core of the RADEON 9800 Pro VPU (Visual Processing Unit). Surrounding the fan is a heatsink that covers a basically 2 inch by 3 inch area. The difference between this and the cooling on the RADEON 9800 Pro is a notch for the TV tuner on the heat sink. The cooling of the 9800 Pro doesn't make a lot of noise. In fact, I found the noise level to be the exact same as the cooling system on the RADEON 9700 Pro in testing.
The AIW RADEON 9800 Pro requires an external power connector to operate. Without the floppy connector connected, the system won't boot up. It'll make an annoying noise and a red warning will appear on the monitor screen saying "the power supply is not connected to the video card." The AIW 9800 Pro's external power connector goes back to the floppy drive connector from the 9700 Pro seriies, instead of the Molex connector on the RADEON 9800 Pro. Attached to this floppy connector is a Molex connector for attachment to the power supply.

The AIW 9800 Pro comes with several connectors on the front of the AGP cover. The available connectors are a DVI-I connector, a Video-In connector, a Video-Out connector and the Cable connector for the attachment of the TV source. I would have loved to have seen ATI include a 15-pin VGA connector, however there isn't any space on the front of the AGP cover for another connector. Would it have made sense to include a 15-pin VGA connector on a taller card? Or another slot perhaps? The answer, is no. This limits the ability of the user to use dual monitors to VGA or DVI-I and TV.
Features
SmartShader 2.1
Pixel Shader 2.0- up to 160 pixel shader instructions in a rendering pass
Vertex Shader 2.0-up to 1024 Vertex Shader instructions in a pass
F-Buffer- Virtually unlimited pixel shader instructions in OpenGL 2.0
SmoothVision 2.1- up to 6x MultiSample Antialiasing
HyperZ III+- improved memory cache
380MHz core/340 MHz DDR memory (I never double DDR memory clocks)
256-bit memory bandwidth bus
8 pixel pipelines
4 geometry pipelines
380 million transformed and lit triangles theoretical
up to 6x Multisample Antialiasing and 16x Anisotropic Filtering
125 Channel Cable ready TV Tuner
EazyLOOK
TV-ON-DEMAND
Home Theater
Component Output Support
Easy Digital and Analog Video Editing
RF Remote Wonder
It's not my intention to repeat the features description of the RADEON 9800 Pro here. For a detailed look at the features of the RADEON 9800 Pro you can read my earlier 9800 Pro review by clicking here . The features of the AIW 9800 Pro are identical, with the addition of the AIW feature set. The 9800 Pro is based upon ATI's R350 chip which is the refresh of their wildly popular R300 released last year.
The differences between the RADEON 9800 Pro VPU and RADEON 9700 Pro VPU are mainly in the clock speed and the slightly increased memory clock speed. Improvements were made to shadows and the addition of the F-Buffer; however it's unlikely to make much of a difference in today's games. Once Doom3 comes out, the improved shadowing will likely come into play. For more details on F-Buffer click this link .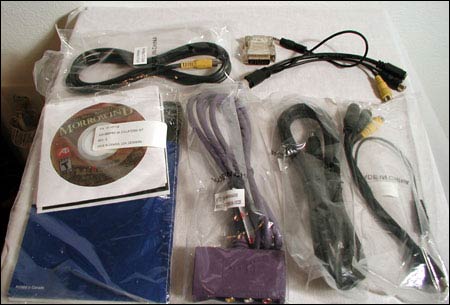 Bundle
AIW 9800 Pro VPU
Remote Wonder with 4 AAA batteries
ATI Catalyst CD
Morrowind
Matchware Mediator 7.0
Pinnacle Studio 8.0
muvee AutoProducer
Molex to floppy power splitter
DVI-to-VGA connector
S-VHS/Composite and Stereo Audio (RCA) input breakout box
S-VHS/Composite and Stereo Audio (Mini-Jack)/SPDIF output
RGB and Stereo Audio (Mini-Jack)/ SPDIF output
Composite Extension Lead
YPrPb component adapter
ATI has traditionally given an excellent bundle with each of their AIW products. The AIW RADEON 9800 Pro continues this tradition. ATI updated the drivers CD for the AIW 9700 Pro with one for the AIW 9800 Pro, added muvee's Auto Producer and included the same bundle otherwise as that of the AIW 9700 Pro. I think the AIW 9700 bundle is more than sufficient, as video card manufacturers today tend to neglect the bundled stuff with the card. I miss the days when a manufacturer such as Diamond MultiMedia would include 20 games and bundles with their cards. Of course, in those times, video cards were far less useful than today's cards. Also cards tended to be more expensive (4MB Voodoo for $299 anyone?)
While I consider ATI's bundle to be exemplary, I also feel that it's necessary to discuss the new items in the bundle. The drivers CD included with the AIW 9800 has drivers based upon Catalyst 3.5. ATI recently released 3.6, but as that release is mostly for bugfixess, I decided to use the 3.5 drivers for this review.
Muvee AutoProducer is an easy to use video editing program. Their website can be found by clicking this link. This program allows you to take Digital Video content from a camcorder or other video file (such as MPEG-1, 2 etc), add music and make a fun edited presentation out of it. For purposes of this review I took a recorded TV program, chose Fifties TV style and within 3 minutes had a edited video with cool added special effects. This style changed the color TV program into a black and white muvee that looked like it was made in the 1950s. Other styles include: Acid (psychedelic lava lamp colors), Chaplinesque (a video that looks like it came from the silent era of filmmaking) and many more.