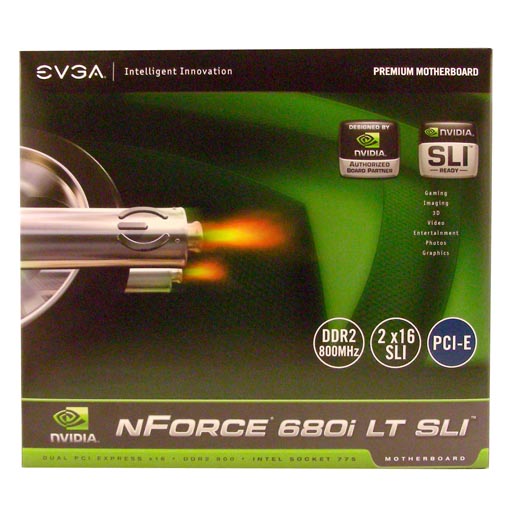 EVGA has been a partner of NVIDIA since their humble beginnings and the relationship is only getting stronger as we delve into 2007. Traditionally VGA houses stuck with VGA products solely as their main bread and butter, but things have been changing as NVIDIA starts to dominate the motherboard chipset market in addition to their overwhelming control on VGA chipsets. NVIDIA also has strict control over who makes their boards and with EVGA as a strong partner it's no wonder they were the first VGA house to start making boards with the made by NVIDIA moniker. Andrew Han the man on top at EVGA wants to take this a step even further by being involved in the developmental stages of NVIDIA's latest motherboard ventures. Andrew is a hands-on sort of guy and likes to get involved in every aspect of his products in an effort to stay ahead of the competition.
EVGA has been making motherboards for the past 18 months working hand in hand with the people who bring these motherboards to light, and this is a very good thing as it makes EVGA have a better standing knowledge to the technology going into the design and layout of these new boards. NVIDIA's keys to success keep growing and they have evolved and matured as a company since their early days. SLI has become a household name to the PC enthusiast and even though 3DFX actually introduced the concept years ago, NVIDIA has taken major strides to make this technology a mainstay of their VGA platform and they have succeeded immensely.
Motherboards based on the various NVIDIA chipsets will be brought to market by many of the big name manufactures, but for the first time ever other VGA houses such as XFX will be bringing boards to the table as well. Take this into consideration before you buy though, EVGA has more experience in this field than any of the other VGA houses involved and Andrew Han used to own EpoX back when they were in full swing. Knowing what you are doing is very important in this business and RMA and support for motherboards is a totally different thing than VGA cards. In this light EVGA has built up a strong support system for the end-user that is ahead of many others in this industry. Today we will be taking a look at the new 680i SLI LT chipset based motherboard from EVGA; it has the makings for a very good board at its sub $200.00 price range, but is it really all that? Let's dive in and see for ourselves what this new chipset and motherboard are all about and then make a decision.