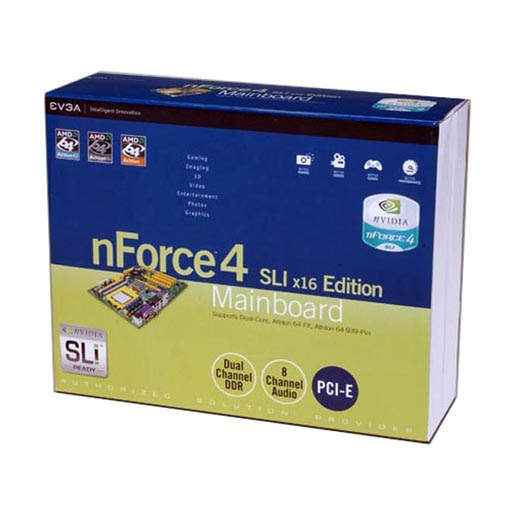 EVGA is best known as a kick-ass video card manufacturer of NVIDIA based video cards. They are best known for their kick-ass support of video cards in terms of Lifetime Warranty, Toll-Free technical support 24/7, and their Step-Up Program. Today EVGA also sells motherboards, video card accessories and has branched out into other computer accessories.
NVIDIA has manufactured motherboard chipsets since the launch of the nForce chipset in 2001. They really got into the enthusiast market with the nForce2, with it being the most feature-rich, fastest AMD platform. The nForce3 was introduced with the AMD Athlon 64 platform. NVIDIA launched the nForce4 in 2004. The main focus of NVIDIA chipsets have been the AMD platform and that showed with the launch of the nForce 4 SLI platform in late 2004.
On the Intel side, NVIDIA has been quiet mainly because they wanted to focus on the AMD platform. Today, NVIDIA supplies most of the high-end motherboards on the AMD platform. They launched the nForce 590 chipset two months ago to coincide with the AMD Socket AM2 launch. Shortly after the launch of the Intel Core 2 series AMD announced a merger with ATI Technologies. How that will play out will be interesting. Today I'm reviewing the EVGA nForce SLI X16 board for the AMD platform the 123-K8-NF47-AX.