Setup went smoothly. After my normal minimal boot test (CPU, onboard video, memory to see if it would POST) I installed the drives that make up the test system and installed Windows. Stability testing went without issue and no errors were found. The included Quick Start Guide was missing some details on the motherboard. Normally, the LAN controller is listed in the manual, but I had to look for the name of the LAN controller on the installation CD to find it out.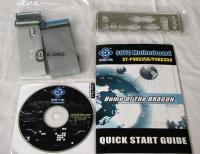 The layout of the SY-P4RS350 is the standard Micro-ATX format. The location of the power supply connector is the bottom half of the motherboard right next to the PATA connectors. The correct location is near the top of the board near where the 4 pin connector is. One nice thing about the SOYO board is the manufacturer included a tab to easily remove the JP5 Clear CMOS jumper when you need to.
SOYO includes a very minimal bundle with the board. The SY-P4RS350 came bundled with the driver CD, the motherboard, the manual one floppy and one HDD cable, and the back plate. It would have been nice to see a USB cable to increase the included USB ports to at least 4, but this isn't included in the package. Another item that is missing is a 2nd PATA cable.
Software wise, Soyo included their standard Value Pack software bundle. The programs include DPU which is a drive restoration program, ProMagic, which is a System Restore Program, Data Processing Utility which is a instant file restoration program and Panda Platinum Anti Virus Software 30 day trial. These are very useful to some people who need to back up their system regularly.