Soyo SY-P4RS350
† Voltage and Physical support for previous generation of AGP
‡ Not just pin headers onboard

Board Revision
unknown
BIOS Version
080010
Default Clock Speed (MHz)
3193
North Bridge
RADEON 9100 IGP
South Bridge
IXP150
Number of PCI slots
3
Memory type
DDR266/333/400
Number of memory slots
4
Maximum Memory (GB)
4
Universal AGP support †
No
AGP Pro Support
No
Number of Physical USB 1.1 ports ‡
0
Number of Physical USB 2.0 ports ‡
2
Active Cooling on Chipset
No
Adjustable AGP Voltage
Yes
Adjustable Memory Voltage
Yes
Southbridge UDMA 133 Support
No
IDE or RAID Controller other than Southbridge
No
Auto speed-down/shutdown on fan failure
No
Auto speed-down/shutdown on heat alarm
No
On-board Sound
C-Media CMI9761A
On-board LAN
VIA Gigabit LAN 10/100/1000
SOYO's board is a Micro-ATX board. This differs from the standard ATX motherboard in being designed for small cases instead of the standard ATX cases found in most computer systems today. I like the Micro-ATX form factor as I don't need a lot of extraneous stuff when it is integrated into the motherboard itself, such as LAN and audio. Also I'm a big fan of small computers as seen by my use of the ST62K Zen XPC when I'm not playing games.
The motherboard comes with a Socket 478 interface. This takes almost all of the current Pentium 4 CPUs including the 3.4E Prescott and Extreme Edition CPUs. Of course with the release of Socket 775 915 and 925 chipsets the 478 platform is near EOL (End Of Life). A P4 on the Socket 478 is still a viable computer, however, as the difference in performance is minimal going from the 478 to 775. Memory support on the board is provided by 4 DIMM slots giving a maximum of 4 GB of memory, the most that the chipset supports.
Expandability on this motherboard is limited as it is with all Micro-ATX boards. There are 3 PCI 32-bit slots which you can add a HDTV tuner or a proper sound card like an Audigy 2 ZS if you want it. Of course with integrated LAN and sound on-board it makes 3 slots a lot easier to swallow. 2 IDE ports are fitted on the board for hard disk drives and CD-ROM drives if you need them. Unfortunately, SOYO didn't include any SATA drives which are more and more prevalent in today's computers.

I/O Back Panel
The back panel of the motherboard has a RJ45 jack for the integrated LAN. The chip is provided by a VIA Gigabit Ethernet chip that is on the board. As the IXP150 only supports 10/100 Ethernet this is a definite improvement. There are 2 USB 2.0 ports onboard with headers for 4 more for the 6 that the chipset supports. No USB cables are present in the motherboard bundle. Other i/o ports on the back of the motherboard include a PS/2 mouse/keyboard, S-Video port, RCA port, COM1 port, VGA port, Parallel port, and 3 jacks for the onboard sound.
On-board sound is provided by a C-Media CMI9761A CODEC. The CODEC provides native support for 5.1 surround sound. Integrated sound on modern motherboards is up to 8.1 at the moment, but for the target market of the SOYO motherboard is more than sufficient. API support is provided for DirectSound, Creative EAX 1.0/2.0, Sensaura CRL3D, Xear 3D. Personally, I prefer using a Creative Labs Audigy 2 ZS add-in card but for integrated sound it is fine.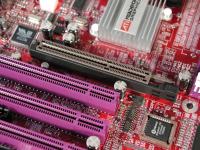 VIA LAN Controller