Intel first introduced the i875 chipset over a year ago to complement their Pentium 4 CPUs and the introduction of the 800 MHz FSB. Shortly thereafter they introduced the i865 chipset forming a hi-mid range for motherboard chipsets that still exists today at least for the short term. I mention this because they just released a whole new motherboard platform that will introduce many new features including PCI-Express, Socket LGA-775, DDR2 and high definition Audio (Azalia). This is literally just around the corner so if you're intending to buy a high-end computer today, it would be best to wait a bit.
Soyo has been around making computer equipment since 1985. That's a long time in computer terms. Back then the IBM PC was just introduced 4 years prior. Personal computers in 1985 had no hard disk drive or CD-ROM drive. Microsoft's Windows operating system wasn't even introduced until 1985. Anyway, this information is meant to give a sense of history as to how long Soyo has been around.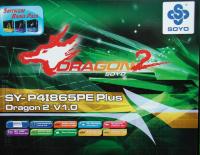 Soyo manufactures motherboards based upon many different chipsets from virtually every chipset manufacturer. They've done boards on chipsets from Intel, NVIDIA, ATI, ALI, Via and others making their line-up fit for every need. They first announced the SY-P4I865PE Plus Dragon 2 last year and the board I'm reviewing here is the "Second Edition" of that motherboard.