ASUS A8V Deluze WiFi
† Voltage and Physical support for previous generation of AGP
‡ Not just pin headers onboard

Board Revision
1.02
BIOS Version
1003
Default Clock Speed (MHz)
2415.0
North Bridge
K8T800 Pro
South Bridge
VT8237
Number of PCI slots
5
Memory type
DDR266/333/400
Number of memory slots
4
Maximum Memory (GB)
4
Universal AGP support †
No
AGP Pro Support
No
Number of Physical USB 1.1 ports ‡
0
Number of Physical USB 2.0 ports ‡
8
Active Cooling on Chipset
No
Adjustable AGP Voltage
Yes
Adjustable Memory Voltage
Yes
Southbridge UDMA 133 Support
VIA VT8237
IDE or RAID Controller other than Southbridge
Promise 20378 RAID controller
Auto speed-down/shutdown on fan failure
No
Auto speed-down/shutdown on heat alarm
3COM Marvell Gigabit LAN/ WiFi Wireless LAN
On-board Sound
Realtek ALC850 8-Channel Audio Codec
On-board LAN
Realtek 8139 10/100 LAN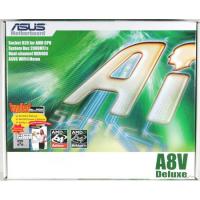 The ASUS A8V-Deluxe is one of the first motherboards to hit market for AMD's new socket 939 platform, and it comes loaded with all the bells and whistles needed to satiate the minds of the enthusiast crowd. Built around VIA technologies K8T800 Pro and the SB VIA VT8237 chipsets the board sizes in at 12"x 9.6"(30.5cm x 24.5cm) in the standard ATX Form Factor and will fit most mid tower or larger enclosures. The board comes with its own removable rear I/O shield that comes in the retail box; this is needed to fit your board correctly in your enclosure. Featuring dual-channel memory support and utilizing un-buffered DIMMs the board can accommodate up to 4GB of PC3200 DDR SDRAM via the boards 4 DIMM slots. Making the change to using un-buffered non-ECC memory in lieu of only buffered ECC memory should help alleviate high CAS latency times, and help speed up the systems overall performance.
Generally speaking the board's layout is adequate, but there are a few things that bug me about it. Let's take a look at the locations of the power connectors for instance; the main power connection is by the main IDE controllers while the 12V AGP power connector is located at the back of the case, why? The proper location would be to have both connectors in the same location on the board without crossing over the CPU. Oh, and can we move the memory slots away from the VGA slot now. After all we have only been complaining about that for years now. I guess the engineers just do things to make us complain, possibly in an effort to drive us users insane is all I can deduce, go figure. At least the RAID controllers are all centrally located, but the floppy controller located right dab between them is not optimal and would have been better if it was put either on one side or the other.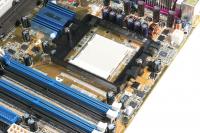 Support for your internal devices is quite thorough and will please all walks of users. RAID support comes in two different forms for both your IDE and SATA chains. The VIA K8T800 Pro South Bridge provides dual SATA/PATA controllers, the PATA connections function in the Ultra DMA ATA133/100/66/33 modes and the SATA controllers offer RAID 0, RAID 1, and JBOD functionality. The Promise 20378 RAID controller offers RAID functionality for both its dual SATA connections and single PATA connection. The SATA/PATA controllers functions in the RAID 0, RAID 1, and RAID 0+1, including Multiple RAID environments. The Promise PATA controller does not support any devices other than hard drives so CD-ROMs or zip drives will not be detected by the controller. All in all you get connections for up to eight SATA drives and up to six IDE devices with the A8V Deluxe, which is not bad at all.
It seems everyone has been in the lab putting their nose to the grindstone in an effort to change the way we hear audio from our PC, and Realtek is no exception bringing their ALC850 chipset to the embedded market. Featuring 8-channel audio support the A8V Deluxe has more than enough input and output jacks than most users will ever need, including both the digital SPDIF/ Coaxial connections for true digital clarity. The on-board audio also supports the 7.1 surround-sound environment for enjoying the latest DVD titles. The AI Audio function automatically detects and identifies what types of peripherals are plugged into the audio I/O jacks and notifies users of inappropriate connections and where to properly connect them. Audio on the PC is getting better and better with each new generation and will soon completely rival that of consumer level electronics in SNR (Signal To Noise Ratio) quality and DB (Decibel) output.
Having a Wi-Fi option is a great thing as it opens up the way for you to have a home wireless Network environment Supporting WiFi@HOME, a unique feature found only on ASUS motherboards, users can easily establish an 802.11g wireless LAN through a user-friendly, one-touch set up wizard. The new 802.11g standard can achieve transfer rates of up to 54Mbps nearly 5 times as fast as the previous 802.11b standard. The KV8 also supports Gigabit LAN by integrating the 3-COM Marvell controller, The Marvell controller comes equipped with a unique net-diagnosing utility- VCT (Virtual Cable Tester). The controller can intelligently detect your cables net connection status up to 100 meters from a remote location and reports the distance of bad cable to the user. This can be a very cool feature that can save you a lot of time, especially if you have a short in your cable and need to easily locate it in order to fix it.

The rear panel I/O has a multitude of connections; there are the standard PS2, Parallel, com port and sound ports including the digital SPDIF/Coaxial connections in addition to four USB 2.0 ports a RJ45 LAN port and an IEEE1394 port. The board supports another four USB 2.0 ports and an additional IIEE1394 connector, both which connect to headers located on the board via cables that when used each blocks a PCI slot. Overclocking and system control options are available within the BIOS which we will discuss later in the review. The board comes with a solid package that includes all the necessary cables, I/O shield, Driver CD, Win DVD, the users manual/WiFi Guide, one IEEE1394 cable, one 2X USB 2.0/Midi port cable and the WiFi card and receiver. The board has the mother load when it comes to features and the K8V has an essentially ergonomic design when you get past its few drawbacks, but can it perform?, lets take a look and see.