MSI KV8-MAX3
† Voltage and Physical support for previous generation of AGP
‡ Not just pin headers onboard

Board Revision
1.0
BIOS Version
Default Clock Speed (MHz)
2009.8
North Bridge
NF3 250GB
South Bridge
None
Number of PCI slots
5
Memory type
DDR266/333/400
Number of memory slots
3
Maximum Memory (GB)
3
Universal AGP support †
No
AGP Pro Support
No
Number of Physical USB 1.1 ports ‡
0
Number of Physical USB 2.0 ports ‡
6
Active Cooling on Chipset
No
Adjustable AGP Voltage
Yes
Adjustable Memory Voltage
Yes
Southbridge UDMA 133 Support
No
IDE or RAID Controller other than Southbridge
No
Auto speed-down/shutdown on fan failure
No
Auto speed-down/shutdown on heat alarm
No
On-board Sound
Realtek ALC850 7.1 AC97 2.3 Codec
On-board LAN
NF3 Gigabit LAN Auto-Sensing
What we have here in the form of the new MSI K8N-NEO is the first PCB to use the new NF3 250Gb chipset and that means we are in for a few updated hardware modifications being made to the board. The new 250Gb chipset was not devised as a real performance enhancer mind you, but more of a fully fleshed out chipset that takes advantage of some of the latest technological advancements along with better drivers and compatibility. The board can utilize the latest Socket 754 AMD Athlon64 CPU's up to the current 3400+ and offers single channel memory support via its three 184-Pin DIMM slots. The system is compatible with DDR266/333/400 memory, but you can only use 2GB of DDR400 in two DIMM slots and 3GB of DDR266/333 using all three slots. I thought with this new and redesigned chipset there would be better memory support, but in that respect the 150 and 250 differ none at all sadly.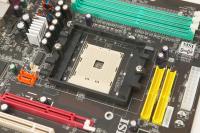 From first glance you can see the board comes on a black PCB, a shift for MSI as most of their PCB's have been red in recent times. Since there is no more NB/SB configuration, the board has been laid out a bit differently than its predecessors. The memory controllers are now located at the top half of the board, which is good as now that old complaint about the AGP slot and the memory controller interfering with one another can now be set to rest. Now if only the power connectors were located together, we would have a really great design. Having one power connector on one side of the CPU and one on the other is un-ergonomic as the cables are skewed all over the place making for a cables mess. The less crisscrossing of cables in my system the better as I like a neat clean system that offers the most unrestricted air flow.
The chipset provides 4 native SATA controllers with two being located strangely to the left of the CPU and the other 2 located by the floppy controller, why? That is the question I asked myself when viewing the board as the SATA connectors located all together would have been a better design implementation. NVIDIA's NV RAID provides a utility that allows you to run the SATA drives in the RAID 0, RAID 1, RAID 0+1 and JBOD (Spanning). The JBOD feature is cool as it lets you use a multi assortment of different capacity drives (i.e.: using a 30 GB plus a 10 GB) to create one large single drive. The IDE and floppy control locations are fine and are located the same way most of the previous NF3 150GB were so some things have remained a constant throughout the chipsets maturity. You get support for a total of eight USB 2.0 connectors (4X rear I/O 4X By Cable) and three IEEE1394 controllers (1X rear I/O 2X By Cable) with each cable taking up a PCI slot and connecting via headers located on the bottom of the board.
The NF3 250Gb chipset also provides Gigabit LAN and offers auto-sensing 10/100/1000MB/s transfer rates and an RJ45 connection located on the rear I/O to connect to your network or LAN environment. Realtek is trying to improve upon their on-board audio solutions and the ALC850 AC97 2.3 Codec shows noticeable improvements over their ALC650, strutting improved audio functionality and 7.1 surround sound. The new ALC850 offers a new GUI for controlling the various sound options including an automatic and manual speaker connection interface that helps you properly connect your speakers. Both SPDIF/Coaxial connections for true digital sound reproduction are included on the rear I/O along with the other audio connections. You are offered the choice of multiple sound environments and a 10-channel equalizer for custom sound shaping via the new GUI that is included as part of the audio package. The board sizes in at 24.4 cm (L) x 30.5 cm (W) and will fit in most mid sized or larger cases that offer the remove and replace rear I/O shield option. That about sums up the board's hardware features, so its now time to move on to the setup and performance of the K8N-NEO.