AOpen AK89 Max
† Voltage and Physical support for previous generation of AGP
‡ Not just pin headers onboard

Board Revision
1.05
BIOS Version
Award 6.0 PG 1/12/2004
Default Clock Speed (MHz)
2000.0
North Bridge
nforce3
South Bridge
nforce3
Number of PCI slots
5
Memory type
DDR266/333/400
Number of memory slots
3
Maximum Memory (GB)
2
Universal AGP support †
No
AGP Pro Support
No
Number of Physical USB 1.1 ports ‡
0
Number of Physical USB 2.0 ports ‡
6
Active Cooling on Chipset
No
Adjustable AGP Voltage
Yes
Adjustable Memory Voltage
Yes
Southbridge UDMA 133 Support
No
IDE or RAID Controller other than Southbridge
Silicon Image Sil3114
Auto speed-down/shutdown on fan failure
No
Auto speed-down/shutdown on heat alarm
Yes
On-board Sound
Realtek ALC655 CODEC
On-board LAN
Realtek RTL8100S Gigabit Ethernet
The AK89 Max is based upon NVIDIA's nForce3 150 chipset. This chipset supports all of the AMD Athlon 64 CPUs based upon Socket 754 interface. The currently available Athlon 64 CPUs include the AMD Athlon 64 3000+, 3200+ and 3400+. Later this year AMD will be moving to a Socket 939 interface for their high end CPUs leaving the 754 interface for the mid-range and low-end markets (Athlon XP and Duron CPUs). For now however, the AMD CPUs for the mid-range rely on the 754 interface, with the high-end CPUs using a Socket 940 interface (FX51, Opteron).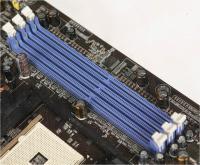 The AK89 Max comes with 3 DIMM (Dual Inline Memory Modules) that support up to 2GB of unbuffered non-ECC DDR memory. The 2GB limitation is a CPU limitation that all of the single channel AMD Athlon 64s share. The Athlon 64 CPUs have a single memory channel providing up to 3.2 GB of memory bandwidth to the CPU. The FX51, the soon to be announced FX53 and Opteron CPUs have a dual-channel memory interface, providing up to 6.4GB of memory bandwidth when paired with DDR400 memory. In real-life terms, the dual-channel memory doesn't provide a compelling feature, as performance of the 3400+ is right in-line with the FX51.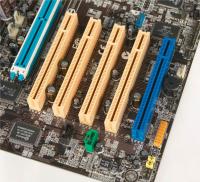 The AK89 Max comes with 5 32-bit 2.3 compliant PCI slots. The last PCI slot is colored blue and is a Self-Powered PCI Slot. This is the first motherboard that I've seen with this feature. So what does it mean to me? Well when adding a SCSI or RAID card that require a lot of power, sometimes power can be an issue. The SPPS provides a separate set of 3.3 volt power circuitry which means even when all PCI slots are filled that power is never a problem. AOpen also includes an AGP 3.0 compliant slot for an AGP8X video card. This standard will soon be replaced by the PCI-Express 16X slot in a future chipset. For now, however, all video cards support the 8X standard.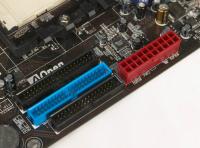 AOpen offers the standard 2 IDE connector and 1 FDD connector found on almost every motherboard available today. This allows for 4 IDE devices to be attached at one time. One extremely nice touch on this board is the inclusion of 4 SATA connectors controlled by the latest Silicon Image 3114 chip, which replaces the ubiquitous 3112a chip found in many motherboards. While there are manufacturers that include 6 or even 7 SATA connectors on their boards, most people won't use more than the 4 provided. The Sil3114 chip provides RAID 0, RAID 1, and RAID 0+1 functionality with Serial ATA hard disk drives.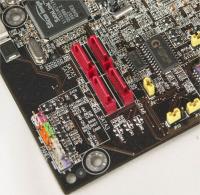 Multiple onboard USB 2.0 ports are always a welcome addition to any motherboard design. While many boards include 2 onboard USB+2 headers for 4 additional ports via cable, and others come with 4 onboard USB 2.0 ports and require an additional purchase of the cable to bring the total USB 2.0 ports to either 6 or 8 depending upon the chipset, AOpen went all out with their included USB ports. AOpen included 4 on the back panel and also provided a 2 port cable bringing up the maximum supported to 6 which is what the nForce3 150 chipset supports.
Another welcome feature is the addition of 2 headers for IEEE1394 ports and the inclusion of a 2 port IEEE1394 cable. Too often when buying a motherboard, the headers are there but the ports are not. Firewire devices such as hard drive enclosures and digital cameras are prevalent, and the inclusion of both 6 USB 2.0 ports and 2 Firewire ports make for an excellently featured motherboard.
Onboard sound is provided by a Realtek ALC655 CODEC. This provides up to 5.1 surround-sound support for games and DVDs. I prefer ADI's SoundMax technology with Sonic Focus's audio refinement technology for onboard sound, but the Realtek solution works well. AOpen includes a SPDIF cable providing 2 S/PDIF in and 2 S/PDIF out ports.
Onboard LAN (Local Area Network) is provided by a Realtek RTL8110S chip. This provides Gigabit LAN for compatibility with the new standard of 10/100/1000 Mbps connectivity. A nice feature is the color of the lights. The right LED indicates whether the Ethernet controller is linked to the the network. The left LED indicates the connecting mode 10Mbps (no light), 100 Mbps (green) and 1000 Mbps (Orange).
The back panel input/output block includes a bevy of features now standard for most motherboards. The block includes one PS/2 Mouse and one PS/2 Keyboard connector, 4 USB 2.0 ports, a Parallel Port, COM1 and COM2 ports, a RJ45 LAN Jack, and the Line-In, Speaker-Out; MIC-In jacks for 5.1 surround sound. The sound jacks and PS/2 Mouse/Keyboard ports are all color coded, which means that it's virtually impossible to mix up where the mouse/keyboard goes.

One nice feature of this motherboard is the inclusion of Dr Voice II software. If the jumper for it is set in the correct position, the motherboard will tell you via a voice application what computer component is the likely culprit. The possible areas of error include CPU, memory module, VGA, PCI add-in card, FDD, HDD, or keyboard. Dr. Voice has four language versions: English, German, Japanese and Chinese. Changing the language of Dr. Voice is a simple matter of changing the JP15 and JP16 jumper positions.
Content
Easy Install Guide
I/O Shield
1x Floppy Disk Cable
1x 40-wire IDE Cable
1x 80-wire ATA 133 Cable
Bonus Pack CD
Anti-Virus CD
USB 2.0+ Game Port Cable
Serial ATA Cable
IEEE 1394 Cable
S/PDIF Cable
Serial ATA Power Cable