The position of the 20-pin ATX power connector is in a less than optimum placing. Optimum placing would be near the top of the board next to the 12V connector. Thankfully the 20-pin ATX power connector is separated from the IDE connectors, making less of a mess than in some boards that have the connector right next to the IDE connector or even on the same row as the IDE, causing a mess of cables in the case.
One thing that I wish Soltek had done was separate the memory slots from the AGP slot a little. When installing a medium sized AGP card like the MSI TI4200 8x, the card can and does block memory removal/installation which requires the removal of the video card before removing or installing memory. Longer cards like the GEFORCE FX 5950Ultra would block two or more memory slots when installed on this motherboard.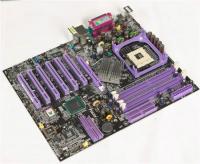 The Soltek SL-865-GR comes with an adequate hardware and software package. Hardware wise, the board comes with a IDE cable, a FDD cable, 2 SATA cables and a SATA power connector, the board, a multi-language Quick Install Guide, User Manual, Support CD, Floppy Diskette with RAID drivers, Bundled Bonus Pack CD, Bundled Bonus Pack Manual.
The included software in the Bonus Pack CD is getting rather old. PC Cillin 2002 is now almost 3 years old as an anti-virus program. Trend Micro does support the 2002 version, but they're currently on the 2004 version of this anti-virus program. The other included software can be useful or not, depending on the user. Partition Magic 6.0 allows you to easily manage your hard disk partitions. DriveImage 4.0 is a program that allows you to make an exact image of a hard disk or partition. Virtual Drive 7 allows you to emulate a physical CD drive in Windows. RestoreIT 3 LITE allows you to restore your system to an earlier time much like GoBack or Windows Restore.
The setup of the board went without incident. I always try a minimum boot configuration before starting testing. Minimum boot is 1 stick of RAM, CPU, video card. After installing the other computer hardware for our test setup, I proceeded to install Windows and run the stability tests. Both BurninMark and prime95 ran for the proscribed times without incident.
Soltek's board uses an American Megatrends BIOS. The SL-865-GR allows FSB overclock of the CPU in 1 MHz increments from 200 MHz to 350 MHz if using a 200 MHz FSB CPU (800 MHz via quad pump bus) when Fix Linear Frequency is enabled. Voltage changes are available for the AGP, memory and CPU for easy overclocking.