Soltek SL-865-GR
† Voltage and Physical support for previous generation of AGP
‡ Not just pin headers onboard

Board Revision
1.0
BIOS Version
R1.05
Default Clock Speed (MHz)
2799.92
North Bridge
865PE
South Bridge
ICH5
Number of PCI slots
4
Memory type
DDR266/333/400
Number of memory slots
4
Maximum Memory (GB)
4
Universal AGP support †
No
AGP Pro Support
No
Number of Physical USB 1.1 ports ‡
0
Number of Physical USB 2.0 ports ‡
3
Active Cooling on Chipset
No
Adjustable AGP Voltage
Yes
Adjustable Memory Voltage
Yes
Southbridge UDMA 133 Support
No
IDE or RAID Controller other than Southbridge
Promise PDC30278
Auto speed-down/shutdown on fan failure
No
Auto speed-down/shutdown on heat alarm
Yes
On-board Sound
AC'97 2.2 6-Channel CODEC
On-board LAN
Realtek RTL8110S Gigabit LAN
The SL-865-GR's North Bridge duties are handled by Intel's 865 chip. This chipset supports all current Socket 478 Pentium 4 CPUs including the Northwood, Prescott and Extreme Edition CPUs. The FSB's (Front Side Bus) supported by this motherboard include the 400 MHz/533 MHz/800 MHz FSB CPUs. Quite honestly with CPU prices being the way they are, there's almost no reason to buy a 400 MHz FSB P4 today, if you can find it.
South Bridge duties are handled by Intel's ICH5 chipset. This chip handles the LPC I/O, upstream Hub Interface, PCI interface, IDE interface, USB 2.0 interface, AC'97 2.2 (6-channel) Audio interface and the interrupt control. It's interesting that Soltek decided not to use the ICH5R chip which would have given native SATA RAID support.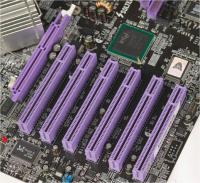 Memory for this board comes in the form of 4 DIMM slots (Dual In-line Memory Modules) for a grand total of 4 GB of unbuffered non-ECC DDR memory, the maximum supported by the 865 chipset. Memory types supported include the DDR266, 333 and 400 MHz varieties. The 865 chipset supports dual channel memory giving a maximum memory bandwidth of 6.4 GB/second. Expansion options are plentiful with this motherboard, thanks in large part to the inclusion of six PCI 2.2 compliant slots. With the onboard components like audio, and Gigabit LAN, this alleviates the need for all that expansion. However, should you need the room, it's there. Soltek included an AGP 3.0 compliant AGP 8x slot which accepts all modern video cards. Frankly, if you still have an AGP 2x video card, you probably won't need this motherboard.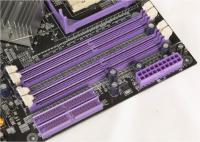 The Soltek SL-865-GR comes with plentiful connectors for HDDs and other PATA devices. Soltek includes 2 IDE connectors allowing for the connection of 4 IDE devices. Further, they included 2 SATA ports controlled natively by the Intel ICH5 South Bridge. Most manufacturers stop there. Soltek, however, includes a Promise PDC20378 SATA RAID controller integrated on the board. This controller controls the other 2 included SATA ports on the board and the additional PATA RAID connector for 2 PATA HDDs in RAID 0, 1, 0+1 modes.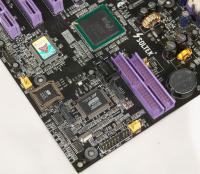 The back panel is well appointed for most every user. The back panel input/output block includes a PS/2 Mouse port, a PS/2 Keyboard port, 3 USB2.0 ports, 1 Firewire port, COM1 and COM2 ports, a parallel port, Gigabit RJ45 jack, Line-In/Rear Speaker Out, Microphone/Center Subwoofer Out and Line-Out/Front Speaker Out ports. The 865 chipset supports up to 8 USB 2.0 ports, but there are only 3 ports on the board with no included cable for more.

The Gigabit LAN is handled by Realtek's RTL8110S Gigabit Ethernet Controller. This interface supports 10/100/1000Megabit data transfers as needed and the chip also supports Wake On LAN through the onboard RJ45 Connector. Gigabit LAN isn't of much use to most people, as Internet connections are still in the 5megabit area for all but the most hardcore user. As a reviewer, however, Gigabit LAN is a godsend when transferring large files over the network.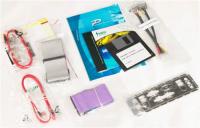 Onboard sound is provided by a AC'97 6-channel CODEC. This is sufficient for the casual user. However, if you want high quality, high fidelity sound I would suggest a SB Audigy 2 ZS add-in card to use with this motherboard. Basic AC'97 6-channel sound is fine, but I much prefer ADI's SoundMax solution with Sonic Focus's audio refinement technology, or almost any of the other available audio CODECs.