The BIOS is all pretty straightforward stuff and anyone who has worked with an AWARD BIOS in the past will find themselves in familiar territory here. Most of the boards I have seen in the recent past from GIGABYTE have had the six-phase power converter that was strangely not implemented in this design. GIGABYTE boards use a dual-BIOS chip design that allows users the ability to boot from a secondary backup BIOS chip in case of mass overclocking failure or a fried BIOS chip. GIGABYTE C.I.A (CPU Intelligent Accelerator) is designed to detect the CPU during its loading phase which engages itself when programs execute, and automatically adjusts the CPU's computing power to maximize system performance.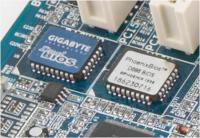 M.I.B, no not Men In Black but Memory Intelligent Booster is another feature exclusive to the GIGABYTE motherboard line that is geared toward performance advancement. GIGABYTE M.I.B (Memory Intelligent Booster) technology is technology specially designed to maximize memory performance and boost memory bandwidth up to 10% by optimizing data transmission between the CPU, north bridge chipset and the memory bus. Both of these features run in the background of your system and are automatically adjusted when your system initially boots up. How well these features actually work in comparison to other products designs is impossible to test as stand alone things, but hey the names are cool right? And the board works well so it's all good.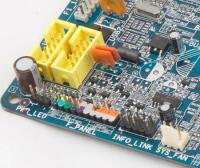 Setup was essentially a no-brainer as the BIOS auto-detected my memory and CPU settings for optimal performance making setup a breeze. The board is laid out well in most respects and the board is clearly marked and color coded for user ergonomics, this simplifies the task of the where does this and that connect to for users who fail to RTFM before setup. This board can be tackled by novices as well as seasoned PC nuts so it qualifies for a beginner's motherboard as well as an enthusiast's product. Another nice feature of the board is in the AGP slots lock/release pin that offers excellent ergonomics in its easy to use design. This is a tad bit better than its competitors with there poor tab or clip implementations that are a pain to use when it comes time to release your card from the AGP slot. Below are shots of the various screens and settings available within the BIOS for you to fine tune your performance options.