Gigabyte GA-8IPE100 PRO2-W
† Voltage and Physical support for previous generation of AGP
‡ Not just pin headers onboard

Board Revision
1.0
BIOS Version
8pekpt2_f6
Default Clock Speed (MHz)
3215.5
North Bridge
865
South Bridge
ICH5
Number of PCI slots
5
Memory type
DDR266/333/400
Number of memory slots
4
Maximum Memory (GB)
4
Universal AGP support †
No
AGP Pro Support
No
Number of Physical USB 1.1 ports ‡
0
Number of Physical USB 2.0 ports ‡
6
Active Cooling on Chipset
Yes
Adjustable AGP Voltage
Yes
Adjustable Memory Voltage
Yes
Southbridge UDMA 133 Support
No
IDE or RAID Controller other than Southbridge
No
Auto speed-down/shutdown on fan failure
Yes
Auto speed-down/shutdown on heat alarm
Yes
On-board Sound
Realtek ALC658 CODEC
On-board LAN
Intel CSA interface 10/100/1000 Gigabit Ethernet
This board is based on the NB i865PE MCH and ICH5 SB, which at this point is a chipset starting to show its age as the next generation chipset boards and a new CPU interface are right around the corner. These new boards and CPU's should start hitting the market next quarter and will completely change the P4 platform as we know it now. The 8IPE100 Pro2-W supports for up to 4GB of Dual Channel DDR 400 / 333 / 266 via its four 186-Pin DIMM slots, longer VGA cards will have to be removed to install or remove memory if all four slots are used. The board is made in the standard ATX FF and sizes in at 30.5cm x 24.4cm, it will fit in any mid-full tower case that offers a removable and replaceable rear I/O shield. Power requirements are not too demanding, I would suggest a 350W or higher PS for optimal stability though, especially if your system will have many different drives or peripherals.
The board supports all of the current Socket 478 CPU's from the entry level Celeron to the new Prescott and P4 Extreme Edition chips so there is maximum flexibility when it comes to your choice in CPU. HT (Hyper-Threading) technology is supported by the i965PE but P.A.T (Performance Acceleration Technology) isn't, it being a component of the I875 chipset, although in real world usage performance differences between the two are negligible, making the 865 series the more affordable chipset for the masses. LAN support is available in many different forms on this motherboard, from the Intel PRO/1000 CT Network Connection to the Wi-Fi adapter found in the GN-WBZB-M USB wireless LAN card. This makes networking environments in the 10/100/1000Mbits a simple and flexible possibility. The wired LAN automatically defaults to the host network settings of 10/100/1000 allowing for simple and painless network setup times.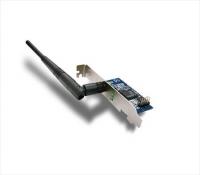 The wireless LAN only works in the 10-11Mbits range and within its defined parameters as seen here. 2X Gigabit performance is achievable through Communication Streaming Architecture (CSA), which directly connects the Memory Controller Hub to the network controller. With CSA-based motherboards, network data can be transferred at a much higher rate with lower latency values. This new system interface performs networking tasks more proficiently, achieves bi-directional gigabit speeds and eliminates using the PCI bus for network traffic. You can also enable ASF 2.0-based secure remote management using Intel PRO/1000 CT Network Connection. There are five PCI slots and one 8X AGP slot, a common combination found on 98% of the motherboards in this class and nothing to write home about. Drive support is adequate offering 2X Ultra-DMA 100 Bus Master IDE channels for PATA and 2X SATA ATA150 channels, which offer MODE 0-1 Striped or Mirrored Arrays.
Featuring six USB 2.0 ports, 4X located on the rear I/O and two more by a cable that connects to headers on the board and occupies one PCI slot and should be enough for most users. IEEE1394 is also supported and comes by way of the Texas Instruments chip, which provides 2X connection ports and is located on the same cable bracket as the additional 2X USB ports. Sound is also provided by the Realtek ALC658 CODEC and supports six channel 5.1 surround sound. An SPDIF cables is included for clear true digital sound reproduction and can be used if your speakers support that connection. Users will like the new Universal Audio Jack (UAJ) feature as they will not have to worry about how to install their speakers correctly. The UAJ will configure your speakers how you want them regardless of how you plugged them in and let you adjust them manually if needed. That is what the board is made of features wise, the retail package comes with a thorough manual and all the cables and brackets to get up and going along with a nice software package for added value.