MSI K8T Neo-FIS2R (MS-6702) Spec Sheet
Powered by MOBOT

Part Number
K8T Neo-FIS2R (MS-6702)
Manufacturer
MSI
Price Check
Find Best Price
Downloads
BIOS
Drivers
Manuals
Chipset
VIA K8T800 VT8237
North Bridge
VIA K8T800
Socket
Socket 754
Processor Types
Athlon 64
Number of CPUs
1
Front Side Bus
800MHz HyperTransport Bus Link
Memory Type
DDR
Memory Channels
Dual, Single
Maximum Memory
2GB
External Graphics
AGP8X
IGP
None
South Bridge
VIA VT8237
Audio
6-channel
IDE
133/100/66/33
SCSI
None
SATA
1.5 GB/s
RAID
0, 1, 0+1
LAN
10/100
Firewire
None
USB
USB 2.0
Expansion Slots
BIOS
Form Factor
ATX
Most of the boards I have seen so far for the AMD Athlon 64 platform using the new VIA K8T800 chipset are very similar with USB 2.0 and SATA options being the only real difference in feature options. As you can see from the pictures the layout of the board is done very well with no connections located frustratingly between the PCI slots and fan headers are located in the appropriate places (with the exception of the power cable) as are the various IDE/SATA connections. Ergonomically the board is fairly sound and these are solid factors when considering a motherboard purchase so I give them basic approval in this department.
Memory support is adequate supporting up to 2GB of DDR400/DDR333/DDR266 DDR SDRAM via its three 184-pin DIMM slots. The different type of memory the MSI K8T supports can be located here. The slots are color coated to a strange hue of blue that offsets the red of MSI PCB for those interested in the board's visual aspect. The 8X AGP slot has a clip for locking in your VGA card and miraculously does not block the memory slots even when using a large sized VGA card like the nVIDIA 5950 or ATI 9800XT series jobbers. Has someone actually listened and made a design change? MSI did their homework on this one.
The major features of this board that make it different than many of its peers is its ability to support up to 8 USB 2.0 Devices (4X Front 4X Rear) and 4 SATA150/3 IDE-RAID controllers. The VIA VT8237 chipset provides standard dual channel IDE support as well as dual channel SATA150 and the Promise 20378 Onboard supports two SATA150 controllers and a single IDE controller. The VIA VT8237 supports two RAID modes RAID 0, RAID 1 and the Promise 20378 Supports ultra ATA, Serial ATA, Ultra ATA RAID 0 or 1, Serial ATA RAID 0 or 1, Ultra/ Serial ATA RAID 0+1. IEEE1394 support comes in the form of the VIA VT6307 IEEE1394 controller that provides one 6-pin port and one 4-pin port connector.

Two types of LAN options are available on the K8T Neo-FIS2R, the Realtek 8110S provides a 10/100 connection while the integrated Gigabit Ethernet MAC and PHY transceiver supports a single-port 10MB/s, 100MB/s, 1000MB/s Base-T environment. There are two RJ45 connections located on the rear I/O panel for connecting to the Internet or LAN and either controller can be enabled or disabled within the BIOS. On-board sound is almost a given on any high-end motherboard produced today and the K8T provides the user 6 Channel software audio codec via the Realtek ALC655 chipset that utilizes theAC97 link controller integrated in VT8237. Any serious gamer or audiophile will be using an add in card, but for most uses including listening to MP3's watching DVD movies and playing games the Realtek will work adequately.
There is an available SPDIF connector that allows an ultra clean digital output to be used with speakers supporting this option. The board sizes in at 30.5 cm (L) x 24.5 cm (W) in the ATX Form Factor and comes with its own rear I/O shield. The board Feature CoreCell technology that functions by diagnosing the current systems running state, the CoreCell Chip automatically tunes your motherboard to its optimal state, leading to less noise, longer life cycles, increased power saving features and possible higher overall performance. The board comes complete with everything you need to get up and going including all the USB/SPDIF brackets, cables and a detailed manual to help with the installation process. Overall out of the five boards tested this board has the most robust features package. Read on and see how the board performed in our performance and stress/endurance testing. So far so good!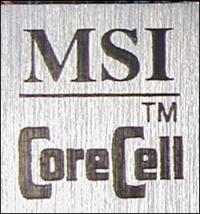 Package Contents
K8T Neo-FIS2R Motherboard
Quick User's Guide
SATA RAID / SATA Guide
Driver CD and Diskettes
FDD Cable
HDD Round Cable
2 x SATA Cable and Power Cable
D-Bracket 2
I/O Shield