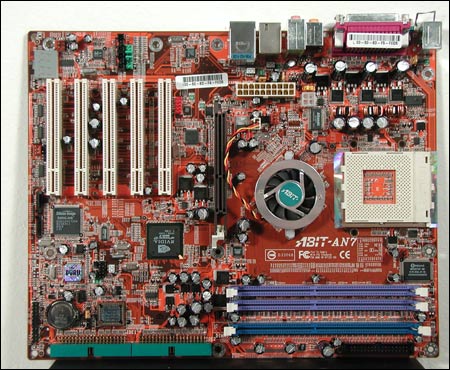 Abit AN7 UGURU
Board Revision
1.0
BIOS Version
6.0 PG 11/11/2003
Default Clock Speed (MHz)
1864.1
North Bridge
nForce 2 SPP
South Bridge
nForce 2 MCP-T
Number of PCI slots
5
Memory type
DDR266/333/400
Number of memory slots
3
Maximum Memory (GB)
3
Universal AGP support *
N/A
AGP Pro Support
N/A
Number of Physical USB 1.1 ports **
0
Number of Physical USB 2.0 ports **
4
Active Cooling on Chipset
Yes
Adjustable AGP Voltage
Yes
Adjustable Memory voltage
Yes
Southbridge UDMA 133 Support
N/A
IDE or RAID Controller other than Southbridge
Silicon Image Sil3112A Serial ATA RAID
Auto speed-down/shutdown on fan failure
N/A
Auto speed-down/shutdown on heat alarm
Yes
On-board Sound
Realtek ALC658 6 channel 5.1 sound
On-board LAN
Realtek 8201BL
* Voltage and Physical support for previous generation of AGP
** Not just pin headers onboard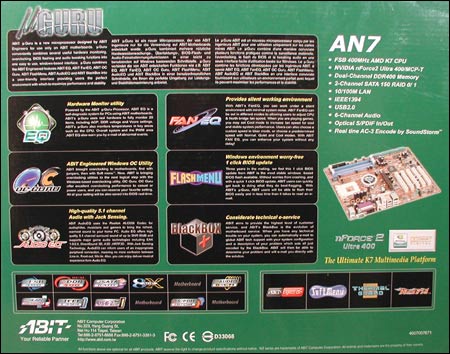 The AN7 UGURU supports AMD's Athlon XP and Duron CPUs up to and including the 3200+ 400 MHz FSB XP/333 MHz FSB/266 MHz FSB CPUs are all supported by the chipset. If you have the hankering for a new CPU, I might suggest the 3000+ Athlon 64s. If you want to upgrade your motherboard, without changing the CPU, a nForce2 is just the ticket for most people. Also if $200 for a CPU doesn't fit your fancy, there are plenty of Athlon XP's retailing for a lower price point. There is protective film covering the 2 sides of the CPU holder.
ABIT's board sports 3 DIMM (Dual-Inline Memory Modules) which support up to 1GB sticks of DDR400 memory. This allows you to put up to 3 GB of unbuffered non-ECC memory. Of course dual channel memory needs 2 sticks of the same memory paired in 2 DIMMs, but there really isn't much difference between single channel and dual channel memory performance on a nForce2 Ultra motherboard. One extremely nice thing about the AN7 UGURU is the separation from the memory slots and the AGP slot.
The UGURU comes with 5 32-bit PCI slots and an AGP 3.0 compliant AGP slot. The space for the 6th slot is empty making the fit of a 5950 Ultra 2 slot AGP card an easy fit. Normally I don't use the adjacent PCI slot, so 5 slots is sufficient for most uses. The AGP 8x slot is compliant with every AGP4x/8x video card. As there aren't any video cards made with 2x in mind anymore, the 3.0 compliant slot is the standard.
There are two IDE channels on the motherboard. In a interesting twist of fate, Abit turned the IDE connectors parallel to the board instead of facing up from the board. Not a big thing but it is different. There are also 2 SATA connections on the motherboard, with 2 included SATA connectors and a power supply.
The input/output block on the back is quite extensive. The back panel consists of 4 USB 2.0 ports, 1 IEEE-1394 Firewire port, 1 10/100 Ethernet port, 5 sound jacks, 1 Parallel Port, 2 PS/2 Ports for the mouse/keyboard, SPDIF In/Out ports and a COM1 port. Thus the need for more than 6 PCI slots is alleviated, since most of the possibly needed accessories are included.
The bundle for the UGURU is extremely nice. Hardware wise, you get 1 ATA133 cable, 1 floppy drive cable, 2 SATA connectors and a power connector for the SATA drives and a back plate for the input/output connectors on the back side of the board. I kind of wish Abit would include an additional USB cable with 2 more ports, as is supported by this motherboard, but that is not the case.
One thing I like is comprehensive, well-written manuals. Sometimes, not often, but sometimes, you get a manual that reads strange or isn't very clear. ABIT's manual is not only clear in all respects, but consists of 3 manuals, a UGURU Quick Guide, a User's Manual, and a illustrated Quick Installation Guide. The inclusion of 3 manuals is a great addition. On the drivers disk is a copy of the ABIT drivers and UGURU software.