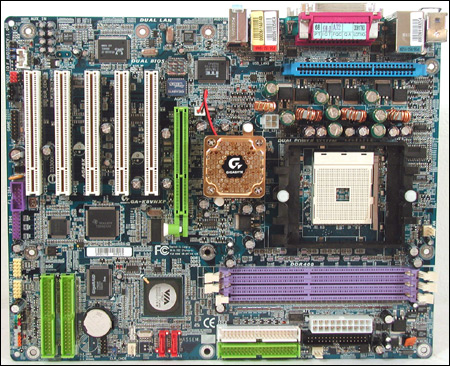 SOYO CK8 Dragon Plus
Board Revision
1.0
BIOS Version
F1 08/08/2003
Default Clock Speed (MHz)
2010.0
North Bridge
Via KT800
South Bridge
Via 8237
Number of PCI slots
5
Memory type
DDR333/400
Number of memory slots
3
Maximum Memory (GB)
3
Universal AGP support *
N/A
AGP Pro Support
N/A
Number of Physical USB 1.1 ports **
0
Number of Physical USB 2.0 ports **
4
Active Cooling on Chipset
N/A
Adjustable AGP Voltage
Yes
Adjustable Memory voltage
Yes
Southbridge UDMA 133 Support
N/A
IDE or RAID Controller other than Southbridge
GigaRAID
Auto speed-down/shutdown on fan failure
Yes
Auto speed-down/shutdown on heat alarm
Yes
On-board Sound
Realtek ALC658 Audio AC'97 Codec
On-board LAN
Realtek 8110S Gigabit Ethernet controller Realtek 8201 PHY LAN chip
* Voltage and Physical support for previous generation of AGP
** Not just pin headers onboard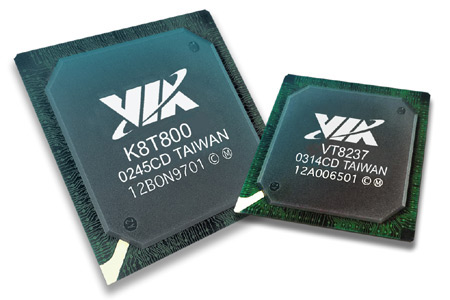 Based around the NB VIA K8T800 and SB VT8237 chipset the K8VNXP offers the user an abundance of good features and only a few drawbacks that make it an excellent product for the desktop market. The board uses the latest Socket 754 for the AMD Athlon64 platform and currently supports up to the soon to be released 3400+ CPU. Sizing in at 30.5 x 24.4 cm the board is based on the standard ATX form factor and will fit in most mid size or larger enclosures that have a replaceable rear panel I/O shield. The board comes with its own rear shield to accommodate the board's custom I/O design and to have the correct fit for your case. Like usual as this seems to have become their trademark the PCB is rather aqua colored and easy on the eyes. The NB fan is gold and looks pretty neat to the eye as well and is something I still like to see on high-end boards. Unlike some of the others contenders in this class who can only use 2GB of memory the K8VNXP can utilize up the 3GB of DDR400/ 333/ 266 memory by way of its three 184-pin DIMM slots.
For your internal drive support the K8VNXP offers the usual, a rather strange set of features that is leaning more toward larger PATA and less SATA support than most of the other KT800 boards I have seen so far. I mean this is cool I suppose for those upgrading with older PATA drives, but for me SATA drives are so much simpler and easy to configure and in a RAID or standard array setup the drives format much faster than their PATA ancestors saving me valuable setup time. The K8VNXP offers two SATA controllers and four ATA 133/100/66 standard or RAID controllers via the GIGABYTES GigaRAID (IT8212) controller that offers PATA RAID arrays in the MODE 0, MODE 1 and MODE 0/1 (striping & mirroring) configurations. The IDE 1 connectors are located in the right spot but the primary power connector is in a really bad place being way to close to the FDD controller and causing a cable mess to boot. Both power cable connections should be located together by the back side of the board where the AGP power connector is located.
The unique thing about this board that the other in its class do not have in common is its cool Dual Power System (DPS) that delivers a total of 6-phase power circuit to provide more solid and durable power supply for the new generation AMD platform, which should help to insure a more stable system by conditioning the power running your system. What this means in the common tongue is that as electricity fluctuates in its power, such as spikes or dives the 6-phase power conditioner fluctuates with it and keeps your system running smoothly without frying your board in the case of large spikes or shutting down with slight dips. Another nice feature and one I think is the best design available is their AGP release/secure pin that uses a push or pull action to lock the card in place or let it go for changing cards. Texas Instruments provides the new IEEE 1394b standard and the K8VNXP is the first board to have this feature. The new standard offers transfer speeds of up to 800Mb/s, the new generation IEEE1394b interface further enhances PC connectivity with consumer electronics audio/video (A/V) appliances, and storage peripherals.
Realtek provides chips for three of the boards functions, namely the DUAL-LAN and sound options available on the K8VNXP by way of the following chipsets; the Realtek 8110S Gigabit Ethernet controller, the Realtek 8201 PHY LAN chip and lastly for sound the Realtek ALC658 Audio AC'97 Codec. The on-board sound features some very good if not somewhat copied features such as their Jack-Sensing function that looks a lot like the SoundMax XL Audio Wizard on steroids and offering a very interesting interface for auto-detecting what is being plugged into the audio jacks. There is an included cable used for the digital SPDIF and the 6-speaker 5.1 surround sound environment that plugs into the board and occupies an additional PCI slot. If you are a user who plays light games, listens to some MP3/CD music and does not want or have the great ambition of making the investment of the true audiophile this solution will probably satisfy you completely. Setting up the speakers or using a microphone is very easy though and for those wanting ease of use this qualifies for that quarter. As far as hardware features that about sums up what this board is made up of. Let's move ahead to the BIOS and performance section of the review and see how the GIGABYTE K8VNXP fares in the lab.