Setup of the board went without issue. One issue that I agree with Doc Overclock 100% of the time is motherboard companies should design boards where the positioning of the AGP slot doesn't block the memory slots when a long card like a 9800XT or a Ti4600 card is installed . Using our ATI 9700 Pro standard card for our new test platform does not block the memory slots, but using a longer card does. Gigabyte's Via KT800 motherboard has it done right with a separation between the AGP slot and the memory slots, so it makes for easy insertion/removal of memory without removing the AGP slot.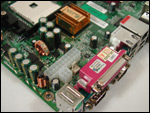 I really like AMD's new CPU cooler in inserting/removing the clip. The standard CPU cooler now features a 3 clamp design on both sides which holds the Athlon 64 firmly in place. There's also a locking clamp which holds the cooler in place when the motherboard is vertical. Compared to AMD's previous standard cooler for their Athlon XPs this is a huge improvement.
I've always liked Epox's Magic BIOS. At POST, it gives a reading of the CPU temperature/voltage/fan speed, the voltage of the DIMMs, the voltage of the AGP slot and other useful information without the need for going into BIOS Setup. Further, Epox includes a Diagnostic LED which tells you via a numerical code if there's a problem with the board. For example, FF means the board is operating normally, other codes will tell you if the problem is likely the CPU or video card, or memory.
Test Setup
System
Motherboard Epox 8HDA3+
CPU: AMD Athlon 64 3200+ 2.0 GHz
Cooling: AMD Retail Cooling an
Memory: 2X 256MB Corsair DDR400 CAS Latency 2.0
Hard Drives: Dual Seagate SATA150 120GB RAID 0 7200RPM
Video: ATI RADEON 9700 Pro 128MB
DVD: Aopen 16X
Power Supply: SOYO Raptor 400W
Software
Sysmark 2002
PCMark04
3dmark 2001SE
3dmark03 Build 340
Quake3
UT2003
SpecviewPerf 7.1.1
Windows XP with SP1