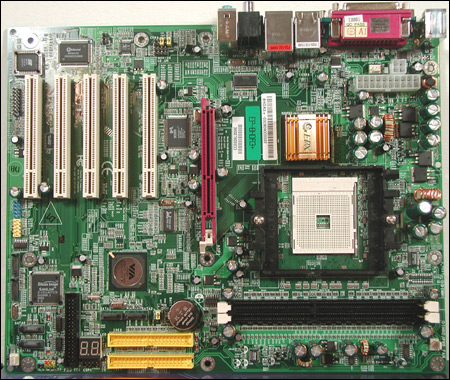 SOYO CK8 Dragon Plus
Board Revision
1.0
BIOS Version
2AA1 11/13/2003?????
Default Clock Speed (MHz)
2000.6
North Bridge
Via KT800
South Bridge
Via 8237
Number of PCI slots
5
Memory type
DDR333/400
Number of memory slots
2
Maximum Memory (GB)
2
Universal AGP support *
N/A
AGP Pro Support
N/A
Number of Physical USB 1.1 ports **
0
Number of Physical USB 2.0 ports **
4
Active Cooling on Chipset
N/A
Adjustable AGP Voltage
Yes
Adjustable Memory voltage
Yes
Southbridge UDMA 133 Support
N/A
IDE or RAID Controller other than Southbridge
Silicon Image Sil3114A
Auto speed-down/shutdown on fan failure
N/A
Auto speed-down/shutdown on heat alarm
Yes
On-board Sound
Realtek ALC65X 2 or 6 channel
On-board LAN
2x 3COM 3C940, 1 VIA VT6103
* Voltage and Physical support for previous generation of AGP
** Not just pin headers onboard
The Epox 8HDA3+ is based upon the new VIA KT800 chipset. This board supports Athlon 64 CPUs with a Socket 754 CPUs. As there are only 3200+ Athlon 64s at present, the board will operate on a 800 MHz FSB speed. I had no issues running the system on a 3200+ Athlon 64 during the testing for this review. Of course being a new motherboard it would be kind of sad if it didn't work with the only available Athlon 64 CPU.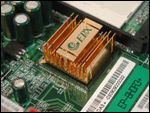 Memory configuration is interesting in that only 2 DIMM slots are included on this motherboard. On the other hand, most of the Athlon 64 motherboard chipsets only support 2 GB of unbuffered non-ECC DDR RAM. In that sense, having 2 DIMM slots is not a hindrance to this motherboard and shouldn't have points taken off compared to another motherboard with 3 slots but also only supporting 2GB of memory.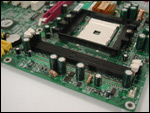 The 8HDA3+ comes with 5 32-bit PCI slots in addition to an AGP 3.0 compliant slot. I kind of wish Epox would have included 6 PCI slots, but with the other included integrated components on the motherboard, I think it's safe to say that the 8HDA3+ doesn't need 6. I never use PCI Slot #1 anyway, as it can cause problems when using a AGP card.
The AGP 3.0 standard is now standard on all modern motherboards supporting AGP 4x and 8x video cards with a 3.3V. Quite frankly, if you're still using a AGP2X video card with a Athlon 64, you're missing out. I would recommend at least a 9600 Pro or XT or a Nvidia 5700 Ultra to go along with a fast CPU like the Athlon 64. I suppose you can try to put a TNT2 Ultra on the board but that would be a waste of time.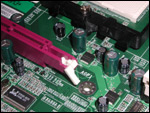 As to IDE channels, the standard 2 IDE channels are present on this motherboard. The positioning of the IDE channels is in the correct place and the support is there for ATA33/66/100/133 drives. The floppy connector is in a kind of weird sideways position that doesn't affect the floppy cable, but it's not normally in this position on any of the motherboards I've seen. One extremely nice thing about this board is the ability to attach 6 SATA drives to this board. There are 6 SATA connectors on the board, the first time I've ever seen that many on a motherboard from any manufacturer. The SATA controller is a VIA VT8237 Serial-ATA (2 ports) and a Silicon Image Sil3114A (4 ports).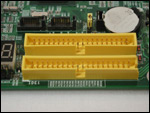 Onboard sound is provided by a Realtek 2 or 6 channel ALC-655 CODEC. I prefer the sound from an Audigy 2 card over the Realtek CODEC, but it's a value added bonus to the motherboard. One extremely nice addition to the motherboard is the SPDIF and digital coax ports on the board allowing for Dolby Pro Logic II on the board without the need for purchasing a sound card with SPDIF Out or wasting a PCI slot.
| | |
| --- | --- |
| | |
The input output jacks on the back panel of this motherboard comes with 4 USB ports, 4 sound inputs and 1 SPDIF port, 2 Gigabit LAN ports, COM1 and COM2 ports, PS/2 mouse and keyboard ports, and a parallel port. There are two LAN ports on the 8HDA3+. As one is Gigabit LAN, this is an excellent addition saving two PCI ports. Gigabit LAN is now a standard in motherboards. If you're doing a home office it allows you to connect two computers together at the same time and to the internet without a multiple LAN router. There are 4 included USB ports, with 2 headers for a grand total of 8 USB ports supported by this motherboard.
Epox sent us a early release board. As such the included bundle was a bit on the skimpy side and may not fully indicative of the final bundle. I've always liked Epox for their well written thorough manuals, which I expect will come with their retail 8HDA3+. Also included were 2 sets of SATA cables and power cables, 2 ATA133 and 1 floppy cable, back plate, and floppy disks with SATA drivers for the VIA and Silicon Image SATA controllers, making easy installation of new SATA drives without a OS installed. The other included accessory was a game port cable with yet another SATA port for connection to an external SATA drive.
The included software on the CDROM was typical of Epox bundles in the past. Epox included Trend Micro's PC-Cillin 2002 and Norton's Ghost 7. PC-Cillin 2002 is an excellent anti-virus program that I use in my personal computer. I've known Dave over at TM for 2 years and his software has never disappointed me in catching viruses. Norton's Ghost allows you to make an image of a hard drive and to restore that image in a few minutes instead of the annoying installation of Windows XP taking up to 35 minutes.