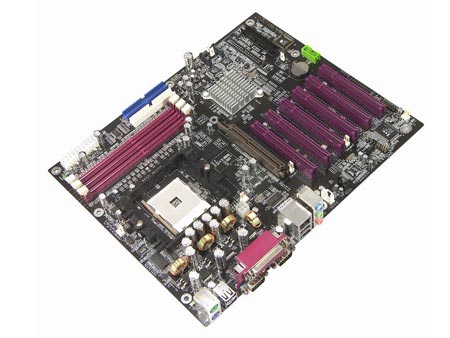 The board layout has a few design flaws that should be addressed if you want to be ultra fussy. Things such as a chassis fan header located between the PCI slots is bad form and is something that should be avoided in any ergonomic design, that and the power connector should for optimal placement be located on the top of the board nearer to the back and 12v plug. Other than that the boards AGP slot still blocks access to the memory slots when using a large VGA solution. This has become almost a psychotic thing as every reviewer and tech junkie has been complaining about this so long we know it has fallen on deaf ears due to the simple reality that the design remains the same generation after generation.
It was much easier to work with AMD's new chip design as now the amount of pressure applied to the top of the CPU does not contain the possibility of the bit becoming damaged by the heatsink, which is quite a relief truth to tell from AMD's previous Athlon designs. This alone gets solid double thumbs up from me, as I was never too warm and fuzzy before. I have had many a chips bit cracked here in the lab by over zealous acolytes experimenting with AMD cooling solutions to really like the old design very much.
| | |
| --- | --- |
| | |
The board comes overclocked by default from the factory making it a board that runs faster than its peers as it is running faster. The chip itself comes factory locked so overclocking is not really a stock option as far altering the clock speed but you can adjust the memory and FSB speeds to get a faster overall system speed. The BIOS, which we look at next, is very easy to work with. There was no actual manual only a quick start guide that really did not explain much so for a rather green user this might be a sore spot.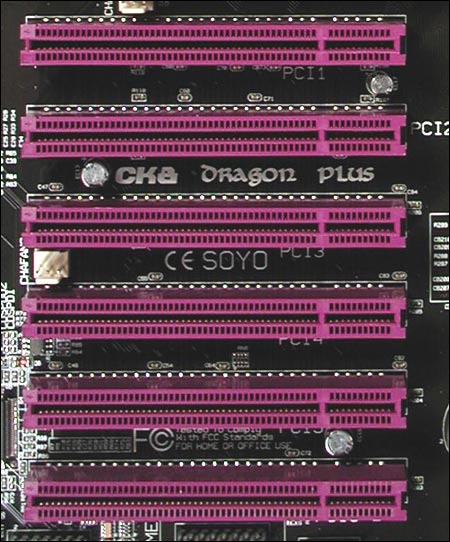 If you are a person that can follow simple instructions and have a somewhat mechanical mind, I think you can figure out what to do nowadays since it is a far cry from rocket science just to figure out how to put together and program a PC. There were no major hurdles to overcome when using the CK8, the setup was pretty much the usual affair and the board's layout only offered a few bumps in the road as I discussed earlier so the task was done quite mundanely. Make sure upon booting the system for the first time in Windows to be sure to put in your included CD. This CD has all the drivers and other goodies on it to help get you up and going properly and help your system run faster and more efficiently. The board sizes in at a reasonable, 30.5 cm x 24.5 cm (12" x 9.6") on a four layer black PCB and the CK8 is designed with a slightly modified rear I/O in the AGP FF. The board should fit easily in any mid tower or larger enclosure. AMD has always been a platform that needed solid power so make sure to get a PS that is 350W or better for optimal stability.