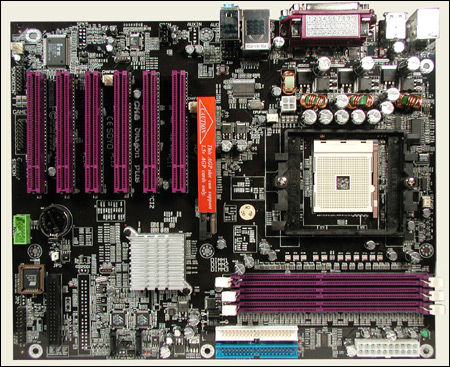 SOYO CK8 Dragon Plus
Board Revision
1.0
BIOS Version
2AA1 11/13/2003
Default Clock Speed (MHz)
2056.6
North Bridge
NF3 nVIDIA
South Bridge
NF3 nVIDIA
Number of PCI slots
6
Memory type
DDR333/400
Number of memory slots
3
Maximum Memory (GB)
2
Universal AGP support *
N/A
AGP Pro Support
N/A
Number of Physical USB 1.1 ports **
0
Number of Physical USB 2.0 ports **
6
Active Cooling on Chipset
N/A
Adjustable AGP Voltage
Yes
Adjustable Memory voltage
Yes
Southbridge UDMA 133 Support
N/A
IDE or RAID Controller other than Southbridge
N/A
Auto speed-down/shutdown on fan failure
N/A
Auto speed-down/shutdown on heat alarm
N/A
On-board Sound
C-Media9739 AC97 Codec six-channel 5.1 Surround
On-board LAN
nVIDIA (MAC) 10/100/1000
* Voltage and Physical support for previous generation of AGP
** Not just pin headers onboard
This is one of the first motherboards to hit market based off the new (NVIDIA) NF3 150 chipset. This new chipset utilizes the Socket 754 ZIF and supports a 400/800MHz FSB. The SOYO CK8 Dragon Plus uses AMD's latest Athlon 64 and currently will support up to the new 3400+ that will debut on Jan 6 and was also tested using this board so you have no worries about future compatibility in that regard. The CK8 DP Uses a very fast Hyper-Transport link that links directly to the CPU at up to 3.6GB/sec. The board has three 184-pin DDR 2.5V DIMM slots that support up to a maximum of 2GB (DDR 266/333/400) or in English PC3200/PC2700/PC2100/PC1600 non-ECC, un-buffered DDR SDRAM memory. Why these AMD based boards do not support more than 2GB of memory and have four working slots like the Intel line is strange but 2GB is probably enough for most users so this should not become an issue for the desktop user.
| | |
| --- | --- |
| | |
Sporting six 32-bit Bus Mastering PCI slots (V2.2 compliant) and an advanced AGP port supporting AGP3.0 - 0.8 V signaling for stable 8X and 4X with Fast Writes data transfers. There is a release and secure clip to hold the AGP card in place that works adequately if a bit hard to get to when its time to release the card. For your HD support, the CK8 offers a multitude of options including three independent channels for six IDE devices via its PCI bus mastering ATA E-IDE ports. These ports support PIO modes 5 & Ultra DMA 100/133. IDE 1-2 are seen located by the memory and the ATA RAID channel is by the SATA connections, which offers ATA150 transfer speed and supports RAID 0, 1 through its angled port. It is nice to see the amount of drive support seen on the CK8 as it leaves little room for complaint by even the most finicky of users. The location of the said IDE channels is ergonomic as well and should be favorable to most system integrators.
USB 2.0 has become the new standard for USB and the board supports up to six USB 2.0 ports (4X rear IO/ 2X by cable) and it also features a (SCR) Smart Card Reader Connector for hooking up a multi function media reader, cameras and mini stick memory types are usually the par for the course use with this function. The rear I/O is slightly different than standard and comes with its own shield for overall compatibility in any enclosure that has a removable back plate. The cable used for the additional 2X USB headers occupies one PCI slot on the rear of the case but that should not be a problem with a six PCI slot board as it has plenty of extra room for add in cards and expansion. I really think that the slots most likely by and large will be left empty other than the addition of a sound card or possibly another LAN card as everything you need for the basics is already embedded in the NF3 chipsets design.
| | |
| --- | --- |
| | |
Sound comes provided as an embedded option via the CMI 9739 AC97 Codec that provides a six-channel audio solution supporting 5.1-surround sound. There are no digital connections for your audio though, but most speakers are analog anyways so this probably will not be an issue for most users. The board's on-board sound I must point out is dated and only provides 16/20-Bit audio reproduction, which compared to the Creative SB Audigy's 24-Bit clarity leaves a bit to be desired by true audio aficionado especially when listening to MP3 music or EAX enhanced games, games that make up 90% of the market I might add. LAN is available as well as the NVIDIA IEEE 802.3 Media Access Control (MAC) that supports a 10/100/1000Base-T Ethernet/Fast Ethernet/Gigabit controller. The rear I/O has an RJ45 (LAN) connector for hooking up to a CABLE/DSL line or to your Network whatever your needs may be. That about sums up, what the board has to offer, it does has an adequate amount of feature options for most would be users and the board really doesn't lag in features it just does not go all-out so to speak. The board comes with a meek but efficient content package as seen bulleted below.
Content
Bonus 8-in-1 CD
Drivers
Norton Anti-Virus 2003
Ghost 2003
Personal Firewall 2003
ActiveShare
VCOM
Acrobat eBook Reader
Acrobat Reader
IMAGEMORE
One (1) 34-pin FDD cable
One (1) 80-pin HDD cable
One (1) S-ATA cable
Thermal paste
I/O back plate
Quick Startup Guide