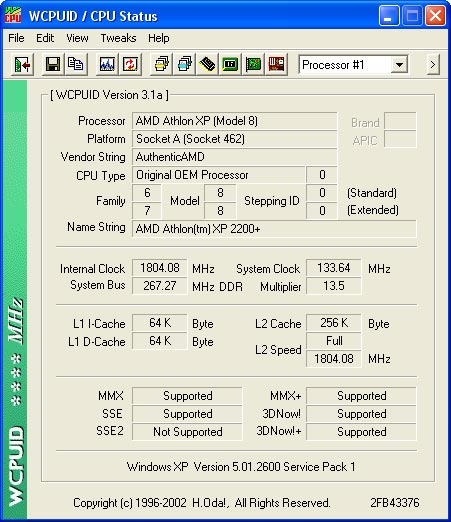 DFI NFII Ultra LAN Party
AMD Athlon XP2200+
512MB Crucial PC2700 CAS 2.5
Thermaltake Volcano 7+
Maxtor 40Gb Diamond-Max 9 ATA 133
MSI GeForce 4 Ti 4200 8x 128Mb
Generic 56x CD-ROM
Performance with the DFI LANPARTY NFII Ultra board was run with our standard tests. In addition, I installed a AIW 9800 Pro, the fastest available All In Wonder card from ATI and ran the game tests. While a Ti4200 is certainly not a bad card, the 9800 Pro is a great card to put in a LAN Party system. Especially if you want to play newer DirectX 9.0 games like Half Life 2 and Tomb Raider Angel Of Darkness.
Stability was excellent. No issues running our normal stability tests. In addition, I installed my LAN system and reran the tests. No stability issues were found. While a 2200+ XP and a AIW 9800 Pro isn't the fastest system around, there were little problems or issues in any of the games/programs I use. In a departure from our usual stability tests, I also used both systems for a week of everyday use. After all, while stability can be tested with Prime95 and Burn-in-mark, it's important for me to use the system in everyday use.