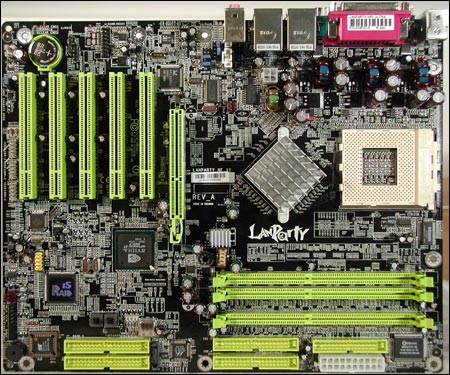 DFI LANPARTY NFII Ultra
Board Revision
1.0
BIOS Version
6.00 PNG
Default Clock Speed (MHz)
1804
North Bridge
nForce 2 SPP
South Bridge
nForce 2 MCP-T
Number of PCI slots
5
Memory type
DDR200/266/333/400
Number of memory slots
3
Maximum Memory (GB)
3
Universal AGP support *
N/A
AGP Pro Support
N/A
Number of Physical USB 1.1 ports **
0
Number of Physical USB 2.0 ports **
6
Active Cooling on Chipset
N/A
Adjustable AGP Voltage
Yes
Adjustable Memory voltage
Yes
Southbridge UDMA 133 Support
Yes
IDE or RAID Controller other than Southbridge
Marvell 88i8030 Serial ATA Controller & HighPoint HPT372N UDMA133 RAID
Auto speed-down/shutdown on fan failure
N/A
Auto speed-down/shutdown on heat alarm
Yes
On-board Sound
Realtek ALC650 5.1 sound CODEC with RCA S/PDIF In/Out cable
On-board LAN
RealTek RTL8101 10/100
* Voltage and Physical support for previous generation of AGP
** Not just pin headers onboard
The DFI LanParty NFII Ultra comes in a standard 305x240mm ATX form factor size, that's virtually the same dimensions as almost every other motherboard released today for all chipsets. The board fit easily into my mid tower ATX case that I use in every review. No issues with fit or misalignment with the backside of my case were encountered.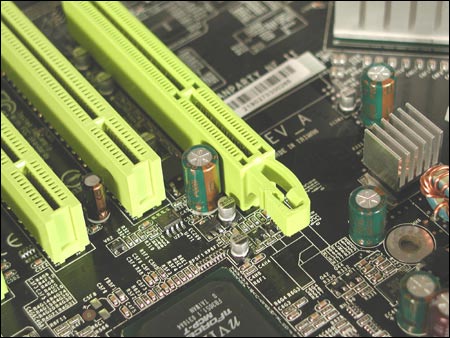 The nForce2 Ultra 400 chipset supports all AMD Athlon CPUs from the 266MHz FSB ones to the latest Barton 400 MHz FSB CPUs. It also supports all Duron CPUs. An addendum to the board indicated that it doesn't, however, support the 200 MHz FSB Athlons. This is rather interesting; as it's the first time I've seen an indication that the nForce2 doesn't support the earliest Athlon CPUs.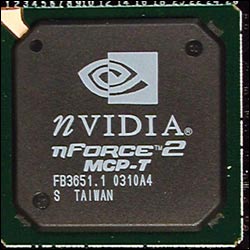 The board is outfitted with 3 DIMM (Dual Inline Memory Modules) that bring the total memory supported to 3 GB of unregistered DDR memory. Dual channel 400 MHz memory is supported by inserting memory in the 1+3 DIMM slots as this motherboard doesn't have any onboard video; the dual channel memory doesn't show much of a performance increase.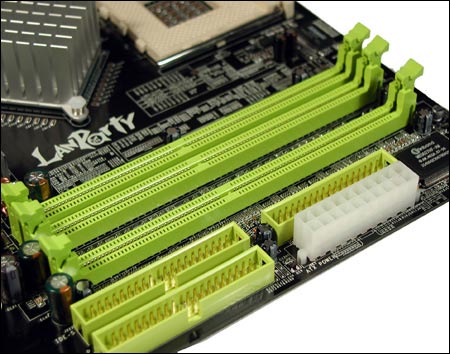 Northbridge duties are handled by the System Platform Processor. Southbridge duties are handled by NVIDIA's MCP-T chip. You can read more on each by going to NVIDIA's website. SPP supports AGP8x/4x, and the HyperTransport meory interface. MCP-T supports the Soundstorm solution. The LANPARTY NFII Ultra board supports Soundstorm natively. SoundStorm supports Dolby Digital 5.1 encoding and connections for headphones; front left and right, and rear left and right speakers, a center channel and subwoofer connection.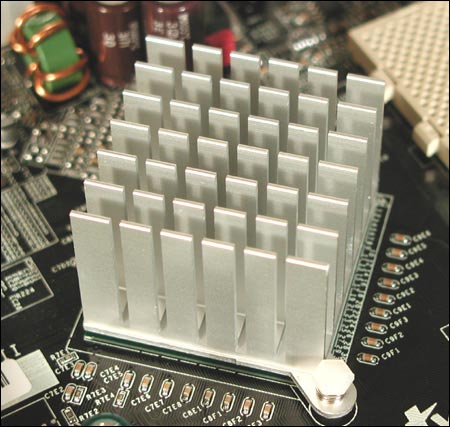 One very nice addition to the board is the addition of a power on and reset button on the board itself. This allows the computer builder to test the motherboard without a case. It's an excellent addition to the standard equipment that the nForce2 Ultra 400 configuration, especially if you need to troubleshoot before installing it inside a case. I'll go a bit into that later in the review.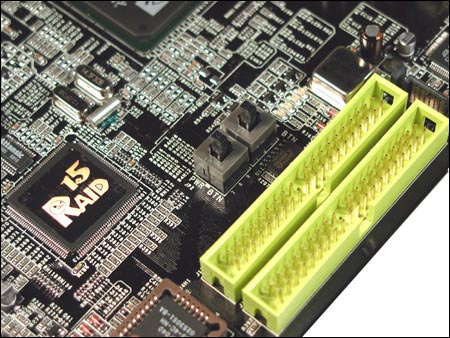 Serial ATA is supported by the Marvell 8888030 chip. The included SATA cable supports one SATA interface which is compliant with SATA 1.0 specification. I would have loved to have seen 2 or more SATA connectors, but with everything else on the board included, this is nitpicking, as I don't have any Serial ATA hard drives.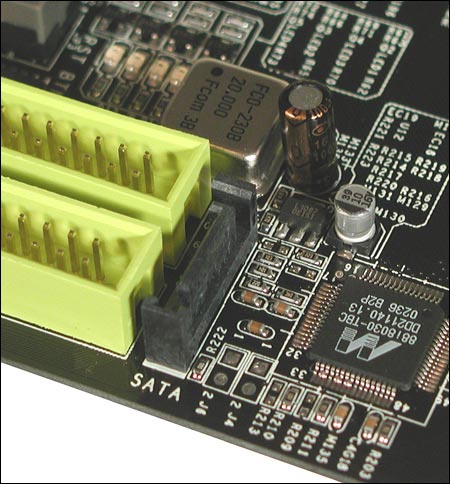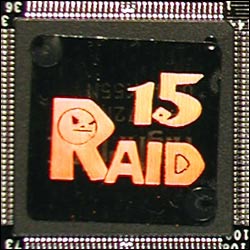 DFI really outfitted this board well. The back panel sports 4 USB 2.0 ports, 2 RJ45 LAN ports, 2 COM ports, 3 audio jacks and a PS/2 mouse/keyboard connector. It's nice to see both 2 RJ45 ports and 4 USB ports onboard. Many manufacturers only outfit their boards with one and 2 respectively. Further, DFI included a 2 port USB cable to enable the full 6 ports that the chipset supports.

The Bundle
DFI LANPARTY NFII Ultra motherboard
PC Transpo
2 Rounded HDD cables
1 Rounded FDD cable
SATA cable and connector
Gameport
Backplate
SPDIF IN/Out cable
2 USB port cable
2 Firewire IEEE1394A port cable
case sticker
2 manuals
DFI has really gone all out with the bundle. While a lot of motherboard manufacturers don't include all of the USB ports or Firewire ports that the chipset supports, DFI has with the LANPARTY NFII Ultra. Inclusion of both 6 USB ports and 3 Firewire ports (via cable) is a nice touch that I wish more manufacturers would include. Also extremely nice is the inclusion of 3 rounded cables 2 HDD, one FDD. This makes a neat clean system easy to manage. Another nice addition is the SPDIF In/Out cable. While a lot of manufacturers sell their SPDIF components separately, DFI included it with this board. It's refreshing to see a manufacturer bundle components that a chipset supports.
DFI included 2 manuals with the LANPARTY board. One is a standard User's Manual. A nice feature of this manual is the inclusion of support for English, French, German, Spanish, and Russian. If you speak any of these languages simply flip to the chapter for the respective language and read it. The second manual outlines the Features of the motherboard in detail. Have a question on what the NFII Ultra supports? That's the manual to open.
PC Transpo is DFI's answer for the LAN Party addict. Carrying a case, keyboard, mouse to and from an event can be a hassle without a carrying case. This carrying case is designed to be carried by the included shoulder strap. A compartment for the keyboard and mouse makes this carrying case a very useful addition to the bundle. When going to a local LAN party, or in fact to a friend's house, carrying my computer was never so easy.
DFI included a front-panel accessory kit with the LANPARTY NFII Ultra. This allows the computer user easy access to line in/out, 2 USB 2.0 ports and a Firewire port. This doesn't increase the total of those ports, but it allows anyone who likes to use a USB joystick, for example, freedom from the cluttering of wires on the back of the computer. Having front audio jacks allows for excellent positioning of the speakers again saving the wires from cluttering the back of the computer.