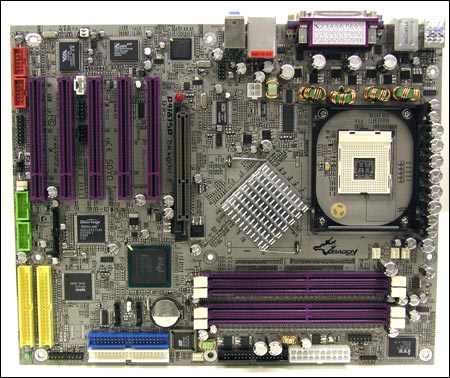 SOYO SY-P4I875P DRAGON 2 PLATINUM
Board Revision
1.
BIOS Version
P4CW4AA2 07/24/03
Default Clock Speed (MHz)
2813
North Bridge
Intel 82875P
South Bridge
Intel 82801ER
Number of PCI slots
5
Memory type
DDR266/333/400
Number of memory slots
4
Maximum Memory (GB)
4
Universal AGP support *
N/A
AGP Pro Support
N/A
Number of Physical USB 1.1 ports **
0
Number of Physical USB 2.0 ports **
6
Active Cooling on Chipset
N/A
Adjustable AGP Voltage
Yes
Adjustable Memory voltage
Yes
Southbridge UDMA 133 Support
N/A
IDE or RAID Controller other than Southbridge
Silicon Image Sil 3112A Serial ATA RAID & HighPoint HPT372 UDMA133 RAID
Auto speed-down/shutdown on fan failure
N/A
Auto speed-down/shutdown on heat alarm
N/A
On-board Sound
C-Media CMI8738 6 Channels
On-board LAN
Intel 82547EI Gigabit Ethernet
* Voltage and Physical support for previous generation of AGP
** Not just pin headers onboard

First of all, the motherboard benefits from all of the Intel 875P chipset. The South Bridge ICH5R supports Serial ATA RAID 0 option and Intel 82547EI Network chip supports CSA Architecture by providing a separate bus to network connectivity. The motherboard supports 4 GB of dual channel DDR400 memory on 4 memory slots.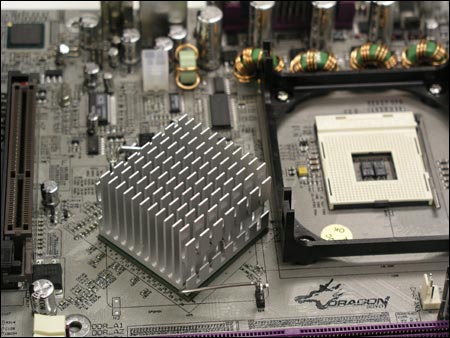 The Northbridge has a big heatsink on it but no active cooling. Power systems are noisy enough already unless you don't have water cooling or "ultra silent" tweaks like mine. The overclock tests were fine so it can handle the stress without active cooling and the noise comes with it.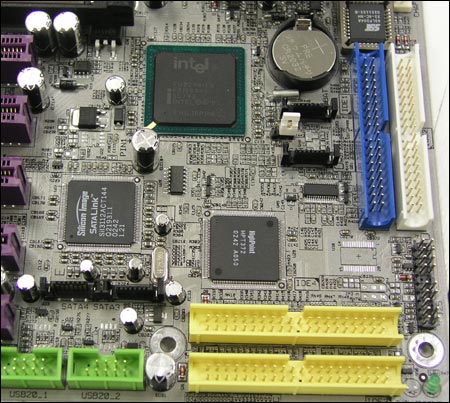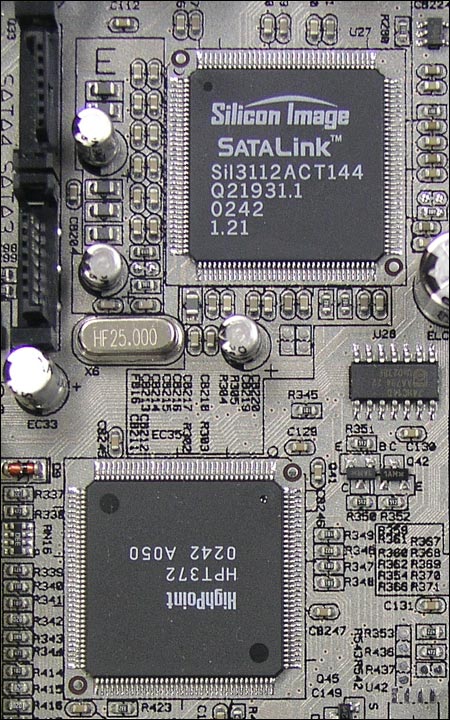 Hard drive support is a little bit tricky. The ICH5R supports 2 Serial ATA Harddrives with RAID 0, Silicon Image Sil3112A supports 2 Serial ATA harddrives with RAID 0 or RAID 1. You cannot combine them. Highpoint HPT372 supports 4 IDE harddrives with RAID 0,1,0+1 or 1,5. And of course standard South Bridge supports 4 IDE harddrives without RAID. So theoretically this motherboard supports 12 drives. The largest capacity IDE Drive is 300 GB and Serial ATA is 250 GB so if you want to hook up 3.5 TB of storage to this baby, be my guest.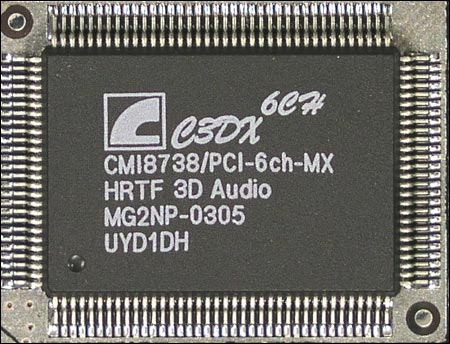 The motherboard supports 6 channels of sound with one difference. Some quality motherboards has the optical and RCA digital OUT in the back. But this one has Digital IN and OUT ports both in Optical and RCA formats. You can find this only in expensive audio cards.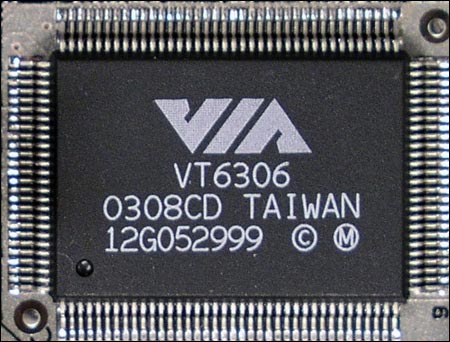 This board has Firewire option with VIA VT6306 chip. Some say Firewire is not an important option but video camera users know what I mean when they pay to buy a Firewire card. Well this time I tested it. I bought a refurbished 2nd generation iPOD. (Yeah yeah I betrayed PC, so shoot me) It has only Firewire connection. I tried to upload 2 GB of files to it at home. It failed numerous times. My "super quality" "number 1" motherboard which came out with an "E" version after receiving pretty bad comments failed big time. I was testing the Soyo so I tried on this motherboard. I uploaded the MP3's smoothly.

This is one of the best accessories to ever come with a motherboard. It is a memory card reader which supports Smart Media, Compact Flash Card, IBM Microdrive, Secure Digital Card, Multimedia Card and Memory Stick. You can install it to a 3.5" Drive bay. Even without the memory, it installs the drive letters so you may conveniently remove the card whenever you want. When you remove the card and click on the drive, you cannot access it. As soon as you insert the card you can access it just like a floppy drive. Some readers, when you remove the card, the drive letter disappears and sometimes even the card is in it don't read the card. So I find it really convenient. And the memory reader works on USB 2.0 speed. This became so popular; Soyo is selling it for use with any motherboard. It is about $35. It has two USB 2.0 ports and 2 Firewire Ports for front panel access.

Your motherboard has to have the headers on-board or you need to have the add-on cards to utilize them. Guess what, this motherboards have all of the headers on-board in addition to 4 USB ports and a Firewire port in the backplane. I liked this drive so much; I bought it for my own system. It is called Bayone UFO.