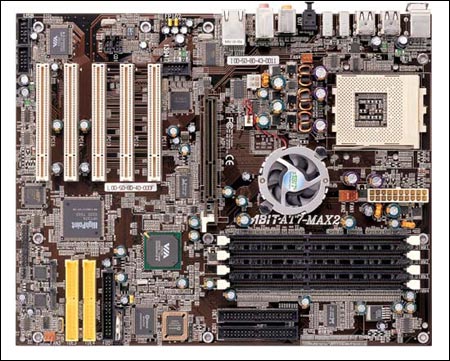 Abit AT7-Max2
Board Revision
1.0
BIOS Version
DD 03/27/2003
Default Clock Speed (MHz)
1807.71
North Bridge
VIA VT8377
South Bridge
VIA VT8235
Number of PCI slots
5
Memory type
DDR266/333/400
Number of memory slots
4
Maximum Memory (GB)
3.5
Universal AGP Support
N/A
AGP Pro Support
N/A
Number of Physical USB 1.1 ports **
0
Number of Physical USB 2.0 ports **
8
Active Cooling on Chipset
Yes
Adjustable AGP Voltage
N/A
Adjustable Memory voltage
Yes
Southbridge UDMA 133 Support
Yes
IDE or RAID Controller other than Southbridge
HighPoint HPT372 UDMA133 RAID
Auto speed-down/shutdown on fan failure
Yes
Auto speed-down/shutdown on heat alarm
Yes
On-board Sound
AC97 ALC650 6 Channels
On-board LAN
VIA VT6102 Fast Ethernet
* Voltage and Physical support for previous generation of AGP
** Not just pin headers onboard
The AT7-Max2 is a 6-layer all black PCB that I found to be very stylish. The white silk screening on the board is extremely easy to read against the black background, so that is a definite plus. With the KT400 Northbridge, which has an active cooler on it, and utilizing the VT8235 Southbridge, this board can use most of the latest technology as far as inputs are concerned. Along with supporting USB 2.0, IEEE 1394 and ACPI, this board also has AGP 8x support for those of you with the latest graphics cards. With the latest BIOS flashed to it, the AT7-Max2 can take all Socket A CPUs up to XP2600+ Barton core; so finding a CPU to work with this board should be no problem at all.
Along with being able to use the newest CPUs, the KT400 chipset allows you to use DDR memory from PC1600 up through PC3200. The board has four 184-pin memory slots and a variety of configurations depending on what speed memory you have. For DDR333/400, you can use up to 2GB in two DIMM slots. For DDR200/266, you can have up to 3GB of un-buffered in three DIMM slots, and finally you can have up to 3.5GB of Registered DDR200/266 memory using all four DIMM slots.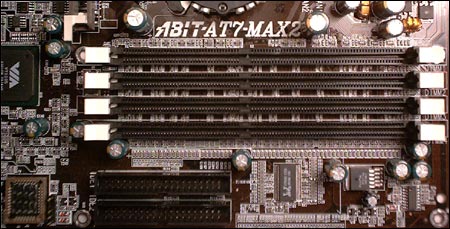 The Southbridge supports 4 x Ultra DMA 33/66/100/133 IDE connectors and 2 x Marvell 88i8030 On-board SATA Serial connectors. The two yellow IDE connectors right next to the Serial ATA are controlled by the High Point HPT374 chip, and can be set up for RAID 0, 1 or 0+1. With all of these connectors, you could conceivably attach 10 hard drives to your system. It might become necessary if you were running a home server, but I just can't see the average user having that many hard drives going at the same time.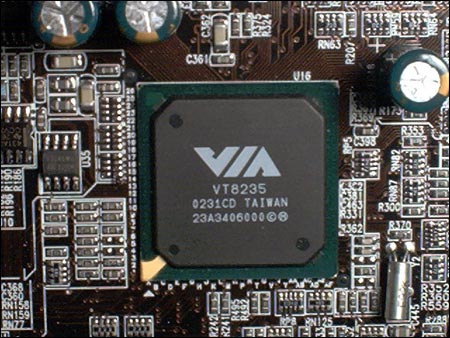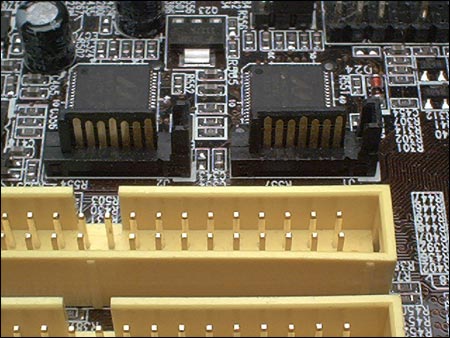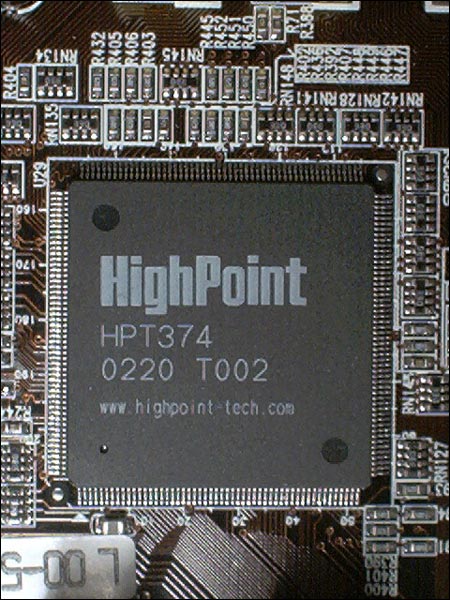 There are 8 USB 2.0 compliant connectors, with six on the rear I/O, and two on the board itself that are connected with the included USB header that fits into a PCI slot. There are two IEEE 1394a Firewire connectors on the rear I/O and one on-board which are supported by a Texas Instruments TSB43AB23 controller, an RJ-45 10/100 LAN connector (it would have been nice if this was Gigabit LAN), an Optical out connector for 24-bit S/P DIF, and 5 audio outputs (Front Left and Right, Line In, Mic, Rear Left and Right and Center/Subwoofer) for the 6 channel AC97 codec that is run by the Realtek ALC650 chip which allows for 5.1 surround sound. I like the idea of the extra audio outputs, as not everyone has a 5.1 sound card in their system. Needless to say, with all these extra non-legacy connections, the package includes a rear I/O shield that fits most ATX style cases.

The board has five PCI slots available for daughter cards, which should be more than enough for most users. The AGP slot supports up to 8x and 1.5v cards for those of you with the newest video cards. There is a clip on the end of the slot to keep the video card secure, but like so many mobos on the market, it is necessary to remove the video card if you want to add/remove memory sticks from the first two DIMM slots. I found this to be the only major flaw in the board layout and can only hope that Abit will address this on future releases.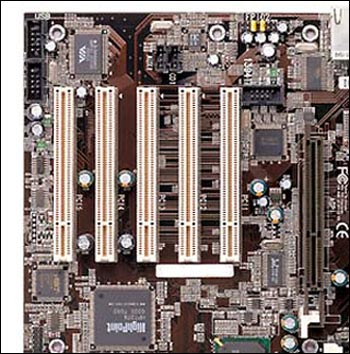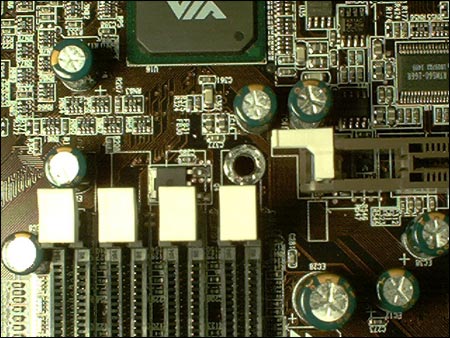 Along with the above-mentioned USB header and I/O shield, the mobo came with a driver CD which includes Acrobat Reader and Norton AntiVirus 2002, the HighPoint RAID floppy, a very comprehensive manual with an included "quick installation" guide in six languages, 2 ATA/133 black IDE cables, a black floppy cable, 3 blue plastic cable ties, 3 blue plastic retention clips and a Serial ATA to IDE adapter with it's own power cable and SATA connector cable. Called the Serillel, and coming with it's own one page "quick install" guide, this device allows you to attach any IDE hard drive to the SATA on-board connector.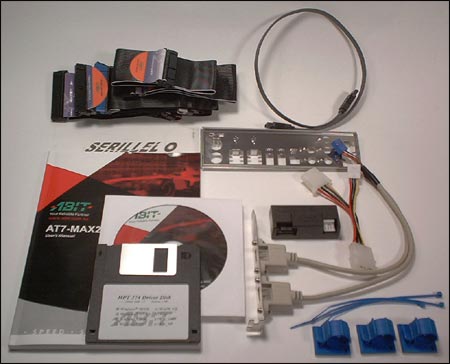 Contents<\h4>

Detailed manual x 1
Complete drivers CD with Norton AV 2002 and Acrobat Reader x 1
HighPoint RAID driver diskette x 1
80-wire ATA/133 cable x 2
40-wire floppy cable x 1
Serial ATA cable x 1
Serial power connector x 1
Serillel IDE to SATA adapter x 1
USB 2.0 header x 1
Plastic wire ties x 3
Plastic retention clips x 3
Back Panel I/O shield x 1