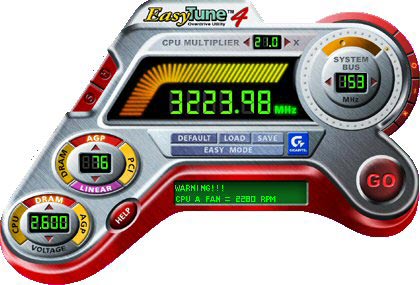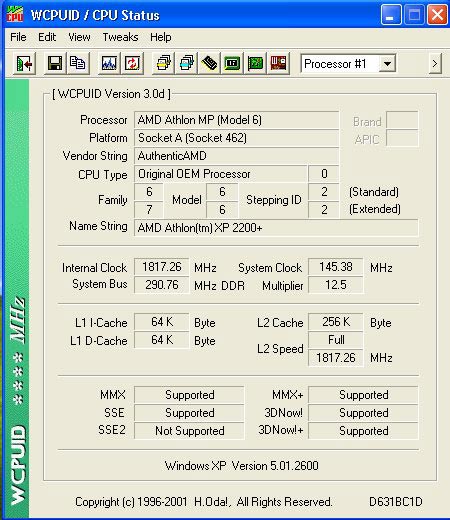 Stability & Compatibility
You can review our stability/compatibility testing methods here.
Test System
Pentium 4 2.8GHz CPUPentium 4@533MHz and P4@800 MHz
40GB WD ATA100 HDD 7200 RPM 2MB cache 8.9ns seek time
16x DVD-ROM
Corsair TwinX 512-3200LL 512MB CAS 2 DDR400 Memory
MSI Ti4200-VTD8X 128MB DDR SDRAM
IBM Deskstar IC35040AVER07 Harddrive
Windows XP Professional with Service Pack 1
DirectX 9.0
Desktop 1024x768, 32-bit color, 85Hz refresh
Nvidia Detonator Drivers 29.42
The performance among the other motherboards was high at the press time. The motherboard was rock stable throughout all the tests. If your memory and CPU lets you, the overclocking capability is high too.
You may like to use easy tune utility to fiddle with the settings. I had to download the new version to make it work but this time the version included in the CD worked fine.
Other than the standard test, I tested it with the on-board Video to compare the results with our standard platform GeForce Ti4200 128 MB VGA Card. I don't know why but Sysmark results with on-board video were higher. For gaming, of course on-board video did not perform well. So this means, the board is really good for casual and office use with on-board video. But for gaming you need more.
| | | |
| --- | --- | --- |
| | On-board Video | GeForce Ti4200 128 MB |
| SYSmark 2002 | 266 | 257 |
| 3Dmark 2001 SE | 2933 | 10513 |
| Quake III | 63.4 | 214.2 |
| Specviewperf 7.0 | | |
| 3DS Max 3DSMAX-01 | 4.727 | 7.568 |
| Design Review DRV-08 | 15.74 | 45.81 |
| Data Explorer DX-07 | 19.69 | 26.57 |
| Lightscape LIGHT-05 | 8.575 | 12.25 |
| Pro/Engineer PROE-01 | 3.354 | 11.26 |
| Unigraphics UGS-01 | 1.017 | 4.063 |