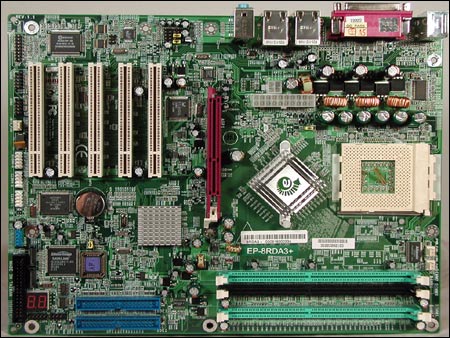 Epox EP-8RDA3+
Board Revision
1.0
BIOS Version
PNG 6.00
Default Clock Speed (MHz)
1804
North Bridge
nForce 2 SPP
South Bridge
nForce 2 MCP-T
Number of PCI slots
5
Memory type
DDR/266/333/400
Number of memory slots
3
Maximum Memory (GB)
3
Universal AGP support *
N/A
AGP Pro Support
N/A
Number of Physical USB 1.1 ports **
0
Number of Physical USB 2.0 ports **
4
Active Cooling on Chipset
N/A
Adjustable AGP Voltage
Yes
Adjustable Memory voltage
Yes
Southbridge UDMA 133 Support
Yes
IDE or RAID Controller other than Southbridge
Silicon Image Sil 3112A Serial ATA RAID
Auto speed-down/shutdown on fan failure
N/A
Auto speed-down/shutdown on heat alarm
Yes
On-board Sound
AC97 C-Media CMI9739 6-channel
On-board LAN
Realtek RTL8201 Fast Ethernet
* Voltage and Physical support for previous generation of AGP
** Not just pin headers onboard
The PCB of the EP-8RDA3+ is the standard 305x240mm ATX motherboard. It fit easily into my med-tower ATX case and is extremely well laid-out. The color of the PCB is the standard grey color of almost every motherboard. Of course, color only matters when there's a window on the case (like mine), but it's an aesthetic thing.

The 8RDA3+ supports all Athlon, Athlon XPs Duron and Barton CPUs from AMD that use the Socket A interface. I haven't had an opportunity to try the 333MHz Bartons or the 400MHz Bartons on this motherboard as of yet, but the support is there should you need it. Earlier nForce2 motherboards may work with 400MHz FSB CPUs, unofficially, but this is the first NVIDIA chipset that officially supports the 400MHz Barton CPUs.

This board supports 3GB of DDR 200/266/333/400 memory. It has 3 184-pin DIMM (Dual In-line Memory Module) slots which each support up to 1GB of memory. This is the standard nForce2 configuration for memory, with 2 similarly colored memory slots for dual channel memory and a third slot, which would cause the dual-channel not to be used. There is more on this in my compatibility testing section.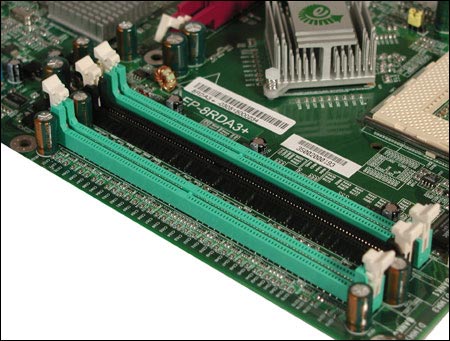 Northbridge duties are handled by NVIDIA's SPP or System Platform Processor. As this board does not have a IGP (Integrated Graphics Processor), the SPP takes over the traditional Northbridge duties such as: Twin Bank (NVIDIA's penname for their 128-bit memory interface (when dual channel memory is used), a dynamic adaptive speculative pre-processor that frees up CPU cycles and works with AMD's HyperTransport to provide the highest memory bandwidth and system performance available.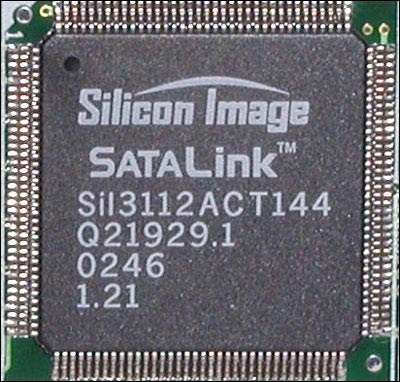 The EP-8RDA3+ comes with a heat sink on the Northbridge, cooling the system effectively. I would have loved to have seen a fan on the Northbridge, along with the heat sink, but Epox decided not to include it. Their previous 8RDA+ has a heatsink and fan , I feel it unfortunate that they didn't include one on the 8RDA3+.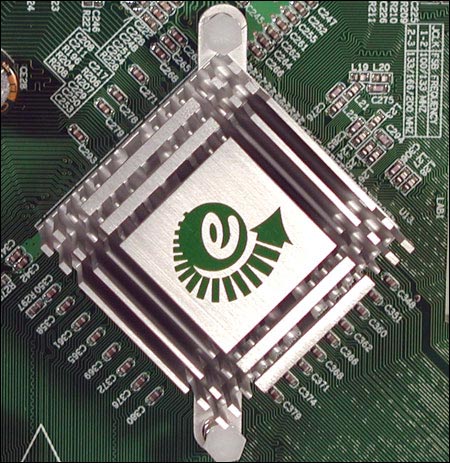 Southbridge duties are handled by NVIDIA's MCP chip. This is a rather curious choice, as the MCP-T supports newer features like Firewire and the dual LANs of the board. Curiously, Epox decided to go their own way in terms of sound, the LAN controllers, Firewire and Serial ATA controllers. It also controls the USB devices, ATA devices and other components. You can read more on the SPP and MCP by clicking here.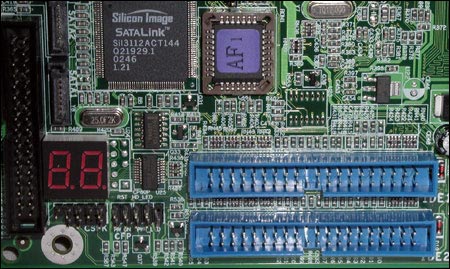 The board comes with a AGP 3.0 compliant AGP8x slot. This slot supports modern AGP video cards with the AGP4x/8x protocol. If you have an older video card based on AGP 1x/2x, this board will not work with it. Of course, if you still have a AGP 1x/2x card such as the Riva128 or Rage Pro Turbo, you should upgrade to the newer standards as none of the cards from that generation would play today's games with any ease.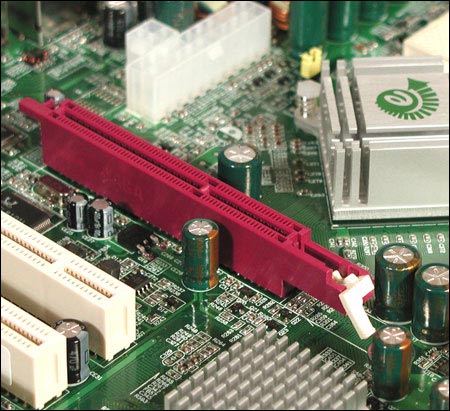 The Epox EP-8RDA3+ supports up to 6 USB 2.0 devices. One nice thing about this board is the four onboard USB 2.0 ports. Too often, boards ship with only 2 with a cable or no cable for two or four more USB ports, to make the total of 6. As I have a USB keyboard, mouse joystick and remote control, all four devices are in use most of the time. Epox did not include a cable for the other 2 USB ports, which is unfortunate, as they included virtually everything else.

The next major feature is the dual LANs. As a reviewer, I have 2 computers or more running at any one time. Since I don't have a hub, dual LANs are indispensable. Daisy chaining one LAN to another is a easy and painless way to network two or more computers. The Epox 8RDA3+ uses dual Realtek RTL8201 controllers with 2 RJ45 jacks on the board. This is different from the normal NVIDIA and 3COM LANs found on most nForce2 motherboards.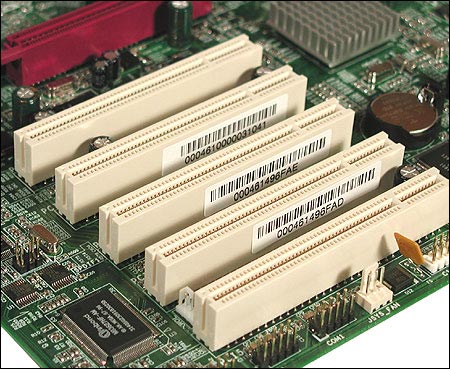 Epox really went all out with this board. The CPU socket has protective film on BOTH sides of the socket, which helps prevent damage to the board when using a screwdriver to install the heatsink/fan on the CPU. It's an excellent idea, and I wish more motherboard manufacturers included this feature with all of their boards. Another nice feature is the 4 holes around the CPU socket, allowing for the easy installation of non-standard cooling solutions on the board.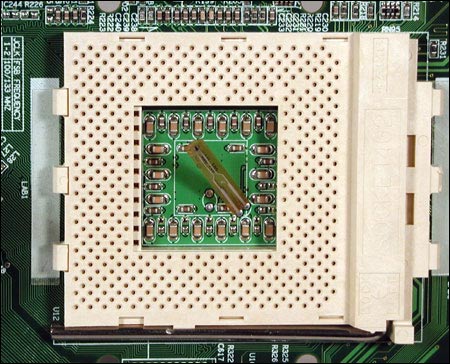 There's a temperature sensor on the board that is in addition to the thermal diode sensor found on most modern Athlon CPUs. This is shown by a small tab, similar in appearance to the temperature sensor found on my temperature reader. I do have some question as to the accuracy of the temperature sensor, however. At differing times, the sensor read 57C at boot up. Using my temperature probe, I found that the heat sink never got above 40C, which makes the reading a bit suspect. I had no stability problems with the board, so it's not that much of a concern.