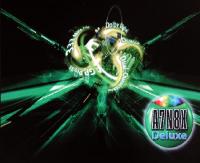 There is only one jumper to set on the A7N8X and that is only for the FSB. There is a jumper for locking the FSB at 200MHz which should only be used if you are using a Duron processor. Beyond that the mother board is a jumper-free design that is controlled within the BIOS. All functions such as FSB and or clock speeds, memory, AGP and CPU voltage are controlled. There are also Hardware Monitoring features and control options for your BOOT sequence, enabling/disabling the various on-board functions and the ASUS POST reporter. The POST reporter is a system diagnostics tool that reports system BOOT-up errors by way of a human sounding voice and can give you a start if you have a problem and suddenly hear this voice saying memory failure.
The board has a well written manual that helps the user familiarize themselves with what the board has to offer and where all the wiring connects to. The board's silkscreen is very legible and can be seen without a magnifying glass making for easier identification of where the system wires and drive cables connect. If you read the manual and pay attention this can be a very painless experience.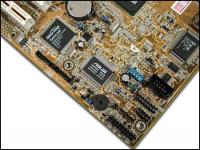 FSB overclocking is the most common method used with today's locked AMD CPU's. Around here we always try and overclock a system by at least fifteen percent or two clock speeds. With a 2000+ AMD Athlon I usually try to get the system to post as a 2200+ which is essentially 200MHz or AMD MHz anyways as far as chip ratings go. I had no problems getting my 2000+ up to a 2200+ with the A7N8X board. A little FSB tweaking a little voltage increase in the CPU and memory settings and away we go. Overclocking is very achievable withy this board as it functions well with the system performance pushed well beyond spec. Windows and all of the system drivers installed without incident and the system never gave any indication of problems during the setup procedure. All in all an easy setup is to be found in the A7N8X.