ASUS ASUS A7N8X DELUXE
† Voltage and Physical support for previous generation of AGP
‡ Not just pin headers onboard

Board Revision
1.04
BIOS Version
1002A 2/26/03
Default Clock Speed (MHz)
1670
North Bridge
nForce 2 SPP
South Bridge
nForce 2 MCP-T
Number of PCI slots
5
Memory type
DDR266/333/400
Number of memory slots
3
Maximum Memory (GB)
3
Universal AGP support †
No
AGP Pro Support
Yes
Number of Physical USB 1.1 ports ‡
0
Number of Physical USB 2.0 ports ‡
6
Active Cooling on Chipset
No
Adjustable AGP Voltage
Yes
Adjustable Memory Voltage
Yes
Southbridge UDMA 133 Support
Yes
IDE or RAID Controller other than Southbridge
Silicon Image Sil 3112A SATA RAID
Auto speed-down/shutdown on fan failure
No
Auto speed-down/shutdown on heat alarm
Yes
On-board Sound
AC97 Avance Logic ALC650 6 Channels
On-board LAN
Realtek 8201BL Broadcom AC101L
Silicon wise the board is nothing out of the ordinary, it uses the same gold PCB that has been around for the past few years and ASUS does not seem bent to go exploring with other colors opting for the standard fare instead. The Deluxe model that I got for review sizes in at a modest 12" x 9.6" (30.5cm x 24.5cm) and uses a modified ATX design. The board ships in the retail package with an included I/O shield that will fit most enclosures. Due to the modified layout of the back panel I/O that includes sound as well as LAN ports, most standard ATX cases will need the included shield.

Based around NVIDIA's new chipset the nForce 2, the A7N8X offers users a very robust platform for the AMD Athlon/Duron CPU line. The board supports the entire line of AMD processors from the entry level 600MHz Duron running at a FSB of 200MHz to the 3000+ Athlon running at a FSB of 333MHz. The board works with the new Barton chips as well but unless you bought your motherboard within the last day or so you will need to flash the BIOS to the latest version in order for the board to recognize the CPU as a 3000+. If you have a 2800+ or lower you shouldn't have any problems with CPU identification.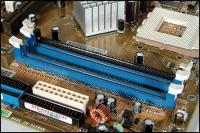 The chipset consists of a few parts, the North Bridge: NVIDIA nForce2 SPP and the South Bridge: NVIDIA nForce2 MCP which is broke down in three different functions the IGP (Integrated Graphics Processor) the SPP and the MCP. The nForce IGPs also incorporate HyperTransport , a high-speed bus for increased data throughput, and the industry's only dual 64-bit DDR memory architecture, providing unsurpassed system performance and staggering 6.4GB/sec performance when using DDR400 memory. There are three memory slots available supporting up to 3GB of unbuffered PC3200/PC2700/PC2100/PC1600 non-ECC DDR SDRAM memory featuring TwinBank architecture.

Well while all of us are still waiting for the Serial ATA drives to come into play, the Deluxe board comes equipped with the Silicon Image Sil 3112A Controller that has 2 ports supporting the RAID 0/1 arrays. There are in addition to the SATA controllers the standard 2 x Ultra-DMA 133/100/66/33 controllers, which is what everyone will be using until we can get our hands on some SATA drives. The connectors are located in an optimal place that is fairly perpendicular to where you drives will be located in your case making for less of a cable mess.
8X AGP is one of the latest tech advances to hit the market and for once both the video cards and the AGP port are on the same sheet of music. Most of the top of the line 3Dcards take advantage of this tech which allows much larger information transfers and better overall visual quality in games and other desktop applications. The A7N8X comes with an 8X AGP pro slot that only works with 1.5v AGP 2X and above cards. There are five PCI 2.2 slots for your inline card expansion if you need them but with so many on-board features most people will probably never even use them.
LAN and sound are provided; The board has Dual on-board LAN, one by way of the Realtek 8201BL chipset and one by the nVidia integrated MCP, and sound by way of the Realtek ALC650 chipset that supports Dolby digital 6CH audio and has a built in HP amplifier for louder and clearer sound recreation. This on-board sound solution is pretty good sounding and works well with both games and audio. The software that is used for the GUI is very adequate and reminds me of ADI's SoundMax, a very promising market product for the desktop environment so I was satisfied with the performance.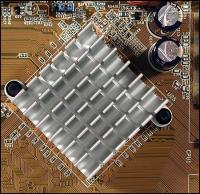 If you are into digital camcorders or digital media the A7N8X has the availability to connect by cable two IEEE 1394 ports via a header on the board. There are also four USB 2.0 ports for your device interface as well. There is an on-board header for a cable which has an additional two USB 2.0 ports making for a total of six available USB 2.0 ports altogether. From a users standpoint this board comes fully loaded and has a layout that is ergonomically correct with the exception of the power connector that is on the wrong side (Wake up ASUS) making for a cable that has to cross over your memory slots and CPU which constricts air flow around the CPU as well.