It seems almost every month there is something that is an attention grabber in the PC world and this month is no exception. Intel was a bit late in the game to offer 8X AGP and Dual channel memory support but better late than never is fine by me as this usually is good for the user. Intel waited and researched these new features before releasing them, a move that hopefully will insure greater stability in these new boards.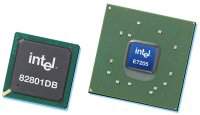 The Granite Bay or the E7205 chipset was first geared toward the lower end Server and Workstation market, but because of its success it seems to be the perfect replacement product to weed out the RAMBUS boards that have proved to be none to popular with the masses. The E7205 chipset is faster than its RAMBUS cousins and offers a more flexible feature package for the enthusiasts market, so it should make quite the splash in the desktop arena. Below are the basic new features of this chipset.
Dual Channel DDR266 Memory Bus (4.2GB/s memory bandwidth)
AGP 8X support
We were lucky enough to be able to get our hands on one of the first motherboards of this type by way of Teresa Pan our American contact at Gigabyte, thanks Teresa. It also has more features than most boards currently available for the desktop environment that will appeal to those who want the latest and greatest. The only drawback to this chipset is that the board currently only supports DDR266 SDRAM and is not validated to use the latest DDR333. We will have to wait for Intel to move into their next phase of evolution featuring a 667MHz FSB before that sees the light of day. Until then let us take a serious look at what's under the hood of the 8INXP and see what it really offers.