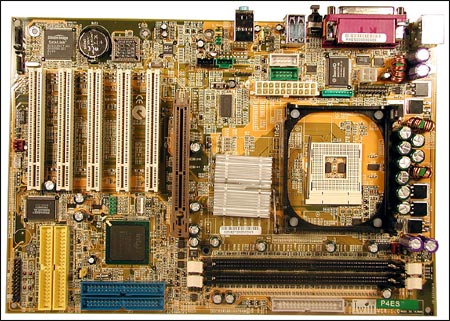 Iwill P4ES
Board Revision
1.0
BIOS Version
08.02.2002 9/24/02
Default Clock Speed (MHz)
1996
North Bridge
82845E
South Bridge
82801DB
Number of PCI slots
5
Memory type
DDR200/266
Number of memory slots
2
Maximum Memory (GB)
2
Universal AGP support *
N/A
AGP Pro Support
N/A
Number of Physical USB 1.1 ports **
0
Number of Physical USB 2.0 ports **
5
Active Cooling on Chipset
N/A
Adjustable AGP Voltage
N/A
Adjustable Memory voltage
N/A
Southbridge UDMA 133 Support
N/A
IDE or RAID Controller other than Southbridge
PROMISE 20275UDMA133 IDE
Auto speed-down/shutdown on fan failure
N/A
Auto speed-down/shutdown on heat alarm
N/A
On-board Sound
AC97 Avance Logic ALC650 6 Channels
On-board LAN
N/A
* Voltage and Physical support for previous generation of AGP
** Not just pin headers onboard
IWILL has been making boards since the late eighties and was one of the first companies to incorporate the SCSI interface on a desktop motherboard. They have also made a few motherboards that caught the enthusiast's eye such as the KK266 Plus that has helped keep their name in the headlines.
Never sticking with one platform IWILL has produced a constant stream of motherboards for both the Intel and AMD camps. The latest thing to cross my desk is the P4ES a Socket 478 i845E chipset based board that supports all of the Socket 478 CPU line including the new Celeron and 2.8GHz P4.
The i845 chipset consists of two parts, the MCH (82845) Memory Controller Hub and the ICH4 (82801DB) I/O Controller Hub. System monitoring is regulated by the Winbond Smart I/O W83637HF chip and can be accessed via the systems BIOS control panel.
Sizing in at 12in x 8.3in (305mm x 210mm) and based on a modified ATA design, the board will fit in most standard or larger cases. The motherboard comes with its own rear I/O shield that should be interchangeable with most cases available today that offer a removable shield option.

The P4ES offers an adjustable 400/533MHz FSB that is accessible via the BIOS for custom tailoring of your CPU speed and system speed. Memory support is provided by the two DIMM slots and can accommodate up to two gigabytes of PC200/266 DDR SDRAM in both the ECC and un-buffered variety.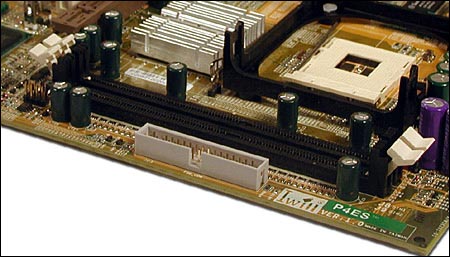 Technology keeps moving ahead at a high rate and the latest thing to catch the eye of the enthusiasts is the new SATA or Serial ATA interface which offers the user transfer bandwidth of up to 1.5 GB (150 MB/s) per second.
The roadmap for SATA will lead to up to 600 MB/sec transfer bandwidths by 2007 so this should help eliminate the bottlenecks in speed currently faced by hard drives in the PC world. Currently no SATA drives are available but by the end of the year all the major players will have their products presented.
Another thing to take note of is unlike the ATA133 spec which most of the well known companies simply ignored, SATA will be officially recognized as a new standard for data transfer and will be supported by all manufactures as it takes the place of the standard ATA interface.
There are five PCI slots and one AGP 4X slot available for your inline expansion. The AGP slot has a cool push and pull sliding mechanism for securing and releasing the AGP card which works quite well. Like usual the AGP card when installed blocks the memory slots.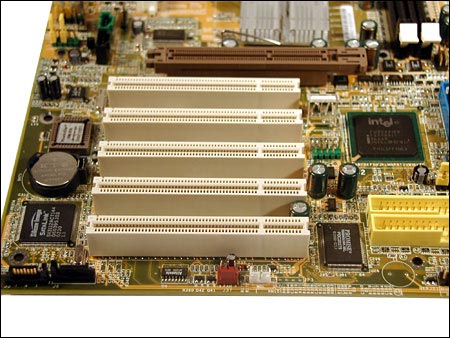 For those of us still living in the now the P4ES does come equipped with your not so typical quad ATA133 controllers that using the Promise PDC20275. This controller can operate up to eight IDE devices simultaneously.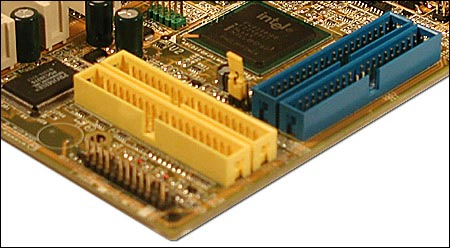 Sound is provided via the Realtek ALC650 audio CODEC which features six-channel audio outputs and comes with an S/PDIF digital connection as well for true digital sound reproduction. Although not as highly esteemed as a Sound Blaster product the Realtek does a solid job of providing on-board audio.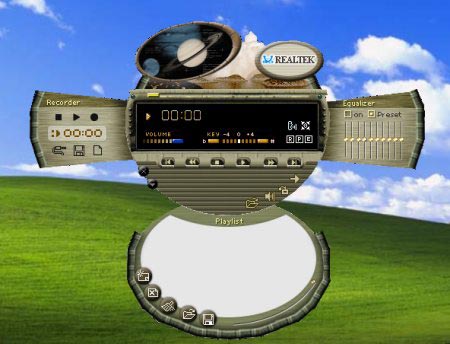 There are three USB 2.0 ports available on the rear I/O and a header for an additional two on the board itself making a total of five possible ports. That wraps up what the boards major features are and makes it time to move on to the setup and performance testing sections of this review. Read on.