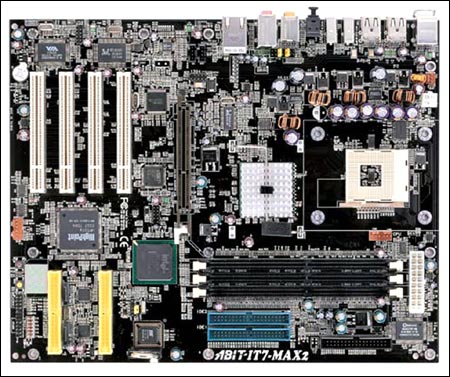 Abit IT7 MAX-2
Board Revision
2.0
BIOS Version
MC-AV 8/26/2002
Default Clock Speed (MHz)
1992
North Bridge
82845E
South Bridge
82801DB
Number of PCI slots
4
Memory type
DDR200/266
Number of memory slots
3
Maximum Memory (GB)
2
Universal AGP support *
N/A
AGP Pro Support
N/A
Number of Physical USB 1.1 ports **
0
Number of Physical USB 2.0 ports **
10
Active Cooling on Chipset
N/A
Adjustable AGP Voltage
N/A
Adjustable Memory voltage
Yes
Southbridge UDMA 133 Support
N/A
IDE or RAID Controller other than Southbridge
Highpoint HPT374UDMA133 RAID +Serial ATA
Auto speed-down/shutdown on fan failure
Yes
Auto speed-down/shutdown on heat alarm
Yes
On-board Sound
AC97 Avance Logic ALC650 6 Channels
On-board LAN
Realtek RTL8100B
* Voltage and Physical support for previous generation of AGP
** Not just pin headers onboard
A few months back we had our first look at a true legacy free motherboard with the release of the IT7-MAX. This board was a little ahead of its time and offered decent feature options but had a few design flaws that kept it from earning an Editors choice award.
Well ABIT went back to the lab and retooled and revamped the design structure of the IT7 series allowing them to achieve a new pinnacle of success not possible on the previous release of this motherboard.
One of the main hair pullers of the first IT7-MAX was its lack of PS2 connections for the mouse and keyboard which lead to many different system incompatibilities and made running some of the performance tests nearly impossible. The IT7-MAX 2 has fixed this problem and included the PS2 inputs that make for a much more stabile and compatible motherboard.
Based around Intel's i845E chipset the IT7-MAX 2 sizes in at a modest 305 X 244mm and is built on a black 4 layer PCB in a much modified ATX 2.03 form factor. The motherboard supports all the Socket 478 Intel CPU's including the new Celeron class and the latest 2.8 P4 for maximum flexibility. For better system stability make sure to use the proper 300W or higher 12V P4 approved power supply.
Featuring an adjustable 400/533MHz FSB is something that allows the user to take advantage of many different system settings and CPU classes. The i845E chipset has so far proven to be a very robust and stable platform for the Intel P4 platform offering fast speeds and stability. Only SiS has so far come up with a viable competition for the i845.
Memory is limited to a 2GB barrier via its three on-board 184-pin DIMM slots. The board uses un-buffered non ECC DDR 200/266 DDR SDRAM memory modules from 64MB- 1GB. PC2700 memory actually works fine but the system was not designed to run at 333MHz so performance is not overtly affected but it does allow for more stable Overclocking due to its increased bandwidth.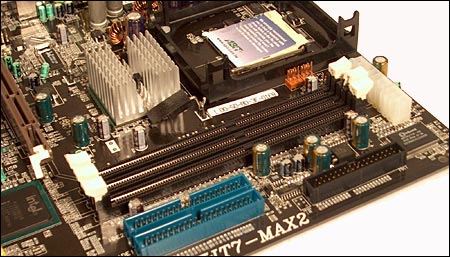 Gone are any COM, MIDI or parallel ports as the board uses none of these old school inputs favoring additional USB and IEEE ports in its design. The system comes with its own modified rear I/O shield enabling the enclosure to accommodate the MAX-2. The rear I/O shield is interchangeable with most cases that offer the removable shield option.

Having four 2.1 PCI slots is a little skimpy at first glance, but since the board already has many features on-board that would otherwise occupy a slot it becomes a moot point in the overall picture. I mean there is available support for ten USB 2.0 ports and three IEEE 1394 ports which can eliminate the need for an external hub to connect all your up to date external peripherals.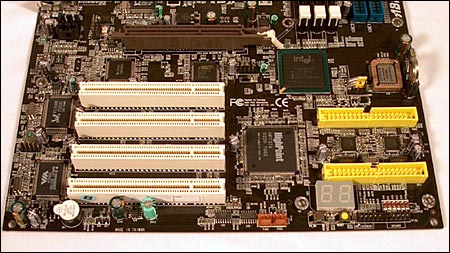 8X AGP is the latest frontier here in PC country and this is the only throw back feature on the IT7-MAX 2 due to its 4X AGP limitation which was surprising to find on an otherwise over the top product. The 4X AGP slot is a 1.5 only receptacle and will not work with any of the former AGP released cards making it a good upgrade option for those who have the latest VGA cards.
There are two Ultra DMA 33/66/100 Connectors, two Ultra DMA 33/66/100/133 Connectors (RAID) and two of the latest Serial ATA 1.5G bps Connectors available for your drive support. RAID 0/1 or 0+1 support is available through the High Point HPT374 IDE RAID controller. Striping or RAID 0 uses two identical drives to make one large fast drive, mirroring makes an exact copy of your main drive and finally the 0+1 array is a combination of both.
A LAN option is also available on-board courtesy of the Realtek 8100B 10/100M PCI Fast Ethernet controller. Realtek has been around for a long time now and many of the popular 10/100 NET cards use their chipset to power their product. Sound is provided by the Realtek ALC650 chip which works in conjunction with ABIT's own AC2001A chip to provide six-channel surround sound to your desktop that actually works well enough to be used in a hardcore gamers system.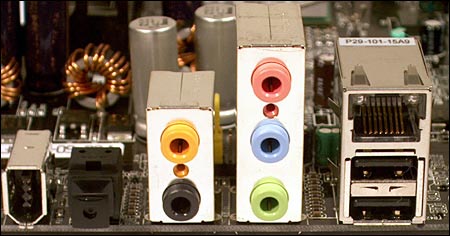 Overclocking and hardware monitoring features are available within the AWARD BIOS which we will go into detail about later in this review. All the correct cables, necessary drivers and the rear I/O shield are located within the retail box. The cables are black in color and look better than your average run of the mill cables that get thrown in with most motherboards. Overall a solid package with no real drawbacks is what is under the hood of the ABIT IT7-MAX2. Let's move on to the setup and performance sections and see if the board can perform as well as it looks.
Back Panel I/O
1 x PS/2 Keyboard, 1 x PS/2 mouse
4 x USB connectors
2 x IEEE 1394 connectors
1 x SPDIF Out connector
Audio connectors (Center/Sub, Surround Speaker)
Audio connectors (Front Speaker, Line-in, Mic-in)
2 x USB, 1 x RJ-45 LAN Connector