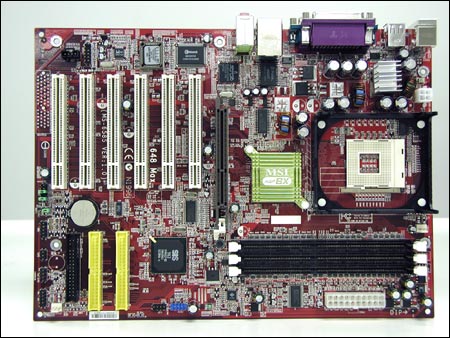 MSI 648 MAX
Board Revision
1.0
BIOS Version
1.0 08/19/2002
Default Clock Speed (MHz)
2020
North Bridge
SiS648
South Bridge
SiS963
Number of PCI slots
6
Memory type
DDR200/266/333
Number of memory slots
3
Maximum Memory (GB)
3
Universal AGP support *
N/A
AGP Pro Support
N/A
Number of Physical USB 1.1 ports **
0
Number of Physical USB 2.0 ports **
6
Active Cooling on Chipset
N/A
Adjustable AGP Voltage
N/A
Adjustable Memory voltage
Yes
Southbridge UDMA 133 Support
Yes
IDE or RAID Controller other than Southbridge
N/A
Auto speed-down/shutdown on fan failure
N/A
Auto speed-down/shutdown on heat alarm
N/A
On-board Sound
AC97 Avance Logic ALC650 6 Channels
On-board LAN
Broadcom BCM5702CKFB Gigabit Ethernet
* Voltage and Physical support for previous generation of AGP
** Not just pin headers onboard
| | |
| --- | --- |
| | |
SIS is becoming more competitive with each new release of their Pentium 4 chipsets. It is not easy to compete with the reliable Intel 845 chipset so SIS is playing the new features card on each new chipset release. This time they added AGP 8X support. We have not seen any significant performance increase in previous AGP releases. As soon as we see reliable products and drivers actually working on the AGP 8X bus we will be able to tell if this release is any different. They have already increased memory and core frequency on AGP 8x cards which is carrying the same graphics chip with 4X support to show some difference. Bad tricks but good results for the gamer. We tested the MSI 648 MAX which uses the SIS 648 chipset.

MSI 648 MAX has 6 PCI Slots and 3 DIMM slots which supports up to 3GB of DDR333 memory. It states in the manual that it supports DDR333+. I don't know if it fully supports that or just included for overclocking issues. It is good to see native UDMA 133 support for Pentium 4. Intel hasn't supported UDMA 133 and only some hard drive manufacturers supported this feature. Serial ATA is around the corner. We have seen some motherboards with Serial ATA support but these drives are not on the market yet.
Like most of the new systems it supports 6 USB ports in the chipset. MSI supplied all six USB ports. It has four ports on the back panel, two ports on an additional bracket with DLED (Diagnostic Leds)

This board has Bluetooth support but I don't know where you can find the transmitter bracket or device to connect to the header. If you do find one, it shares the bus with one of USB 2.0 Ports. You have to disconnect the blue USB connector from the motherboard and connect Bluetooth to JBT1 header.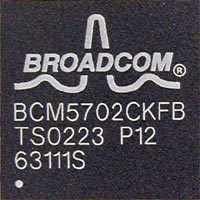 Basic networking support for a home network or a broadband connection is a must these days. Gigabit ethernet is something new for the desktop and this board comes with two network connection options. The Broadcom 4401 supports 10/100 and the Broadcom 5702 supports Gigabit network connection. The motherboard we tested had the gigabit connection.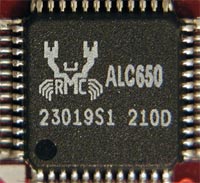 Most of the manufacturers are adding cheap sound solutions to their boards. It is not as effective as powerful sound processors, and they consume your CPU power. This is not too bad because today's CPUs can easily handle some extra load. MSI utilizes the Realtek ALC650 chip which supports 6 channel audio.

For most of these on-board 6 channel audio solutions, you have to sacrifice the Line-In and Microphone Out to connect all six channels. This motherboard does not consume those ports. There is an additional bracket with two analog ports. Those ports are for Surround, center, and subwoofer channels. If you want to connect it to a Dolby Digital decoder box, you can do it using a single optical cable or a digital mono cable.