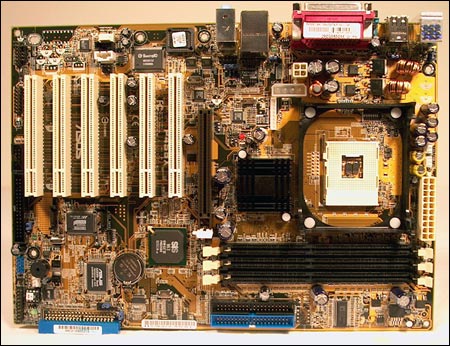 ASUS P4S8X
Board Revision
1.03
BIOS Version
1003A
Default Clock Speed (MHz)
2019.89
North Bridge
SiS 648
South Bridge
SiS 963
Number of PCI slots
6
Memory type
DDR200/266/333
Number of memory slots
3
Maximum Memory (GB)
3
Universal AGP support *
N/A
AGP Pro Support
Yes
Number of Physical USB 1.1 ports **
0
Number of Physical USB 2.0 ports **
6
Active Cooling on Chipset
N/A
Adjustable AGP Voltage
Yes
Adjustable Memory voltage
Yes
Southbridge UDMA 133 Support
Yes
IDE or RAID Controller other than Southbridge
Promise PDC20376 SATA 150 RAID
Auto speed-down/shutdown on fan failure
N/A
Auto speed-down/shutdown on heat alarm
N/A
On-board Sound
C-Media CMI9739A 6 Channel Audio
On-board LAN
Realtek RTL8201BL
* Voltage and Physical support for previous generation of AGP
** Not just pin headers onboard
ASUS has long been the king of the ring when it comes to motherboards and the P4S8X is no exception to the rule. Thanks go out to www.jncs.com for providing the board and CPU for this review, thanks Jerry! Rumor around town has it this is one sleek fast cat that can whip the competitions similar product in the performance arena, a fact that has yet to be proven in our lab.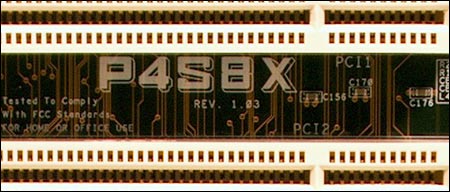 Built on a customized gold colored 4-layer PCB in the ATX form factor the P4S8X sizes in at 12" X 8.6" (30.5cm X 21.9cm) and uses a modified back plate to fit securely in your enclosure. The board comes with this plate and should fit most enclosures featuring an interchangeable rear I/O shield option. Most reputable case manufactures make their case with this basic alternative feature.

Wow two boards in a row featuring the SiS 648 chipset has got me wondering what SiS has been doing behind closed doors as obviously their hard R&D has paid off. The SiS 648 works in conjunction with its companion SiS963 MuTIOL 1G Media IO chipset bringing solid performance to the P4 desktop platform. SiS is starting to make a serious name for their chipsets by combining their efforts with the Intel giant.
The board supports an adjustable 400/533MHz FSB and features a 12-level In-Order-Queue to support maximum transactions on a host bus that can simultaneously utilize up to 12 devices. There are various BIOS options that allow the user to custom tailor their CPU and system environment, which is something that we will go into further in the setup section of the review.
Supporting the entire line of P4 CPU's in the Socket 478 configuration including the entry level Celeron series gives users of the P4S8X a wide variety of choices for their selection of processor. There are two fan headers located above the CPU for using a multitude of different cooling solutions and fans. This is a good location for the headers, as it keeps the wires on the top of the board and out of the CPU's air path.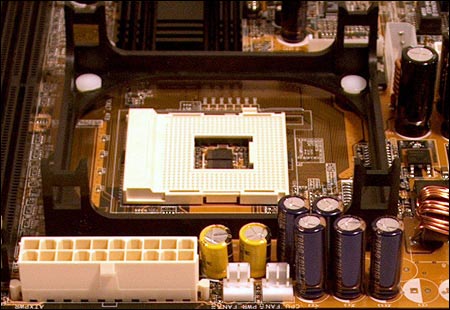 Memory support on the P4S8X comes via its three DIMM slots that can use PC1600-PC2700 DDR SDRAM in 64MB-1GB modules allowing a total memory capacity of up to 3GB. The performance level is biased toward the memory you use as running at 333MHz using PC2700 offers the best solution offering bandwidth up to 2.7GB/s, which is needed for satisfying the high demands of the system bus.
Many of the other boards using this same chipset combination can only support 2GB of PC2700 memory and only allow the use of two of the three DIMM slots available. The ability to make use of all three DIMM slots is a serious plus for this motherboard and will help the P4S8X garnish the attention of enthusiasts and workstation tech junkies for this little but important attribute.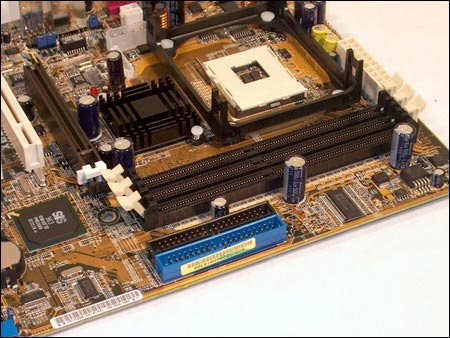 For your hard drives and other optical devices the P4S8X comes equipped with two ATA133 Controllers a single Promise ATA133 RAID controller featuring RAID 1/0 and 1+0 support and there is also an additional set of SATA 150 (Serial ATA) RAID controllers offering amazing new transfer speeds starting off at 150MHz. Gamers and media freaks will enjoy the improved performance of the faster transfer rates.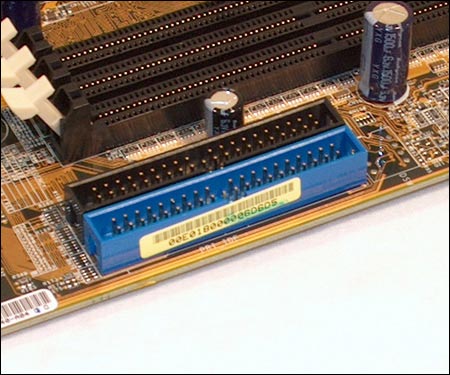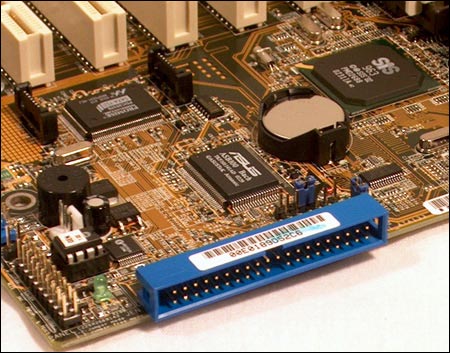 No drives are currently available for the SATA controllers but in the next month or so that will be a changing scene as drives will be available in time for the holiday season. Serial ATA uses a cable that is so small as to be almost non-existent visually and allows a much cleaner system environment to be built which offers better air circulation than the conventional cables permit.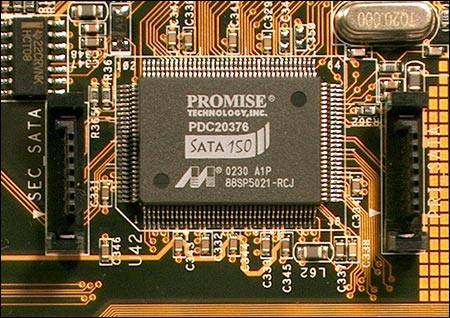 Offering six USB 1.1 or 2.0 connectors on-board can help eliminate the need for an external USB hub and the P4S8X comes equipped with enough to handle quite a few peripherals. There are four ports available on the rear I/O and two more attach by a cable that includes an audio MIDI port on the same bracket. The motherboard additionally offers two IEEE 1394 ports provided by the Realtek RTL8801B.
USB 2.0 delivers transfer speeds up to 40 times faster than that of the original 1.1 standard. Featuring true Plug-N-Play performance for easy connectivity and running at 480Mb/s allowing for ultra-fast data transfers, USB 2.0 is the future now. The IEEE 1394 offers transfer rates from 100-400Mb/s depending on the interface device used and uses less CPU power than its USB counterpart.
Those of you clinging to the past and using Win 98 or ME will not be able to take advantage of the USB 2.0 features as these operating systems do not support the new standard and only support USB 1.1. In able to get the full functionality of the USB 2.0 feature you must use Windows 2000 or XP a fact that is not going to please those dedicated to the archaic operating systems and not ready for prime time.
There are six 2.1 compliant PCI slots and one 4X/8X AGP slot for your inline peripherals. AGP8X (AGP 3.0) is the next generation VGA interface specification that enables enhanced graphics performance with high bandwidth speeds up to 2.12GB/s. Running at a 533MHz FSB, AGP8X is twice as fast as the AGP4X standard. This will enable your AGP bus to transfer much larger pieces of data to your system.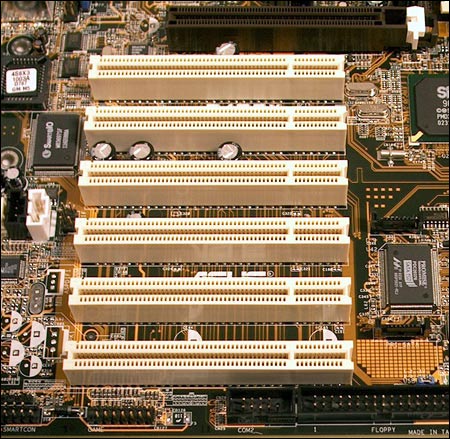 On the P4S8X LAN support is provided via the on-board Realtek RTL8201BL PHY chip that offers a single 10/100 RJ45 connector that is located on the rear I/O. The P4S8X uses an onboard C-Media 9739 CODEC that lets you enjoy high-quality 6-channel audio without having to purchase an expensive add in card. The P4S8X's optional S/PDIF in/out module turns your computer into a high-end entertainment system when using the optical and coaxial connectivity in conjunction with high-end digital speaker systems.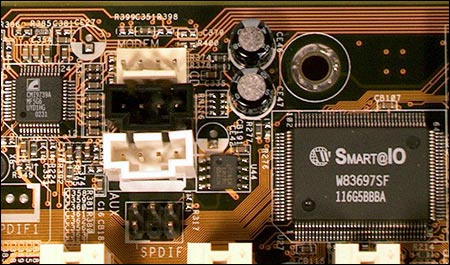 Headers are available on-board for supporting use of the Smart-Media Reader function as well as an SMBus connector. The SMBus connector is a multi-device bus that permits multiple chips to work on the same bus and enables each one to act as master device by initiating data transfers. All in all this is a feature filled board that has all the latest technology available under the hood and leaves little to be desired. The question now is can it perform as well as it should because on paper this thing looks like a speed freak. Read on and see the rest of the review, news at eleven!