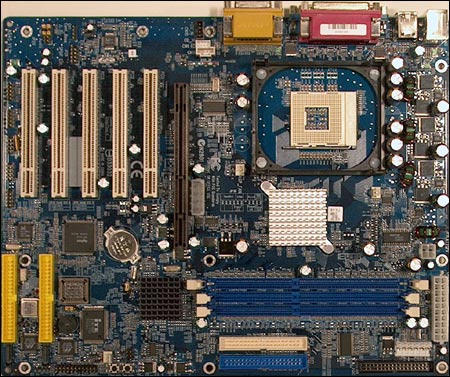 Shuttle AS45GTR
Board Revision
1.2
BIOS Version
AS45S 01/24/2002
Default Clock Speed (MHz)
2004
North Bridge
SiS 648
South Bridge
SiS 963
Number of PCI slots
5
Memory type
DDR200/266/333
Number of memory slots
3
Maximum Memory (GB)
3
Universal AGP support *
N/A
AGP Pro Support
Yes
Number of Physical USB 1.1 ports **
6
Number of Physical USB 2.0 ports **
0
Active Cooling on Chipset
N/A
Adjustable AGP Voltage
Yes
Adjustable Memory voltage
Yes
Southbridge UDMA 133 Support
Yes
IDE or RAID Controller other than Southbridge
Highpoint HPT372 UDMA/ATA 133 RAID
Auto speed-down/shutdown on fan failure
N/A
Auto speed-down/shutdown on heat alarm
Yes
On-board Sound
AC97 Avance Logic ALC650 6 Channels
On-board LAN
N/A
* Voltage and Physical support for previous generation of AGP
** Not just pin headers onboard
The AS45GTR from Shuttle is one of the latest products to be released by this veteran motherboard company and it shows promise as a feature filled enthusiast board that should catch some market attention.
Built on a four layer PCB in the ATX form factor, the board sizes in at 305mm x 244mm and should fit any standard or larger sized case. The rear I/O panel is also standard and requires no additional I/O shield for a proper fitting installation. A 300W or higher PS is highly recommended for better system stability.

One cool thing to notice is the motherboards gold plated connectors and blue colored PCB. Having a blue PCB enhances the boards visually quality and can only truly be enjoyed if enclosed within a case that has a see-through window. Having gold plated connectors increases the reliability of your drive cables making a solid connection.
Based on the new SiS 648 HMAC/ 963 MuTIOL Chipsets that seems to be getting praise around the net, the motherboard supports an adjustable 400/533MHz FSB allowing use of both the older and newer Intel Socket 478 P4 based processors for maximum flexibility in your choice of CPU.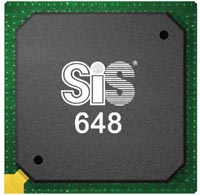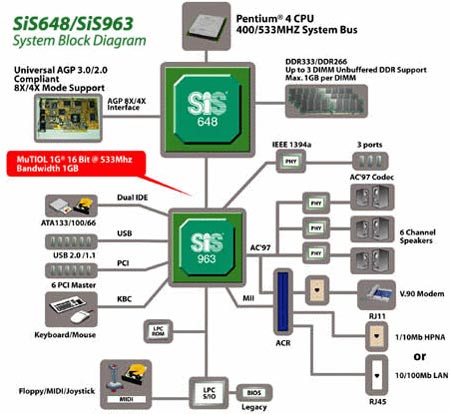 The AS45GTR supports up to 2GB of 2.5V PC2700 DDR SDRAM memory and 3GB of PC-1600-PC2100, it can offer bandwidths up to 2.7GB/s when using DDR333, which is essential in order to sustain the bandwidth demand from the host processor, as well as the multi I/O, and AGP master buses.
You can use memory modules from 64MB-1GB in the PC1600-PC2100 variety but with PC2700 the board only works with two DIMM slots limiting your memory support to a 2GB max. The board only supports PC2700 in a four-bank configuration meaning that the last DIMM slot must remain empty.
You can use the latest DDR400 or PC3200 memory but performance is not really increased as much as system overclocking becomes more stable when using the faster speed rated memory that handles the increased frequency better than the garden PC2700 variety.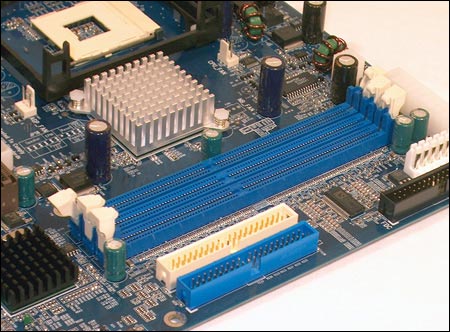 Featuring five PCI slots and a 4X/8X Pro AGP port, the board is up on its technology. The AGP port supports all the latest features including the new 8X standard including Fast Write Transactions for better bandwidth and increased performance.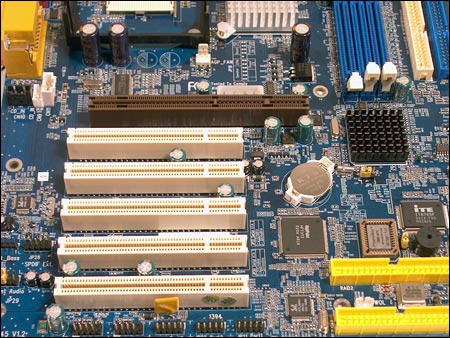 For your hard drive and optical devices this board has the mother lode and offers the user a vast variety of options. Starting off with native ATA133 support via the standard Dual ATA controllers, two ATA133 RAID controllers and then an additional two Serial ATA150 controllers means serious drive support.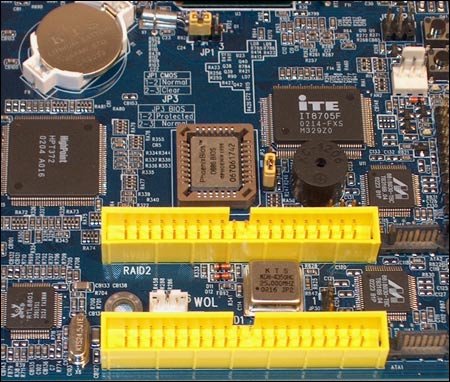 Having Serial ATA support at the moment is a little early but hopefully by Christmas we will begin to see these type of drives hitting the shelves in time to garner our holiday cash. This little leap can do bounds for your multimedia environment as faster transfer rates equates to smoother video and audio playback.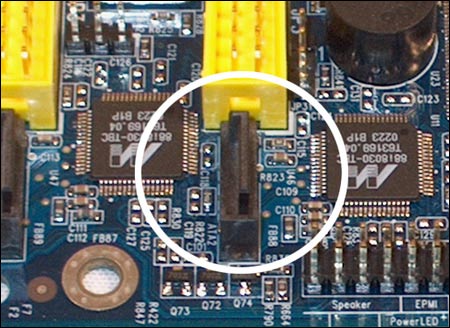 USB 2.0 is becoming evident on most serious players motherboards and Shuttle, not one to usually miss a beat has USB support that rivals most product currently available. Featuring on-board support for a total of six 1.1 or 2.0 USB ports. Two are located on the rear I/O and four are available via cables that connect by way of headers located on the board.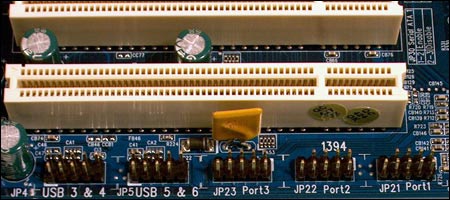 For sound you get a moderate solution that comes in the form of the AC97 Codec that although will work for your sound provider offers a limited amount of options. The audio has six channel speaker support and has features including digital in which connects by an included cable.
Overclocking and hardware monitoring are available from within the AWARD BIOS environment as well as options for protecting your system from CPU fan failure or overtly high system temperatures. The motherboard has a 4MB flash programmable AWARD BIOS that is very user oriented and will be shown further later in the review.
That about wraps up what the board is made of. The retail box includes two ATA cables, one floppy cable, one driver CD, one manual, one Digital in cable, two external USB cables and two Serial ATA cables. Let us now move on to the setup section of this review shall we. Read on and see what the AS45GTR combined with the AWARD BIOS offers up to the enthusiasts and overclocker.