If you have been following our reviews, you may have noticed that we have not reviewed very many AMD motherboards lately. The new 845E based Intel motherboards have been dominating the market. It is the silence before the storm though as the KT400 is around the corner.
After the initial review of an MSI motherboard with the 845G chipset, all major manufacturers have come out with their own 845E chipset motherboards. It is about time to review a beefed up motherboard from MSI. The MSI 845E MAX2 BLR.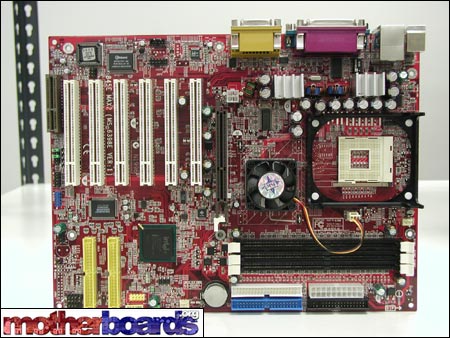 MSI 845E MAX2 BLR
Board Revision
1.0
BIOS Version
5.3 06/17/2002
Default Clock Speed (MHz)
2005
North Bridge
Intel 82845E
South Bridge
Intel 82801DB
Number of PCI slots
6
Memory type
DDR200/266
Number of memory slots
3
Maximum Memory (GB)
2
Universal AGP support *
N/A
AGP Pro Support
N/A
Number of Physical USB 1.1 ports **
0
Number of Physical USB 2.0 ports **
6
Active Cooling on Chipset
YES
Adjustable AGP Voltage
YES
Adjustable Memory voltage
YES
Southbridge UDMA 133 Support
N/A
IDE or RAID Controller other than Southbridge
PROMISE 20276 UDMA133 RAID
Auto speed-down/shutdown on fan failure
N/A
Auto speed-down/shutdown on heat alarm
N/A
On-board Sound
AC97 Avance Logic ALC650 6 Channels
On-board LAN
Intel 82562ET 10/100
* Voltage and Physical support for previous generation of AGP
** Not just pin headers onboard
It has 6 PCI Slots and 3 DIMM slots which supports up to 2GB of DDR200/266 memory. We are used to 3GB of memory support, but some of the manufacturers like MSI chose to support only 2GB for reliability issues. Intel hasn't supported UDMA 133 and hard drive manufacturers have not tried hard to promote this feature. The first two IDE channels supports UDMA 100. MSI added the Promise PDC20276 to the equation. So now you have 2 more channels of UDMA 133. Each channel supports 2 ATA devices up to a total of 4, and it supports Raid 0, 1, 0+1.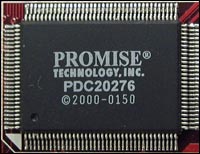 The best part of the 845E chipset is the native support for 6 USB ports. It is up to the manufacturer to supply those 6 ports. Some of them doesn't like to add those additional brackets in to the package. MSI supplied all six USB ports. It has two ports on the back panel, two ports on an additional bracket with DLED (Diagnostic Leds) and two on an additional bracket.
You can see something interesting on the USB Bracket. One of the ports is closed with a "Do not remove when using Bluetooth" label. This board has Bluetooth support but I don't know where you will find the transmitter bracket or device to connect to the header. But if you find and connect it, it shares the bus with one of USB 2.0 Ports. So you have to disconnect the blue USB connector from the motherboard and connect Bluetooth to JBT1 header.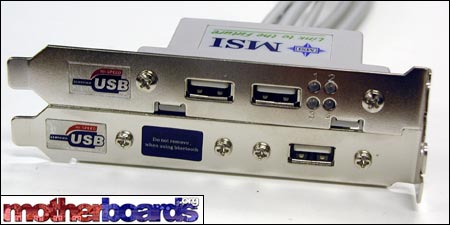 Broadband internet or home networking purposes, even for an entry level motherboard networking is a must. Some of the networking functions are embedded in the chipset. The INTEL 82562ET LAN PHY chip is included for a 100 MBits Fast Ethernet connection.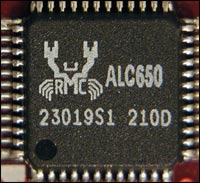 Most of the manufacturers are adding cheap sound solutions to their boards. It is not as effective as powerful sound processors, and they are consuming your CPU power. But this is not so bad because today's CPU power can easily handle some extra load. MSI utilizes the Realtek ALC650 chip which supports 6 channels audio.

For most of these on-board 6 channel audio solutions, you have to sacrifice Line-In and Microphone Out to connect all six channels. For this motherboard you don't have to consume those ports. There is an additional bracket with two analog ports. Those ports are for Surround, center, and subwoofer channels. If you want to connect it to a Dolby Digital decoder box, you can do it by single optical cable or digital mono cable.