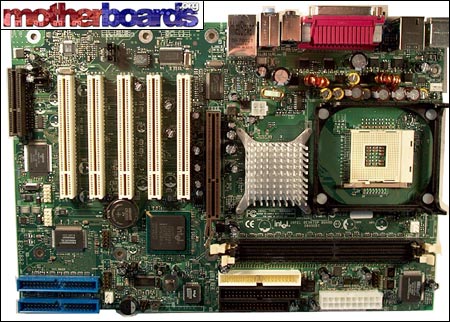 Intel D845EBT
Board Revision
Preproduction Sample
BIOS Version
BT84510A.86A.0007.P05 5 Aug 2002
Default Clock Speed (MHz)
2000
North Bridge
Intel 82845E
South Bridge
Intel 82801DB
Number of PCI slots
5
Memory type
DDR200/266
Number of memory slots
2
Maximum Memory (GB)
2
Universal AGP support *
N/A
AGP Pro Support
N/A
Number of Physical USB 1.1 ports **
0
Number of Physical USB 2.0 ports **
4
Active Cooling on Chipset
N/A
Adjustable AGP Voltage
N/A
Adjustable Memory voltage
N/A
Southbridge UDMA 133 Support
N/A
IDE or RAID Controller other than Southbridge
Promise PDC20267 UDMA 100 RAID
Auto speed-down/shutdown on fan failure
N/A
Auto speed-down/shutdown on heat alarm
N/A
On-board Sound
AC97 Analog Devices Sound Max Cadenza Six-Channel Audio
On-board LAN
Intel 82562ET 10/100
* Voltage and Physical support for previous generation of AGP
** Not just pin headers onboard
The new D845EBT shows Intel sailing into uncharted water as this motherboard has features never previously seen on an Intel desktop board. Intel has rolled up their collective sleeves and is seen once again working in conjunction with Analog Devices to further enhance your audio experience via the highly impressive SoundMax Cadenza package which I will discuss in detail later in the review. Right off the bat I have to say this is possibly the best Intel desktop board to date and should prove to be a winning product for them in the open market.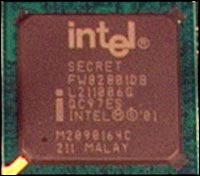 Sizing in at 12.00 inches by 8.20 inches(304.80 millimeters by 208.28 millimeters) and built on a six-layer olive green PCB, the D845EBT will fit into most standard ATX or larger enclosures that have the interchangeable rear I/O shield option. This is necessary as the motherboard has a slightly modified rear I/O and comes with its own shield to ease compatibility issues. The rear I/O offers the following inputs, four USB 2.0 ports, one IEEE 1394, one COM, one parallel port, a 10/100 LAN port, and all of your digital/analog audio connectors.

Intel's 845E chipset consists of the following devices, an Intel 82845E Memory Controller Hub (MCH) with Accelerated Hub Architecture (AHA) bus, an Intel 82801DB I/O Controller Hub (ICH4) with AHA bus, and the Firmware Hub (FWH). The MCH is a centralized controller for the system bus, the memory bus, the AGP bus, and the Accelerated Hub Architecture interface. The ICH4 is a centralized controller for the D845EBT's I/O paths. The FWH provides the nonvolatile storage of the BIOS. This component combination provides the chipset interfaces functionality.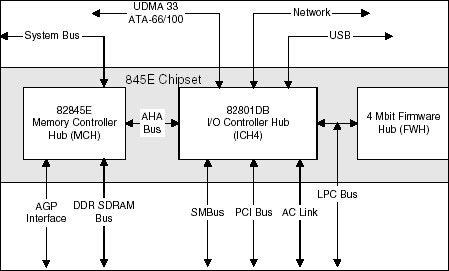 There have been two releases of the Socket 478 line of P4 CPU's; one based on the 400MHz Quad Piped FSB and the other on the newer 533MHz FSB specifications. Recently Intel has released a Celeron CPU in the Socket 478 configuration running at a 400MHz FSB, the same speed as the earlier P4. The D845EBT supports the entire line of Socket 478 processors and leaves a wide array of system configurations possibilities for the end users budget or need. The only real sacrifice in using the Celly as we call it around the lab is its lack of L2 cache that can affect the systems multitasking ability.
For a while Intel was starting to alienate their fans by going in an all RAMBUS direction that was gratefully nipped in the bud making way for boards that support the more affordable and available DDR SDRAM. The D845EBT has two DIMM sockets and supports unbuffered, unregistered single-sided or double-sided 2.5 V (only) 184-pin DDR SDRAM DIMMs with gold-plated contacts. You can use both Non-ECC and ECC DDR 200/266/333(The chipset does not officially support 333 although you can use them) DIMMs from a 64 to 2GB configuration with features including (SPD) Serial Presence Detect and (STR) Suspend To Ram capabilities.
The D845EBT is the first board I have seen with both the standard dual ATA100 controllers and a Promise RAID controller built on-board. The Promise Technology PDC20267 is a PCI bus-mastering ATA controller of a redundant array of independent disks (RAID). The controller supports up to four UDMA or EIDE 100/66/33 drives, RAID 0 (striping), RAID 1 (mirroring) and RAID 0+1 (striping, then mirroring). The controller also offers the user the ability to hot swap failed mirrored drives a great feature for the person in need of constant system backup with a minimum of down time.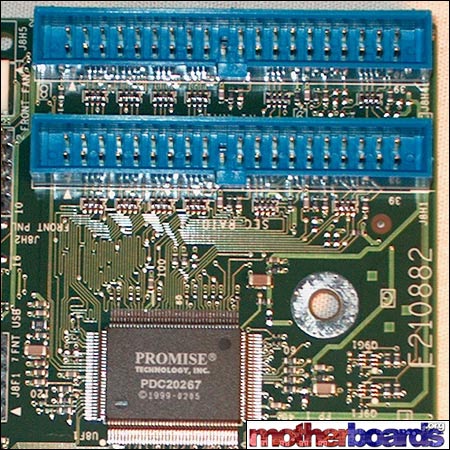 One cool feature that probably gets overlooked in many reviews is the available SCSI Hard Drive Activity LED Connector. The SCSI hard drive activity LED connector is a 1 x 2-pin connector that allows an add-on SCSI controller to use the same LED as the onboard IDE controller. For proper operation, this connector should be wired to the LED output of the add-in SCSI controller. The LED indicates when data is being read from, or written to, both the add-in SCSI controller and the IDE controller. Although not a major thing this is still however a nice additional feature of the D845EBT.
For PCI slots the D845EBT offers the user five 2.2 PCI slots and one 1.5V only 4X AGP slot for their inline card expansion. This should prove to be adequate as the board comes equipped with an on-board Intel 82562ET 10/100 LAN adapter and has on-board sound as well so you should not need to add many cards in any case. There is also a CNR slot available but with the existing features this become a moot point as the slot was meant to accommodate a LAN or digital sound bracket that is already present on the EBT. Your IEEE 1394 support comes via the Agere Systems FW323 controller chip present on the board. There are also headers for two additional 2.0 USB ports offered on-board.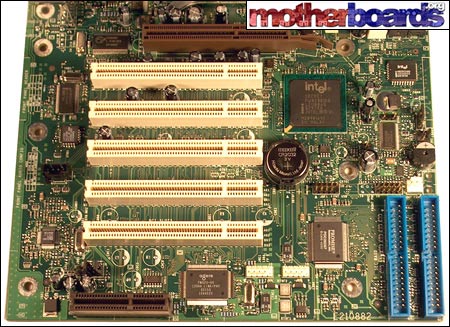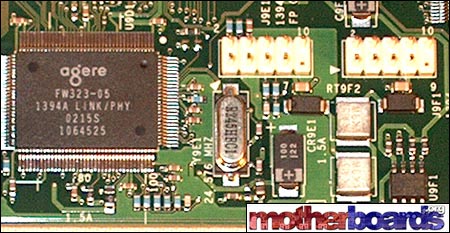 Here comes the best feature in my opinion on the D845EBT. What is this asks the skeptic in you, that would be the SoundMax Cadenza. And what a cool package it is too. Intel and Analog Devices have once again taken the on-board sound solution to the next level by combining the right mixture of hardware and software that results in one of the best if not the best audio solution for the desktop PC. I reviewed the original SoundMax with SPX and the new Cadenza is an improved and re-tooled version of an already great package.
With an advanced software engine and features such as the AD1980 audio Codec as well as easily accessible digital and analog connections, the SoundMax Cadenza will bring forth six-channel high quality audio to your desktop. In the gaming and DVD environment is where this product really shines as it supports all the latest EAX and Direct Sound standards that when combined with a proper set of speakers sounds excellent. There is a digital SPDIF connector on the rear I/O that can plug directly into the coaxial connector on many current stereo receivers and surround sound speaker setups that confirm to the Dolby digital standard for accurate sound separation.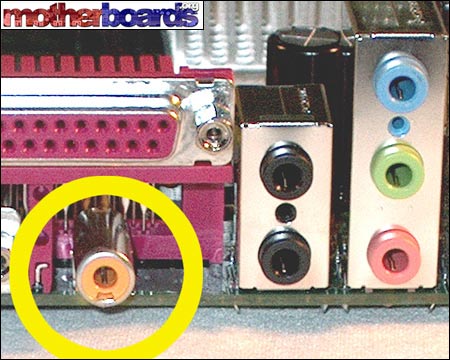 Voice recognition is a tool that is very hard to get accurate results with but the SoundMax Cadenza comes with capability to take advantage of a new microphone system from ANDREA Electronics Corp. The Superbeam Microphone has a very sensitive and direct pickup system for better and more accurate voice translations that improves the way your system interprets your voice when using voice recognition software. The microphone is voice activated and has a tight pattern to its pickup range helping to eliminate background noise interference and focusing on the voice it picks up directly in front of it. If you are someone with a typing disability voice activated and recognition software could be a very useful tool in your modern day living and communication.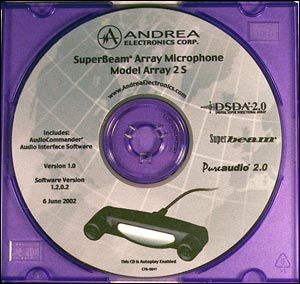 As we wind down on the board's features let us not forget the software that is compatible with the D845EBT. Currently the motherboard supports bad boy Billy's operating systems from Win 98-XP. Be warned though the IEEE 1394 and USB 2.0 standard is only supported in Win 2000 and XP and is not supported in any other OS so if you want these features you will need to use either Win 2000 or XP as your OS. There is also hardware monitoring features available within the Windows environment by way of Intel's System Monitor software that is included on the drivers CD.
You can also flash your BIOS online via the Intel website, just follow the instructions and you will see it is quite user friendly and easy to obtain the latest BIOS for your motherboard while online. This can be a very good thing as many floppy based upgrades can result in a no post-inoperable board. The Ambios 4MB programmable BIOS is very easy to work within but offers very basic control for the user of which I will discuss later in the review. I hope this gives you a basic feel as to what this board has to offer and all in all I consider it a solid respectable effort from the combined forces of Intel and Analog Devices. Let us move forward to the setup and performance results and see how it hold up in the lab. You have seen the gravy now lets check out the meat and potatoes shall we.