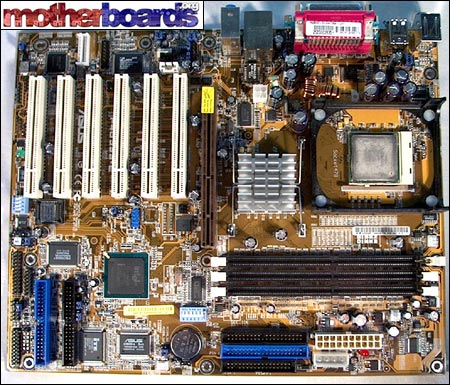 ASUS P4B533-E
Board Revision
1.02
BIOS Version
1007 7/19/2002
Default Clock Speed (MHz)
2020
North Bridge
Intel 82845E
South Bridge
Intel 82801DB
Number of PCI slots
6
Memory type
DDR200/266
Number of memory slots
3
Maximum Memory (GB)
2
Universal AGP support *
N/A
AGP Pro Support
Yes
Number of Physical USB 1.1 ports **
0
Number of Physical USB 2.0 ports **
6
Active Cooling on Chipset
N/A
Adjustable AGP Voltage
Yes
Adjustable Memory voltage
Yes
Southbridge UDMA 133 Support
N/A
IDE or RAID Controller other than Southbridge
Promise PDC20276 UDMA 133 RAID
Auto speed-down/shutdown on fan failure
N/A
Auto speed-down/shutdown on heat alarm
N/A
On-board Sound
C-Media 8738 6 Channel Audio
On-board LAN
Intel 82562ET 10/100
* Voltage and Physical support for previous generation of AGP
** Not just pin headers onboard
ASUS has long maintained been the King of high-performance enthusiasts motherboards and the P4B533-E follows in those same footsteps as a leader of the pack in its own right. I do not think any other company has won as many awards as ASUS has globally, and this has kept them in the forefront of this dog eat dog technology market where companies come and go on a daily basis. A special thanks to our friends at www.jncs.com for providing the board and CPU for this review, thanks Jerry!
Whether you are building a fresh system or upgrading your old one, motherboard size and form factor become important questions. The P4B533-E is a modified ATX standard motherboard that sizes in at 12 inches by 9.6 inches or for you metric minded 30.5CM by 24.5CM. This board should fit in any standard case that accepts the included modified rear I/O shield.
The rear I/O shield keeps the dust out of your system and is where all your major input/outputs are located. Most of the cases on the market currently offer the interchangeable back shield option so if you are getting a new case this should not become an issue and many older cases still offered this as well so chances are you should be okay either way.
The P4B533-E is based around the Intel i845-E (Brookdale-E) and ICH4 chipsets that support the new 533MHz FSB standard and the Intel P4 ZIF Socket 478 processor line in speeds from 1.4 - 2.4GHz and beyond as additional BIOS flashes allow. The board features an adjustable programmable 4MB flash ROM Award BIOS. This is very user oriented and features many overclocking options including an adjustable FSB and voltage increase options for the CPU, RAM and AGP that allow stable overclocking results.
Utilizing the latest memory, the motherboard has three DIMM slots supporting up to 2GB of ECC PC1600-PC2700 DDR SDRAM and can accommodate RAM in increments from 64MB - 1GB modules. DDR SDRAM technology evolved from the PC66, PC100, and PC133 memory known as Single Data Rate (SDR) SDRAM and performs one action per clock cycle. DDR memory on the other hand has the ability to perform two data operations in one clock cycle and offers twice the throughput as SDR SDRAM.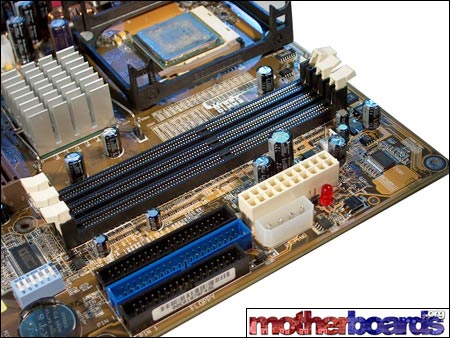 Whatever you may be using your system for having six PCI slots should be ample expansion room for your inline peripherals. Especially in light of the fact that almost everything you need comes pre-equipped on-board the P4B533-E. Your VGA options are limited to the newer 1.5V solutions so older cards will not work with this board. This should not pose a problem to the enthusiast's crowd who will be drawn to this board, as they will probably be using the latest and greatest components.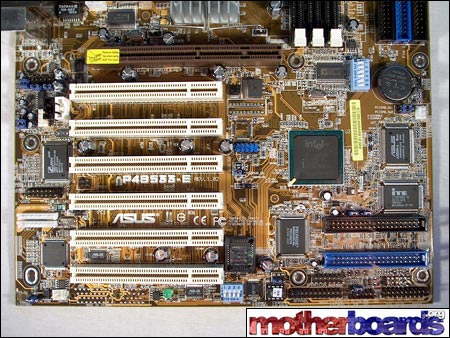 There are both ATA133 controllers for the standard ATA channels, which can accommodate up to four devices simultaneously, as well as additional ATA133 RAID channels via the Promise PDC20276. The Promise controller supports RAID modes 0 and 1. Mode 0 is striping mode allowing two drives to function as one larger faster drive and Mode 1 is mirroring which takes the second drive and makes an exact mirror image of the primary drive allowing for a constant system backup to be maintained.
IEEE 1394 or Firewire as it is better known as offers transfer rates up to 400Mbps and is optimum for connecting Sony Camcorders and other media devices that use this connection. The board also comes equipped with six USB 2.0 connectors that are backwards compatible to the older 1.1 standard devices for maximum flexibility. This is an even faster connection than the IEEE allowing transfer rates of up to 480Mbps and will eventually become the most used external connection for your peripherals as more devices are released.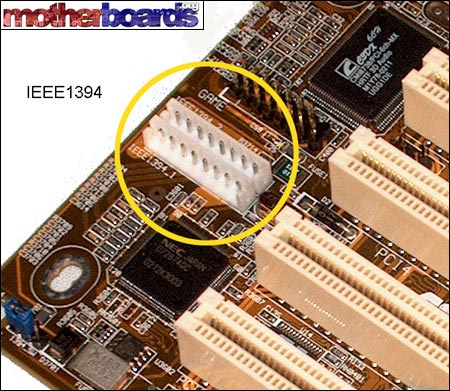 Audio is an important aspect of the modern PC especially since many people now watch DVD movies on their system as well as listen to music and MP3s. Taking this in mind ASUS has incorporated the C-Media CMI8738 6-channel audio chipset that works with the AC97 Codec and brings high quality sound to your desktop PC. In the Windows environment you are given choices for you audio setting such as 2.1 or 5.1 stereo surround for getting the best sound reproduction when watching DVD movies.

One unique thing about this board is the on-board speech IC chip and ASUS POST Reporter feature, which provides clear explanations of system errors for quick and easy system optimizations. The P4B533-E also includes the Winbond Voice Editor allowing users to add customized system voice warnings and multi-language support to their system. You can also change the BOOT screen using the MyLogo2 features and add style to your system with customizable boot logos with resolutions of up to 256 colors.
This wraps up what the motherboard is made of, and well, wow is all I can say. This thing is a loaded smoking gun with enough features to satisfy even the most skeptical of users. ASUS was a little late to market with the P4B533 series but this seems to have given them the time to improve and perfect their design. This is the flagship board of the ASUS line for the P4 DDR platform and we can see why. But features are not the end all of the motherboard and how well it performs means just as much as the pretty features that are window dressing. Follow along as we put the P4B533-E through the ringer here at the lab and see how it performs. I will give you a hint though. You will not be disappointed.
The following are the major chips used on the P4B533-E
| | |
| --- | --- |
| ASUS ASB100-A Bach | Promise PDC20276 |
| C-Media | ITE |
Retail Box Contents