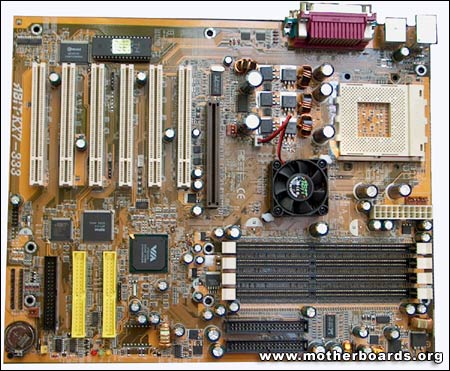 ABIT KX7-333R Features
Board Revision
1.00
BIOS Version
2.31.04/22/2002
Default Clock Speed (MHz)
1667
North Bridge
VIA KT333
South Bridge
VIA VT8233A
Number of PCI slots
6
Memory type
DDR200/266/333
Number of memory slots
4
Maximum Memory (GB)
3.5
Universal AGP support *
YES
AGP Pro Support
N/A
Number of Physical USB 1.1 ports **
4
Number of Physical USB 2.0 ports **
0
Active Cooling on Chipset
YES
Adjustable AGP Voltage
YES
Adjustable Memory voltage
YES
Southbridge UDMA 133 Support
YES
IDE or RAID Controller other than Southbridge
High Point 372
Auto speed-down/shutdown on fan failure
YES
Auto speed-down/shutdown on heat alarm
YES
On-board Sound
N/A
On-board LAN
N/A
* Voltage and Physical support for previous generation of AGP
** Not just pin headers onboard
From the ground up I was very impressed with the layout and features of this motherboard. You could tell it was rather well conceived and designed before hitting the market, in addition to being geared for the overlockers and enthusiasts that are looking for a fast board without an abundance of built-on hardware features.
You can see that the KX7-333R is a Socket A (ZIF 462) based motherboard which uses the AMD brand CPU's that have become the favorite flavor on the overclockers palate. The KX7 series of motherboards can utilize any of the Athlon/ Duron series of processors in both the 200/266 MHz variety.
This makes the motherboard a very flexible vehicle when it comes to your choice in selecting a CPU. There is ample room around the ZIF Socket to use numerous types of CPU cooling devices and the KX7-333R still uses the four-hole design around the socket that is used to fasten and clamp down some of the larger scale cooling units such as the Swiftech MCX 462.
For protection against slippery screwdrivers that may damage your motherboard when trying to attach some difficult to connect cooling devices, the KX7 series offers users a protective strip around the base of the ZIF socket that prevents serious damage to the board by accidental mishaps. Trust me friend this can be a painful and expensive lesson to learn the hard way.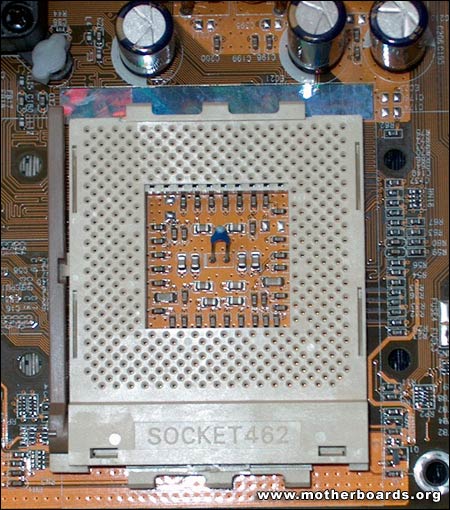 What you get for your memory support comes via the four 184-pin DIMM sockets that can utilize PC1600/PC2100/PC2700 DDR/SDRAM modules. You can use up to 3GB of unbuffered DDR/SDRAM modules or up to 3.5GB of registered DDR/SDRAM modules. This offers the user a wide array of memory types and configuration choices.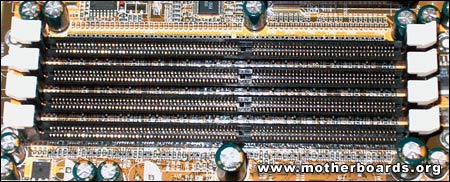 The KX7-333R uses the VIA KT333 Northbridge and VT8233A Southbridge chipsets to power this performer and the Northbridge comes equipped with a nice heatsink and fan combo that helps stabilize the overclocking environment. I have heard speculation that various motherboards companies want to eliminate this feature all together as they feel it is not a necessary component. Don't they know it is just a nice extra that looks cool too? Leave well enough alone is what I say.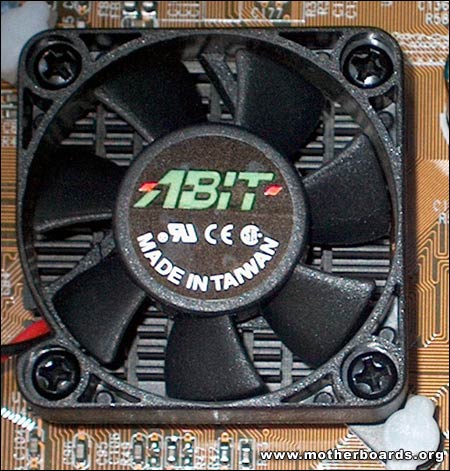 When it comes to your IDE devices you should have plenty of room for expandability because the KX7-333R comes with dual ATA Bus Master IDE controllers supporting up to four Ultra DMA 33/66/100/133 devices such as your CDROM, DVD, or ZIP drive. There is also on-board the High Point HPT 372 IDE RAID Controller, which offers the user an additional two Channels of Bus Master IDE controllers supporting up to four Ultra DMA 33/66//100/133 Hard disk arrays.
The High Point HPT 372 can be used to configure your hard drives in the following RAID Arrays 0/1/0+1. RAID 0 (striping mode for boosting performance) takes two identical drives and makes one big fast drive. RAID 1 (mirroring mode for data security) takes an additional drive and mirror copies your primary hard drive. RAID 0 + 1(striping and mirroring) is a combination of both and requires the use of additional drives beyond the two already used in the mode 0 part of the array.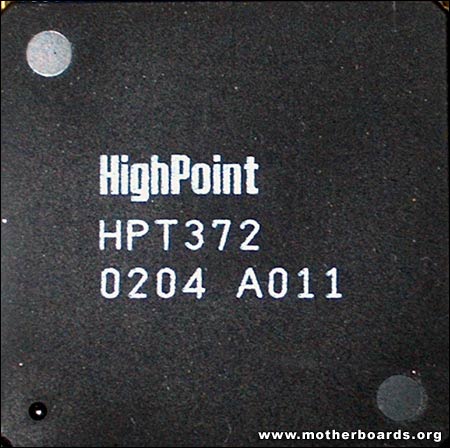 It doesn't matter whether you have an old school Voodoo 2000-5500 3DFX card or if you have a spanking new Nvidia GF4 the KX7-333R can use it as it comes with a backwards-compatible AGP slot that can use either the standard 2X(3.3V) or 4X(1.5V) modes that supports sideband addressing that can help enhance the performance. With six PCI slots you should never run out of inline slots for your peripheral goodies.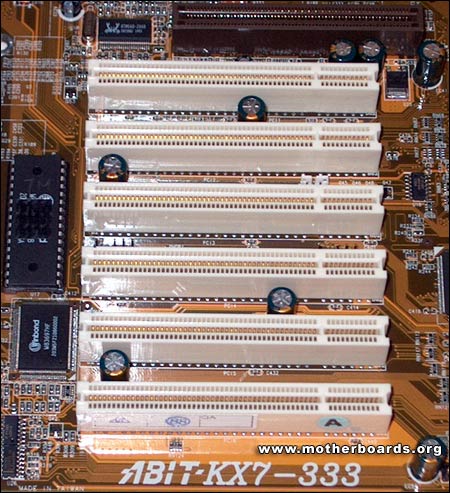 The lack of actual on-board sound connections is usually considered a plus in the enthusiast arena. I was not offended by its absence either as I always have my trusty backup in the form of an Audigy X-gamer at my disposal. For USB the board lags a little as there are no USB 2.0 ports and only four total available USB 1.1 ports. There are only two USB ports on the rear I/O and a header for an additional two that connect by an included cable.
There are hardware monitoring options available in the BIOS for such tasks as watching your system and CPU temperatures as well as making sure the CPU and system fans are functioning properly. One of the great things about this board is its ability to offer the user the option of having the system automatically shut itself down in case of excessive heat reading or CPU fan failure. That can be a life saver on an Athlon system as everyone knows they run hot enough to fry eggs on. This is the one thing Niso complained about in his review of the Gigabyte GA-7VRXP was its lack of this very feature because it t is very important in the safety and protection of your CPU. Well then that about wraps up the stand out things of this board let us move forward and see what else it has to offer us users.