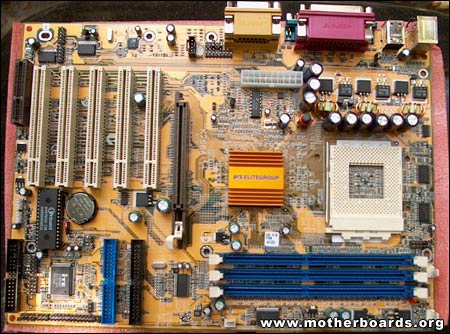 ECS K7S6A Features
Board Revision
1.0A
BIOS Version
V1.0d 03/11/2002
Default Clock Speed (MHz)
1674
North Bridge
SiS745
South Bridge
--
Number of PCI slots
5
Memory type
DDR200/266/333
Number of memory slots
3
Maximum Memory (GB)
1.5
Universal AGP support *
YES
AGP Pro Support
N/A
Number of Physical USB 1.1 ports **
2
Number of Physical USB 2.0 ports **
0
Active Cooling on Chipset
N/A
Adjustable AGP Voltage
N/A
Adjustable Memory voltage
N/A
Southbridge UDMA 133 Support
N/A
IDE or RAID Controller other than Southbridge
N/A
Auto speed-down/shutdown on fan failure
N/A
Auto speed-down/shutdown on heat alarm
YES
On-board Sound
AC97 Avance Logic ALC201A
On-board LAN
N/A
* Voltage and Physical support for previous generation of AGP
** Not just pin headers onboard
The K7S6A is a based around the new SiS745 chipset that has recently hit the market but has not quite caught on like the SiS645 chipset did for the Intel line. The K7S6A incorporates the SiS745 Northbridge and South-bridge chipsets which when combined supports the new high-bandwidth Double Data Rate (DDR) 333 SDRAM, and the AC 97 audio Codec.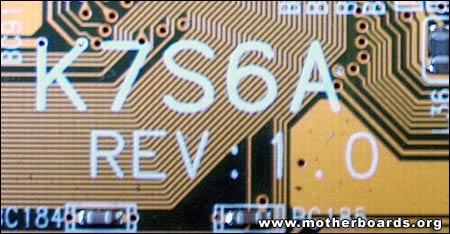 The K7S6A is built on a four-layer plain colored PCB that sizes in at 220mm x 304mm. Featuring five PCI slots, one extremely useless CNR slot, and a universal 4X AGP slot. You also get two ATA 33/66/100 controllers, a standard floppy controller, and two headers for additional USB ports via cable. There are also headers for the WOL (Wake on LAN) and WOR (Wake on Ring) features.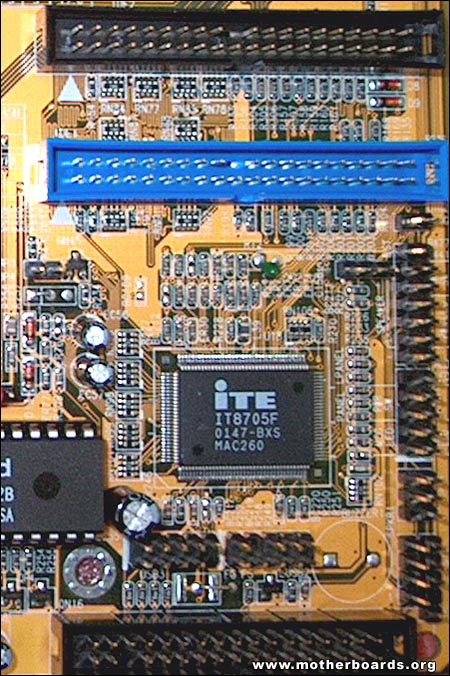 Supporting the entire line of AMD Athlon/Duron based processors and featuring an adjustable 100MHz or 133MHz FSB means finding a compatible CPU should not pose a problem for this board. There are three DIMM slots allowing the use of three 2.5V PC2100/2400 or two 2.5V PC2700 SDRAM modules. You can use up to 1.5GB of memory with the PC2100/2400 but only 1GB with the PC2700.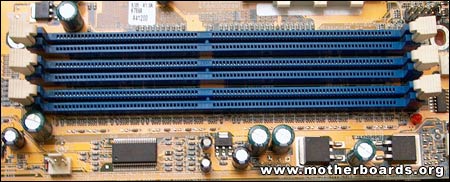 For your hardware monitoring the K7S6A comes equipped with a built in ITE8705F chip which lets you pay attention to such details as CPU and system temperatures along with CPU/system fan speed RPMs for making sure your CPU doesn't fry because the fan is not working properly or at all. Always use a high quality fan when using an Athlon processor as they are famous for running hot and keeping them cool is job one for a stable system.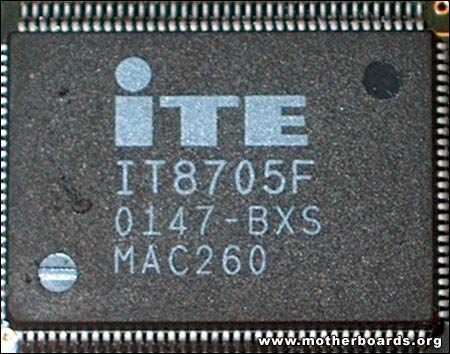 The ever-present AC97 2.1 audio Codec is happily embedded in the K7S6A and supports 18-bit ADC (Analog Digital Converter) and DAC (Digital Analog Converter) resolution as well as 18-bit stereo full-duplex support with independent and variable sampling rates. Further features include support for four analog line-level stereo inputs for the audiophile who may want to transfer or record from an external device. This is an adequate sound solution for the modest user as the industry standard is now using 24-bit audio converters.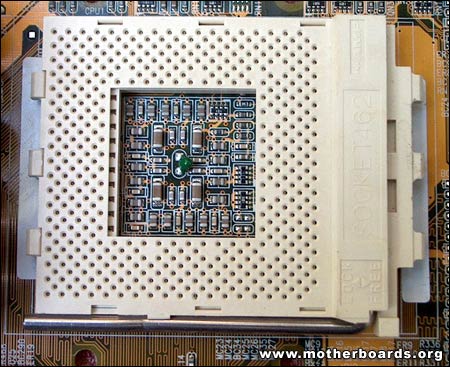 For features there is nothing that really stands out on this board. ECS has produced a motherboard that is almost barren of extra features and comes across as a motherboard geared for the OEM or E-machine type market where features are kept to a bare minimum. There is a protective strip around the ZIF socket that can help save your PCB in case of screwdriver mishaps when installing tricky cooling solutions. The enthusiasts may not jump on this type of product but there is a very large market for motherboards of this price and caliber. Let us move forward to the testing and stability section of the review.
I/O Ports
Two PS/2 ports for mouse and keyboard
Two serial ports
One parallel port
One MIDI/game port
Two USB ports
Audio jacks for microphone, line-in and lineout
Contents
1 x Motherboard
1 x diskette drive ribbon cable
1 x IDE drive ribbon cable
1 x auto-install software support CD