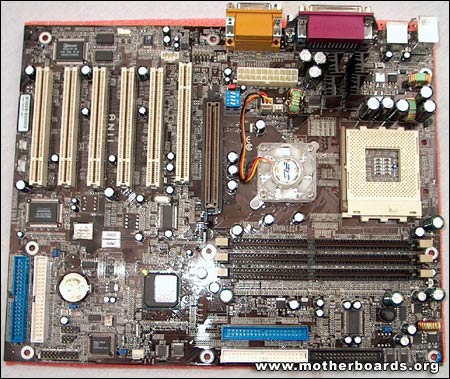 FIC AN11 Stealth Features
Board Revision
A1
BIOS Version
VHA42 1/7/02
Default Clock Speed (MHz)
1667
North Bridge
VIA VT8366A
South Bridge
VIA VT8233
Number of PCI slots
5
Memory type
PC1600/2100
Number of memory slots
3
Maximum Memory (GB)
3
Universal AGP support *
YES
AGP Pro Support
N/A
Number of Physical USB 1.1 ports **
4
Number of Physical USB 2.0 ports **
0
Active Cooling on Chipset
YES
Adjustable AGP Voltage
N/A
Adjustable Memory voltage
N/A
Southbridge UDMA 133 Support
N/A
IDE or RAID Controller other than Southbridge
Promise PDC20265R UDMA100 RAID
Auto speed-down/shutdown on fan failure
N/A
Auto speed-down/shutdown on heat alarm
YES
On-board Sound
AC97 VIA VT1611A
On-board LAN
N/A
* Voltage and Physical support for previous generation of AGP
** Not just pin headers onboard
FIC AN11 Stealth Scores
Features
21|40
Ergonomics
7|10
Stability and Compatibility
25|25
Package & Support
10|10
Performance
1|15
Total
64|100
The FIC AN11 Stealth is built on a four layer black PCB sizing in at 9.8" x 12" in the standard ATX form factor and is immediately eye catching because of its cool color. The board is laid out quite well with all the connectors in the appropriate places for easy hook-up of the system cables.
Based on the VIA KT266A chipset the AN11 supports up to 3GB of PC1600/2100 DDR SDRAM memory and the entire line of Socket based Athlon/Duron/XP CPUs from AMD. Finding an appropriate processor should not pose a problem. With prices of AMD CPU's falling this is a good time to buy AMD.
There is not adequate room around the ZIF Socket to allow for many of the larger heatsink fan combinations because of capacitors located in both corners. This also limits your overclocking ability as better fans mean better cooling performance, which leads to more stable overclocking results.
One nice thing about the board is the North Bridge active cooling which lends a hand in keeping the system running stable since it is basically the spinal cord of your computer and can use the extra cooling. There are two USB ports located on the rear I/O port and a pair of headers on the board allowing a total of four USB ports by using the included USB bracket.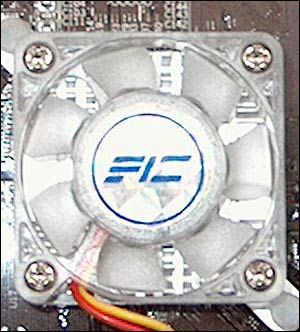 You can adjust the FSB for different CPUs and overclocking but the features included in the BIOS are not very overclocker inclined and leave a bit to be desired for the enthusiast in me. In the BIOS you can monitor your systems performance and make some feature enhanced changes depending on your hardware.
In the BIOS you get system feature options such as WOL (Wake On LAN) and modem ring on along with the BIOS Guardian an anti-virus program that protests your BIOS from viruses. The board has a keyboard or mouse wakeup feature that only works for the sleep mode state but not for a cold system boot.
The AN11 also comes equipped with the latest NOVUS features for better system control. These features include the Easy Key, which provides instant keyboard access to the BIOS for custom adjustments to the Clock and Default settings and LogoGenie, which allows you to create your own customized logo to be displayed during system boot up.
Having only five PCI slots is okay for some boards but this one should have had six instead of the completely useless CNR slot because no products are even available yet for it in the retail market. This is about the worst thing I can complain about on this board, as it is just so meaningless of a slot for the end user.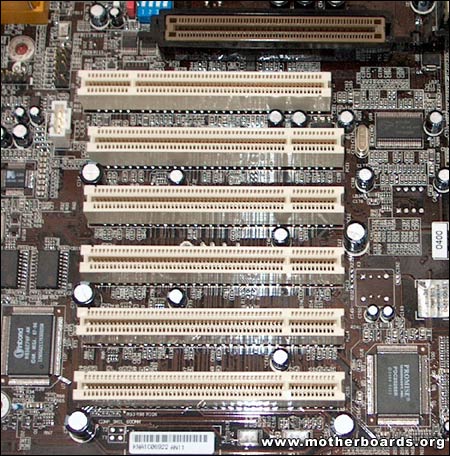 For your IDE devices the AN11 comes factory equipped with both standard and ATA100 RAID controllers for utilizing up to eight IDE devices simultaneously which can be very beneficial to people who have many IDE devices in their systems makeup. The Promise RAID controller can be used in modes 0-1-0+1 and requires the use of identical drives.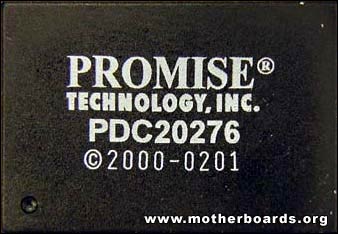 Sound is provided compliments of the ever-present AC97 audio Codec that runs in conjunction with the VIA 8233 South Bridge bringing moderate sound to your desktop but nothing more. A more robust sound solution would have been a nice added feature to this board.
A little more of this or that would have made the board a better contender in our features category as the AN11 has some adequate features but nothing to make you go wow cool such as ATA/RAID133 or USB 2.0 which would have been nice. Overall it will be good for an upgrade solution for someone having pre-existing parts as part of their system and those who want a semi-basic motherboard that is solid but not too taxing on the wallet.
CPU support
AMD Duron Socket A 600 ~ 1.2GHz @ 200MHz FSB
AMD Athlon Socket A 700MHz ~ 1.4GHz @ 200MHz FSB
AMD Athlon Socket A 1GHz ~ 1.4GHz @ 266MHz FSB
AMD Athlon XP Socket A 1500+ ~ 2000+ @ 266MHz FSB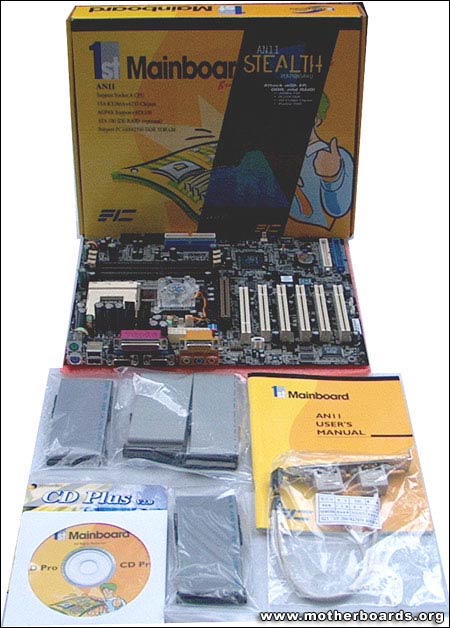 Package Contents
1 motherboard
1 manual
1 CD-PRO
1 CD-Plus
1 ATA100 Cable, 1 ATA33 IDE Cable and 1 FDD Cable