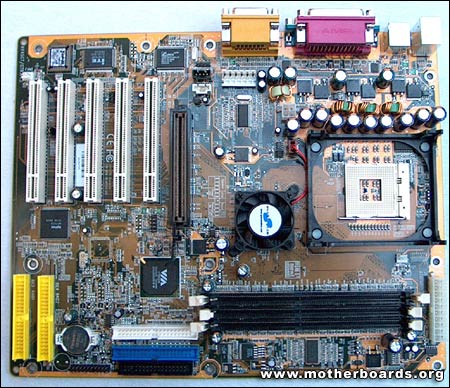 Shuttle AV45GTR Features
Board Revision
1.3
BIOS Version
AV45SI1R 01/15/2002
Default Clock Speed (MHz)
2025
North Bridge
P4X266A
South Bridge
VT8233
Number of PCI slots
5
Memory type
DDR1600/2100
Number of memory slots
3
Maximum Memory (GB)
3
Universal AGP support *
YES
AGP Pro Support
N/A
Number of Physical USB 1.1 ports **
4
Number of Physical USB 2.0 ports **
0
Active Cooling on Chipset
YES
Adjustable AGP Voltage
N/A
Adjustable Memory voltage
N/A
Southbridge UDMA 133 Support
YES
IDE or RAID Controller other than Southbridge
N/A
Auto speed-down/shutdown on fan failure
N/A
Auto speed-down/shutdown on heat alarm
YES
On-board Sound
C-Media 8738
On-board LAN
N/A
* Voltage and Physical support for previous generation of AGP
** Not just pin headers onboard
Shuttle AV45GTR Scores
Features
26|40
Ergonomics
7|10
Stability and Compatibility
20|25
Package & Support
4|10
Performance
11|15
Total
68|100
Okay people, what we have here is a P4 platform motherboard supporting Socket 478 Intel processors. The AV45 is based around the VIA NB P4X266A/SB VT8233 chipset. Yep, you guessed it, this is another one of those motherboards put under fire from Intel a few months back for patent infringement by VIA that caused quite a ruckus in the hen house for many companies.
There is really nothing bad about the motherboards layout and sizing in at 305mm X 204mm it should fit in most standard ATX cases. The AV45GTR utilizes a 2MB flash programmable AWARD BIOS V6.0 that supports green PC and Desktop Management Interface or DMI. The board offers the user on-board hardware monitoring options available in the BIOS for monitoring your systems hardware functions.
You can keep track of how your system is doing as the hardware monitoring includes fan and CPU speed along with system and CPU temperature monitoring. The AV45 also has an automatic shutdown feature that will turn off the system if the temperature threshold is exceeded. On a P4 system this is not that big of a deal as Intel CPU's tend to run fairly cool unlike their Athlon counterparts.

You can use up to 3GB of un-buffered PC1600/2100 DDR SDRAM via the AV45GTR's three onboard DIMM slots. That should be enough for almost any application. For your peripheral cards the board has five PCI slots and one (universal) 4X AGP port. The AV45GTR has dual on-board Ultra DMA 133/100/66/33 IDE controllers along with a High Point ATA133 RAID controller for support for up to eight IDE devices.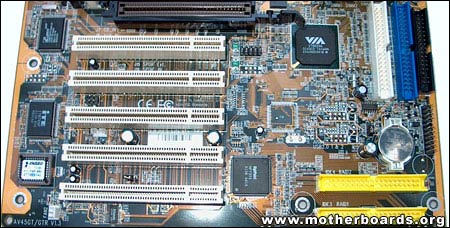 For your sound solution, there is an on-board audio controller in the form of the C-Media 8738 -PCI-6CH/LX chipset. The only drawback is the lack of true digital inputs or outputs which were not included in this package. For your USB devices the motherboard has two on the back I/O panel and two more connectors on the board for using up to four more USB 1.1 devices. A cable is included to connect two additional USB ports.
That really about wraps it up in the features department, as the best features are the ATA133 controllers and the on-board 6 Channel sound. From there everything is pretty much just the standard under the hood equipment. Features wise this board is just above the average and that's not too shabby it just could have used a little more. Well let's now move on to the set-up and testing phase of this review and see how well the AV45GTR did in our labs.