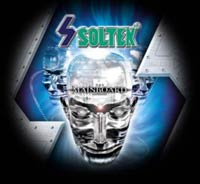 It takes time to build a name in the motherboard market. Every motherboard model manufactured has to be stable and this stability has to be consistent. Soltek continues to improve in this area. The last few Soltek motherboards we tested were pretty good and they have been climbing up in our ranking page.
They are on now on the stage with their new VIA KT333 motherboard. The older brother of this board had the best performance scores to date and the real clock frequency was not set higher than the other boards we tested. I would like to know their secret.
But you know what is really interesting? The technicians inside my office did not even ask about the performance of this board, all they said was "Wow a purple motherboard!" I find this strange, motherboards are not like cars. You install it into your case and unless you have those special glass-side covered cases, you do not see it. Maybe these technicians are really bored of the standard green PCB color. All top manufacturers use different color PCB boards these days. I expect to see silver gray or a Maya gold motherboards soon, but I am definitely not testing a pink motherboard!
Lets see how this purple dressed baby works.