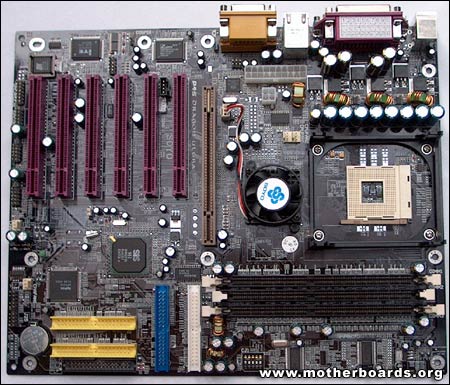 Soyo P4S Dragon-Ultra Features
Board Revision
1.0
BIOS Version
P4SX_2AA3 01/16/2002
Default Clock Speed (MHz)
2025
North Bridge
SIS645
South Bridge
SIS961
Number of PCI slots
6
Memory type
DDR266/300/333
Number of memory slots
3
Maximum Memory (GB)
3
Universal AGP support *
N/A
AGP Pro Support
YES
Number of Physical USB 1.1 ports **
2
Number of Physical USB 2.0 ports **
4
Active Cooling on Chipset
YES
Adjustable AGP Voltage
YES
Adjustable Memory voltage
YES
Southbridge UDMA 133 Support
YES
IDE or RAID Controller other than Southbridge
Promise PDC20276 UDMA133 RAID
Auto speed-down/shutdown on fan failure
N/A
Auto speed-down/shutdown on heat alarm
YES
On-board Sound
C-Media 5.1 Digital
On-board LAN
SIS900 10/100
* Voltage and Physical support for previous generation of AGP
** Not just pin headers onboard
Soyo P4S Dragon-Ultra Scores
Features
40|40
Ergonomics
7|10
Stability and Compatibility
25|25
Package & Support
10|10
Performance
8|15
Total
90|100
Okay what we have here folks is your almost standard 4-layer black coloured ATX form factor motherboard that sizes in at a modest 30.5cm x 23cm(12" x 9.05"). The P4S Dragon is based around the SIS645 chipset that interfaces with its version of the South Bridge. The aptly titled SIS961 MuTIOL or media controller controls the AC97, IDE, USB and most of the other I/O functions of the motherboard as well.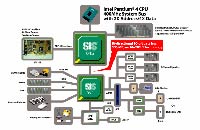 The P4S Dragon supports the Intel Socket 478 P4 line of processors and uses a 400MHz (100MHz quad piped FSB) that has a separate memory controller allowing the use of PC2700/DDR333 SDRAM to be run in conjunction with the 100MHz FSB of the CPU. The SIS645 chipset is mainly altered licensed Intel technology with a few modifications. SIS did not have the sticky legal issues with the Intel giant like rival chipset upstart VIA did with their DDR P4 platform, so the green flag is up from Intel in support of the SIS645, a fact that should pan out by way of better chipset support in the long run.
The layout is semi-standard in the respect that it needs a modified back panel I/O shield to be able to access the on-board LAN adapter, as most standard shields would have a plate blocking this feature. The on-board LAN adapter comes in the form of the SIS900 10/100 Ethernet chip. Beyond that everything is set up well on the P4S Dragon and you can quite clearly make out the lettering on the board for easy hookup of the case wiring to the board itself. Nice cooling on the northbridge chipset is a solid plus with the P4S Dragon as the addition of a fan only helps in the overall stability of the board.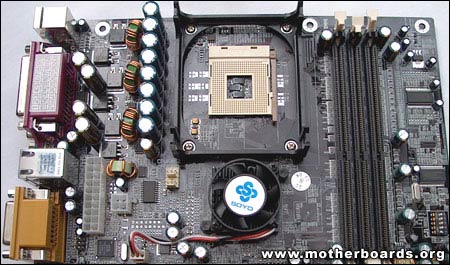 You get both standard ATA133 and RAID ATA133 on the SOYO Dragon, which equates to a system that is able to utilize up to eight IDE devices simultaneously. IDE channels 1-2 are your standard ATA133 controllers and channels 3-4 are for RAID devices only like your hard disk, as CDROM devices and the like will not be recognized on these channels and must be used on channels 1-2 instead. RAID arrays 0/1/0-1 are supported. You can configure your system in a RAID 0 (striping) RAID 1 (mirroring) and RAID 0+1 a combination requiring three identical IDE drives two for striping and one for mirroring.
There are six (purple) PCI slots for your inline cards and a 4X AGP Pro slot (1.5-1.8V) for your VGA card with none of those rather useless and space taking CNR or AMR slots that plague many boards. Only a slim few of the motherboards out that have these slots on them actually are functional, so its presence is not missed by any means here. The AGP card still blocks the memory slots and that's a slight drag, but one I am used to seeing on six PCI slot motherboards.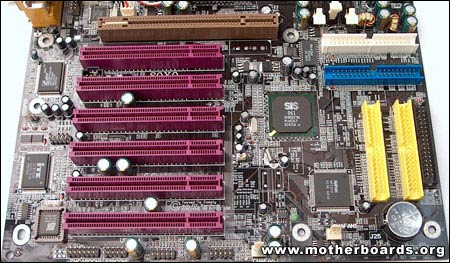 The on-board CMI 8738 audio chip provides a 6 channel audio solution and the Dragon also comes with an included SPDIF bracket with digital in/out with both RCA and optical connectors for true digital sound reproduction. Having quality sound as an on-board feature seems to be really taking off and it is good to see SOYO taking a step in this direction in their Dragon series of motherboards. This is a high quality sound solution that will work well in both games and audio reproduction and is also great for the DVD environment since it supports Dolby Digital 5.1 surround sound.

What is really cool is the included breakout box for your USB 2.0 devices. This is a very nifty little gadget, which handily fits inside a 5 1/4 bay in your case for easy front panel access. This is a really great ergonomic feature for attaching USB cameras and gaming devices. In all there are a total of six available USB ports, two being the 1.1 standard located on the back I/O panel, and then four 2.0 connectors in the fore mentioned breakout box.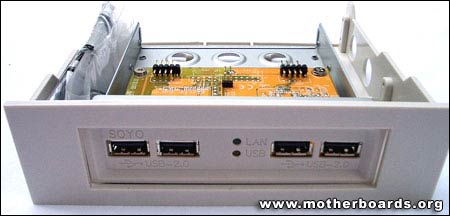 There are two sets of headers on the board for connecting two additional 1.1 USB ports via a cable connection if you need it. This board has the mother lode of on-board options and offers the user a variety of performance controls within the BIOS that I will discuss in the setup section of this review. Let us move on now to the setup and testing of the P4S Dragon Ultra.