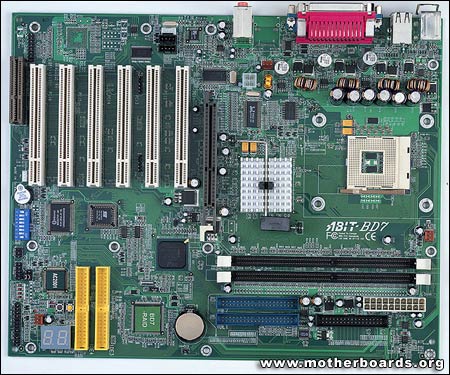 ABIT BD7-RAID
Board Revision
1A
BIOS Version
76H 12/03/2001
Default Clock Speed (MHz)
2010
North Bridge
82845
South Bridge
82801BA
Number of PCI slots
6
Memory type
DDR200/266
Number of memory slots
2
Maximum Memory (GB)
2
Universal AGP support *
N/A
AGP Pro Support
N/A
Number of Physical USB 1.1 ports **
3
Number of Physical USB 2.0 ports **
0
Active Cooling on Chipset
N/A
Adjustable AGP Voltage
N/A
Adjustable Memory voltage
YES
Southbridge UDMA 133 Support
N/A
IDE or RAID Controller other than Southbridge
High Point ATA133 RAID
Auto speed-down/shutdown on fan failure
N/A
Auto speed-down/shutdown on heat alarm
N/A
Onboard Sound
AC2100
Onboard LAN
N/A
* Voltage and Physical support for previous generation of AGP
** Not just pin headers onboard
ABIT BD7-RAID
Features
26|40
Ergonomics
7|10
Stability and Compatibility
25|25
Package & Support
8|10
Performance
15|15
Total
81|100
There are many boards currently that work with the new Socket 478 i845D chipset configuration as you can see in our latest shootout. The Intel i845D chipset has proved to be a serious contender for the P4 platform. Like in every arena some things just always stand out even when compared to their peers. The Abit BD7-RAID is one of those boards due to its all around features.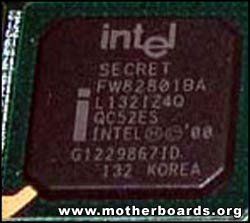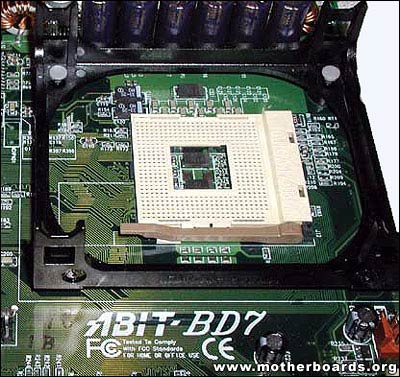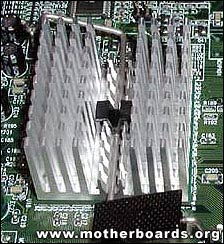 The BD7-RAID is slightly modified standard ATX motherboard that should fit into almost any mid tower or larger case. The reason I say modified is that the back I/O configuration is different than normal due to its three onboard USB 1.1 connections. These connections would not be accessible if using a cases standard back I/O plate, as the ports would be blocked. Other than that the board is pretty straightforward and offers the user a variety of feature options that I will talk about.
For the overclocker Abit has become a household name due to their SoftMenu technology a feature that has always kept them just a step ahead of the other guy. There are other BIOS configurations that support overclocking, but theirs is the easiest and by far most user-friendly, a fact I believe most hardcore enthusiasts would agree with. With the BD7-RAID we see Abit following tradition as the board takes advantage of its usual jumper-less configuration using the SoftMenu III which is their latest BIOS offering.
For expansion the BD7-RAID offers the user many options. For starters the board has six available PCI slots, a 4X AGP connector and a CNR riser to expand your inline peripherals. For your memory the board is slightly limited as it only has two slots supporting a maximum of 2GB of PC1600-2400 DDR SDRAM, which falls slightly behind many of the DDR motherboards that support up to 3GB of RAM. I know this is a small point since who is going to ever use that much RAM anyways but it must be mentioned for accuracy.
Having both dual ATA100 controllers and an onboard High Point ATA133 RAID controller offers the user the ability to hook up to eight IDE drives simultaneously in your configuration. With the onboard RAID controller you can set up your system in three different types of RAID array. The High Point RAID controller can be used in mode 0 (Striping) mode 1 (Mirroring) and mode 0+1 (Striping/Mirroring). These are the most common traits in onboard ATARAID controllers and almost all of the ATARAID controllers used today follow this example.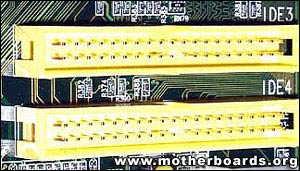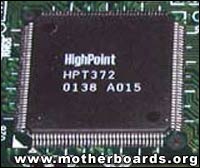 For your audio needs the BD7-RAID incorporates the AC2001 audio chip, which is a newer version of the all-familiar AC97 Codec, which is the most commonly used on-board sound solution on the market today. This is an adequate solution for the general user but gamers and audiophiles will want to use an inline solution such as the Creative Labs Audigy or other quality brand for their sound source. One of the drawbacks to using on-board sound is the amount of CPU power it takes to run it, a problem not incurred with a good inline soundcard.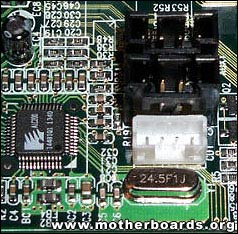 One of the really unique things about Abit boards in general is their on-board power and reset switches that allows the user to turn on/off or reset the motherboard without having all the case wiring connected. You just need power to the board and the switches will work, which can come in very handy when working with the board in a testing environment such as when you are experimenting with different overclocking techniques or your cables just are not long enough to reach the board. The Abit BD7 series also offers a unique 4-Phase power solution needed for the Northwood CPU to run properly.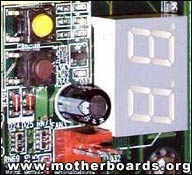 There are hardware-monitoring options available with in the Award BIOS, such things as CPU, RAM and system temperatures as well as CPU and system fan speeds are available. You can also set the system to alert you in case of fan failure or system overheating. This is probably rarely used but could save your system from a complete burnout. Let us now take a look at setting up the BD7-RAID in the testing environment.