Mini systems are taking the PC world by surprise and becoming a very popular item with the masses who want space saving efficient computers that do not take up to much real estate on their desk's. This unit though barely qualifies as SFF as it is the largest of this type of system I have seen yet, don't get me wrong, being a bit bigger does have benefits when it comes time to maneuvering parts around within the enclosure but it is still a bit big in the SFF arena. The Hornet features two temperature gauges located on the front of the unit along with a carrying handle for easy traveling, this is an appeal that will likely get noticed by those LAN goers who need simple portability ergonomics.
The rear I/O has many connections including four USB 2.0 inputs, LAN, 5.1 Audio, PS-2-KB/M ports, a parallel port, a com port and finally the on-board video port (As seen when configured with the Asus board). The system has a removable tray for installing or changing out your motherboard and you can access the inside of the enclosure from the side to change out your memory or video card, but to access the CPU adequately you must first slide out the tray to insure no damage is done to the cooling solution or the CPU itself. Most systems just offer a removable case cover but still lack the fundamental room required for ergonomic access to work on the system and this is what really sets the Hornet apart from the pack. Monarch did pretty thumbs up design work on this enclosure and with its ability to use even the biggest VGA cards is an added bonus.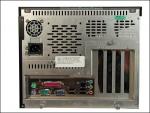 Hornet XP Specifications
Tool-less construction
Enough room for a FULL SIZE AGP 8x Video Card
3 PCI Slots, Version 2.2 Compatible
2 Temperature Monitors
Detachable Handle for easy mobility
2 internal 3.5", 1 external 3.5", 1 external 5.25" bays
4 USB (2.0/1.1) and Audio In/Out (Speakers/Headset, Microphone) on front
Includes Whisper Quiet front fan and side fan with optional rear fan
Configurable upto 400 FSB AMD Athlon
Perfect for LAN parties & Clusters
Dimensions WxHxD: 11" x 9" (9.5" w/feet) x 13"
Dry weight: 8 lbs.