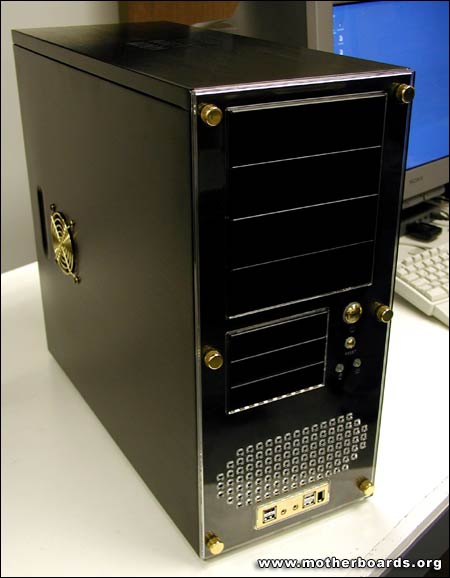 Installation and Features
Tower Size
Mid Tower
Dimensions
500 mm x 210 mm x 460 mm
Drive Bays
4 x 5.25"
3x 3.5"
5 x 3.5" (Internal)

Slots
7
Filter
1
Front Panel Features
USB x 4
Firewire x 1
Mic x 1
S/P x 1
Power
Reset
LED
Power Supply
No
Material
Aluminum-Mg Alloy
Case Fans
6 Ball Bearing Case Fans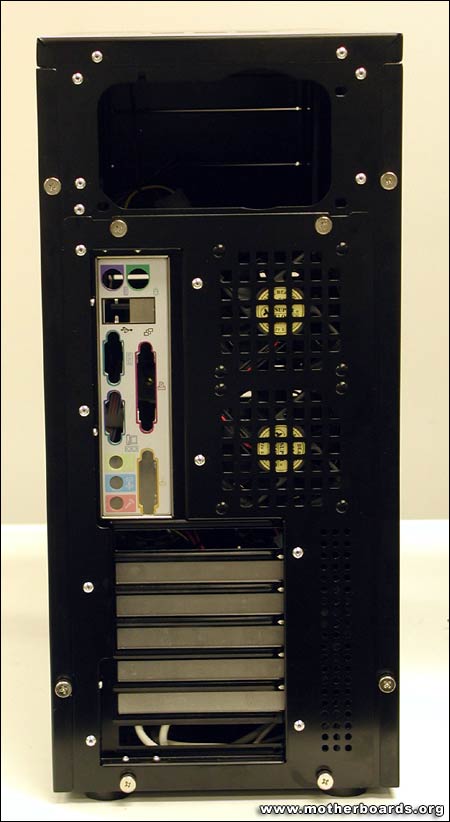 When I saw this case, the first thing I thought was, it is heavy. When I tried to lift it I was surprised at how easy it was! The Aluminum-Mg Alloy material is really amazingly light. It was even lighter than other aluminum cases I have seen. A Machined metal looking black surface and fiberglass covered front panel with brass looking screws and shiny details make this case look like an elegant sedan car. It will look good near your sound system, in your living room, or studio.
Many good looking cases have disappointed us, when we removed the cover. The inside material, design, ease of use, and a lot of space is important. Every piece has been thought out cleverly in this case.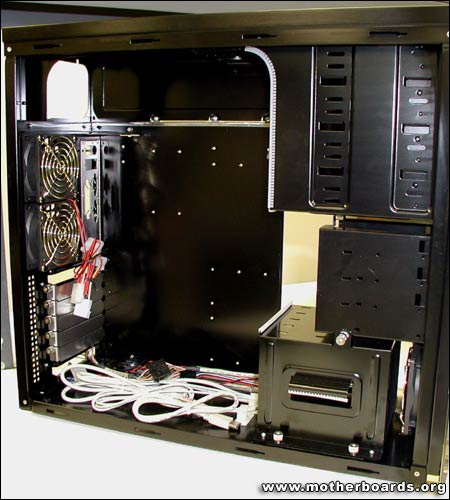 First of all, it is very easy to remove and close side covers. Most of the removable parts in the case are attached by thumb screws which you can remove manually, without a screwdriver. For add on PCI cards it is better to use one though.
The second thing I look for is how easy it is to install the motherboard. When installing a complete system, I like to test it on a bench not inside the case. Most of the quality cases give you the opportunity for this by providing a removable motherboard mounting plate. Sometimes it is not easy to remove or slide the tray in, but this case has a good rail system to ensure smooth operation. It is really easy to install the motherboard that way. The I/O Shield panel comes installed already. You may test the system and then slide it in easily with all add-on cards installed. They included a lot of accessories and spare screws for installation and maintenance.
They even included spare face plates. For most of the cases one 5 ¼ and one 3 ½ external drive bay face plates come removed, and are not included. Especially for a special black case like this one, if you don't want to install a floppy, you need a face plate. They haven't forgotten spare thumb screws, which are not easy to find in the package.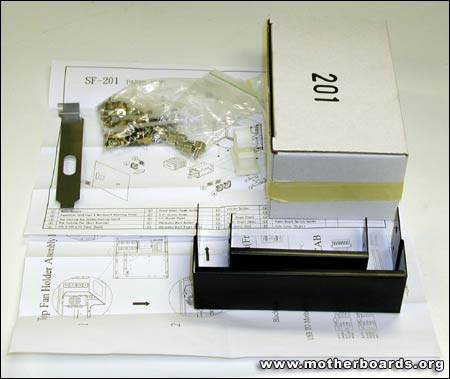 After installing motherboard, what you need is a lot of space for your drives. You will see that there is enough space for a horse race inside. There were 4 x 5 ¼ External drive bays, 3 x 3 ½ External Drive Bays and 5 x 3 ½ Internal Drive bays. Only the 5 x 3 ½ driver frame is removable. You install the hard drives vertically to that frame.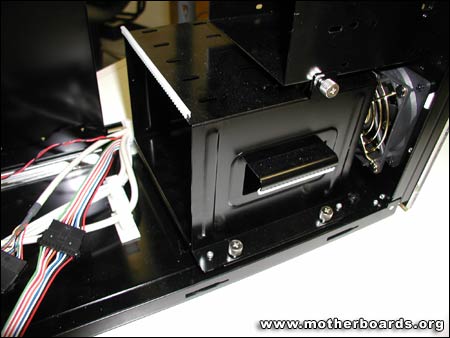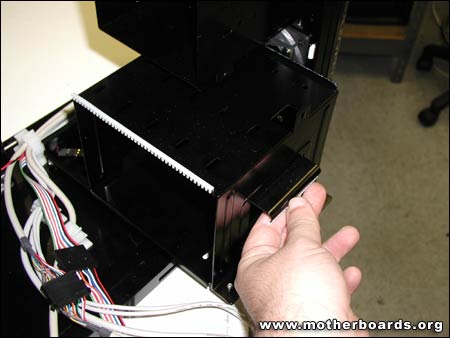 When you remove the frame you'll see the rail design and speaker underneath. They cleverly hide two front panel fans and front panel connections behind that frame. Two in the back, two in the front one under the top and one installed to the side cover. There are a total of six case fans. Even for a hardcore dual system it is overkill. It doesn't hurt anything of course. You can remove them or not plug them to the PS. I installed all of them and started the system. You should have heard the sound. Unless you uninstall three of the fans, don't install this system near your bedroom. The fans are quality ball bearing fans and not too noisy but six of them may scare your muse if you are an editor or writer. It definitely scared mine.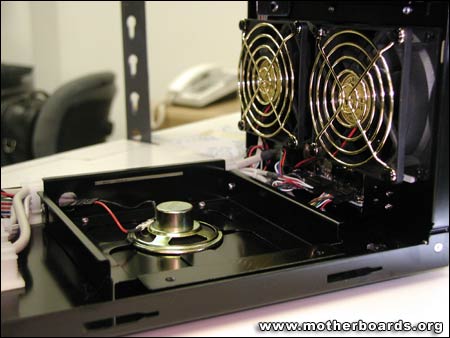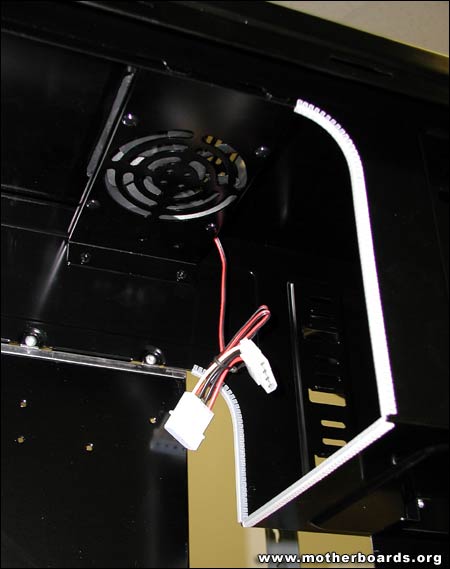 System integrators and technicians know that cases cut your hands. We bless each system with our blood. The lower the quality of the case, the more likely you are to get cut. This case covers the inside metal edges with smooth plastic liners, and even without those plastic protectors, the corners were rounded. But those white corner liners give extra comfort.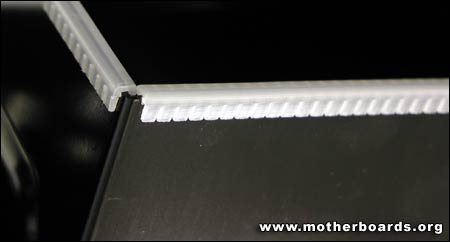 The importance of having front USB connectors increases everyday, even my monitor has a 4-port USB hub installed in the base. Some of the motherboards support 8 USB Ports. For Smartmedia devices or digital camera, front USB access is really helpful. You would like an enthusiast case like that for video editing. What do you need? Front panel Firewire access for your handy cam. You have a powerful sound system, but you like some privacy for listening to music. You need a front panel sound access for your headphones. I use microphone for voice chat sometimes and I prefer a front microphone connection. The front panel of this case has them all.
The cabling for those connections although a clean installation could have been better designed. We have seen better solutions on other cases. It is not easy to explain, so I would like to show it to you side by side. Our case is the black one and the case with the other solution is metal one.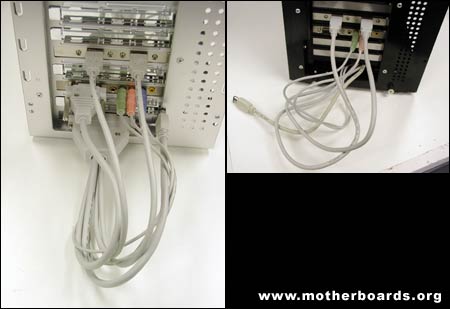 For this case the front connections goes to the back connections through inside of the case by separate cables. It goes through the back panel by removing a back face plate. Or you have to fit each connector from a serial port like space on a given bracket in the package, and even that is not a clean solution. The best solution has one combined cable from front panel through inside of the case to a bracket. There is a combined adapter for this bracket to back connections.
The last things I like to install are the front panel LEDs and the control panel connectors. I always use something to bind them together. For this case they are bonded so you don't need to do that. There were 4 USB ports on the front panel. Two of them are for connection to the back panel USB ports. Two of them are for direct connections for motherboard. One other good thing about those cables is you can detach them if you don't want to use them from detachable connector.