System
Motherboard: Abit TH7-RAID
CPUs: Intel Pentium 4 1.7GHz Overclocked to 2.1GHz
Chipset: Intel i850
Cooling: Koolance / PC2-C Water
Memory: 256MB PC 800 RAMBUS RDRAM (Corsair)
Video: MSI GeForce 3 Ti500
Controller: High Point ATA100/RAID controller
CD: Sony 52X IDE ATA33/ TDK 24X CDRW
Hard Drive: IBM Deskstar IC35040AVER07
Sound: Hercules Game Theatre
Network: Intel Ether Express 10/100
Case: PC2-C from Koolance
Monitor: SYS 17" Flat Digital LCD
Operating System: Windows XP Professional w/ DirectX 8.1
For Video: 3Dmark 2001
For Performance: Sysmark 2001
This was a pretty time consuming task that took about four hours to get just right since we were extremely careful about the entire procedure. The picture below is what the product looks like prior to setting it up. As you can see the system comes with all the hardware and thermal goodies to get up and going along with some extra tubing just in case you might need it.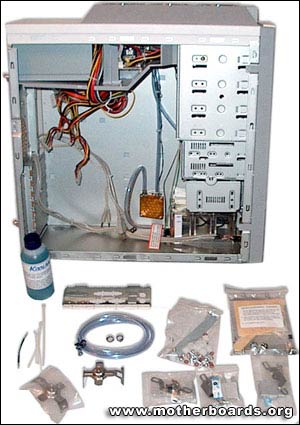 Max Gyver AKA Tom Fulco my trusty sidekick and technician got really into this project, as it was the first professional water based system we had worked on here at the Motherboard Homeworld. Preparation plays a key part in the setup of the PC2-C and can be a little tricky for the faint hearted due to the parts modifications that need to be done in the setup process.
The first thing we did after unpacking and sorting everything out was to begin the process of making the liner that separates your hard drive from its water cooled aluminum counterpart. We did this by mixing up the compound by hand(FIGURE 1) and then applying it like paste across the hard drive(FIGURE 2) making sure to cover the entire bottom of the drive for maximum efficiency(FIGURE 3). We then sealed the hard drive with a copper plate(FIGURE 4) used for better heat dispersion.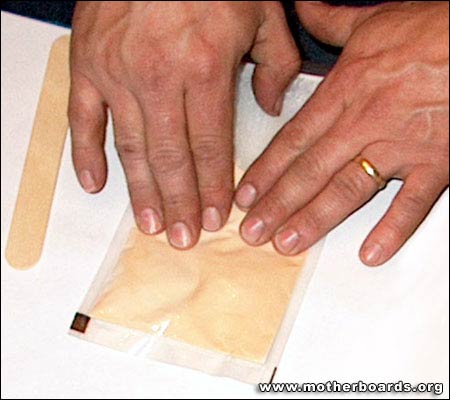 FIGURE 1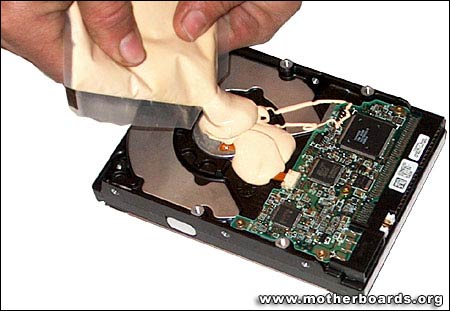 FIGURE 2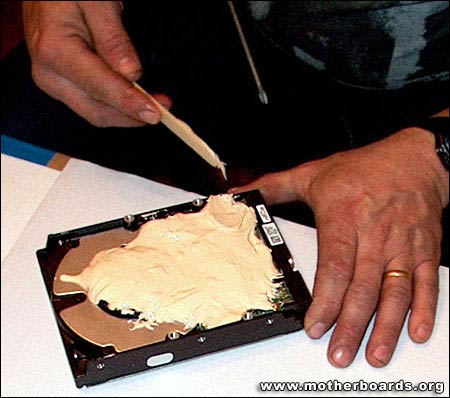 FIGURE 3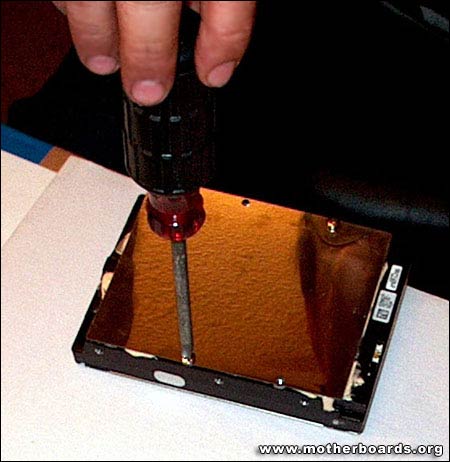 FIGURE 4
After that is done the hard drive mounts into the aluminum water-cooled block, which comes pre-installed in the removable 51/4-drive rack. That was pretty easy to do and doesn't offer up to much of a challenge to the user. This will help keep the faster 7200RPM drives from over heating during operation and therefore help keep your information safe and sound. A cool drive is a happy drive.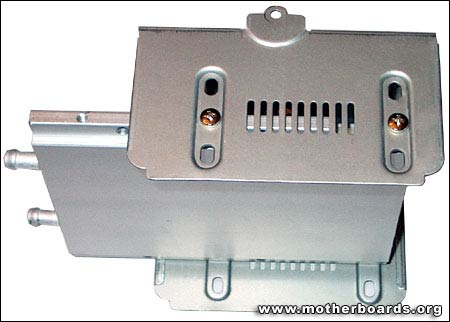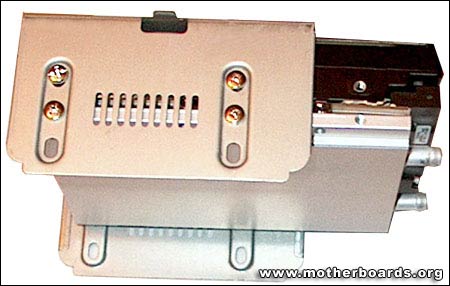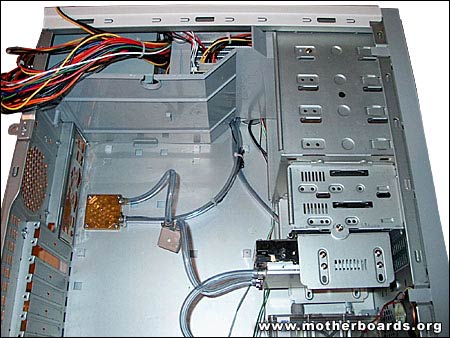 If you want to go balls to the wall you will have to do a little modification to whatever video card you choose to use in your system configuration. Depending on your video card you may have some serious choices to make about whether or not you want to take advantage of this feature. If you are using a Ge-Force type card you can temporarily mount a cooling block onto the GPU after removing the factory cooling solution.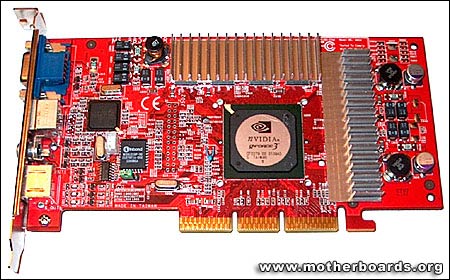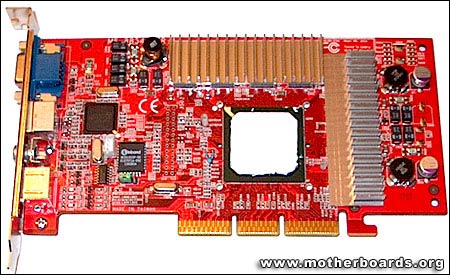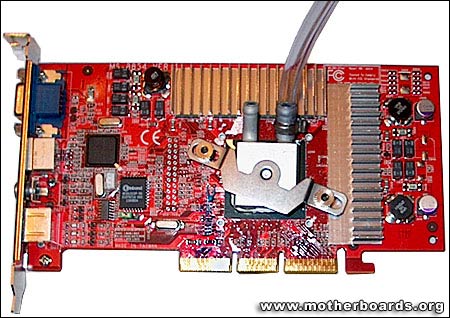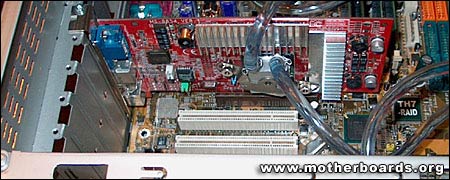 I used the Ge-Force card because its design allowed me to use a temporary changeable solution. This is unlike the ATI RADEON cards that have no fan mounting holes and come with a glued on fan that is not only tough to get off but the aluminum cooling block has to be re-glued onto the GPU in a more permanent fashion which diverted us from using it. I was not feeling risky that day so we just used the Nvidia based card instead.
After we installed the board into the case we next hooked up the CPU block itself, which has a copper base for better cooling and proved to be a not too daunting task to achieve. We first applied some Artic Silver III for better heat conductivity and an air free seal between the CPU and the cooling block. This was a little tough to do since the board was in an enclosed area but it was still attainable without too much hassle.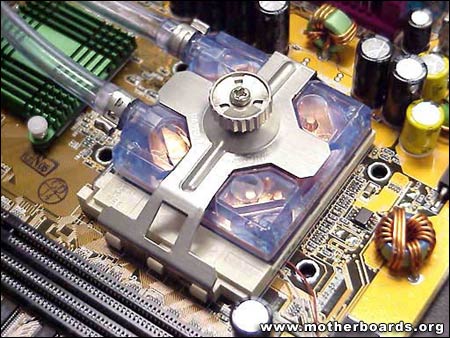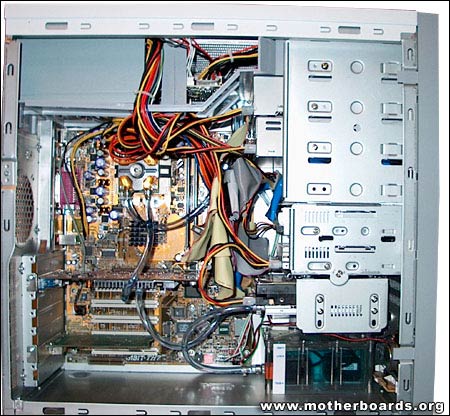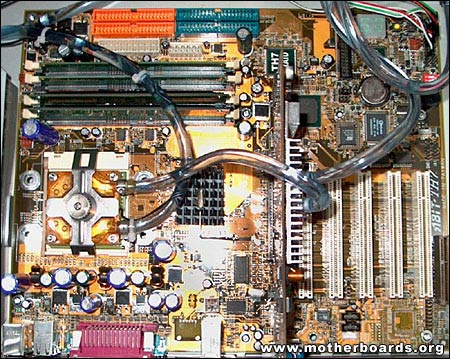 The last thing we had to do was fill up the reservoir with the included chemical and water mix and then we were off and going with this project. I was able to achieve very satisfying results with the PC2-C. My system temperature never rose above sixty-nine degrees Fahrenheit and I was able to overclock my 1.7GHz P4 up to a 2.1GHz P4, which is a pretty decent speed increase. Wow, what great results and the video card could also be overclocked to twice the factory specs without any problems occurring during the testing. As you can see the finished product looks and works just great and was not too tough to get done.