Table of Contents:
Contents
M880G-ITX User's Manual
M880G-ITX Installation CD
M880G-ITX Quick Installation Guide
M880G-ITX Warranty
2 x SATA 6.0 Gb/s cable
DVI to VGA Adapter
2 x Wifi Antenna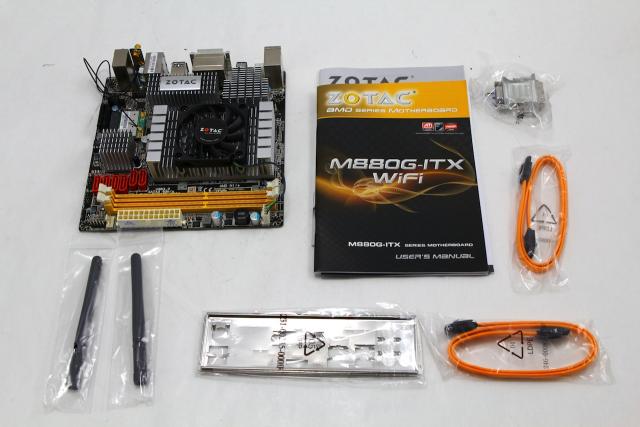 As you can see from the pictures the motherboard is pretty small and sleek. The color scheme isn't that great in my opinion since the SATA ports are red and the memory slots are yellow. And the overall motherboard is black but I doubt many people that buy this product will be looking it after they install it. Most of them will probably never see it again after they install it since they will be using it for their home offices or small businesses. However, a great addition about this product already is that it comes with its own processor and heatsink/cpu fan mounted as well. It helps in terms of overall cost when consumers factor in prices for the other computer components.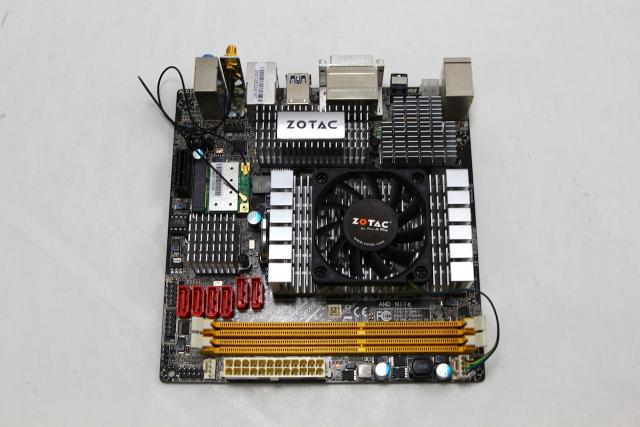 We can see that they have added many SATA ports; up to 6 SATA Gb/s connections are allowed which will be great since many people now are buying SSDs. And there is also two slots of dual channel DDR3-800 memory on the side. It's not much but with this kind of motherboard all it would need is like 4 GB and it should be good to go with Windows 7. And with ITX motherboards you can see there is a 20 pin motherboard connector and a 4 pin power connector. Since these motherboards are much smaller than the ones we are used to buying they don't need an 8 pin power connector.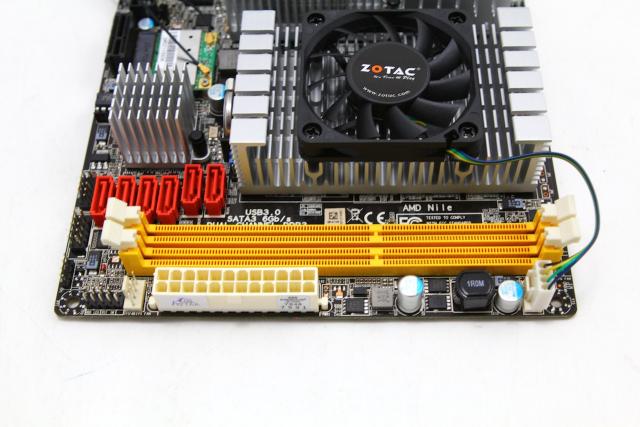 Specifications
AMD M880G (RS880m) chipset
AMD Turion II Neo K625 Processor (1.5 GHz, dual-core)
Hyper Transport 3.0 technology
ATI Radeon HD 4200 series
ATI Avivo HD technology
Microsoft DirectX 10.1 compatible
Dual Channel DDR3-800
2 DIMM slots up to 8GB of memory
1 HDMI & DVI-I outputs
6 SATA 6.0 Gb/s w/Raid 0,1, 0+1
2 USB 3.0 ports
4 USB 2.0 ports
6 Channel High-Definition Audio
802.11n Wifi
Gigabit LAN
Mini-ITX form factor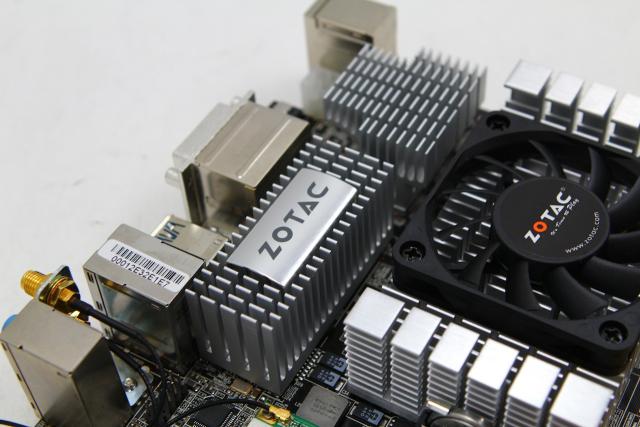 There are many heatsinks and I can tell that this motherboard will stay pretty cool even in a compact case since the heatsinks will dissipate the hot air off the mainboard and let the fans push it out of the system. On the side of the motherboard we can see the rear I/O which is pretty filled considering this is an ITX motherboard. There are 2 USB 3.0 ports, 4 USB 2.0 ports, 1 PS/2 port, DVI port, HDMI, 2 USB 3.0 ports, 6 Channel High-Definition Audio, Ethernet port, and two gold plated ports for your wireless antennas. There are two antennas included with this motherboard as well as an Ethernet port which is great for people that are close enough to the main router or just like a wired connection.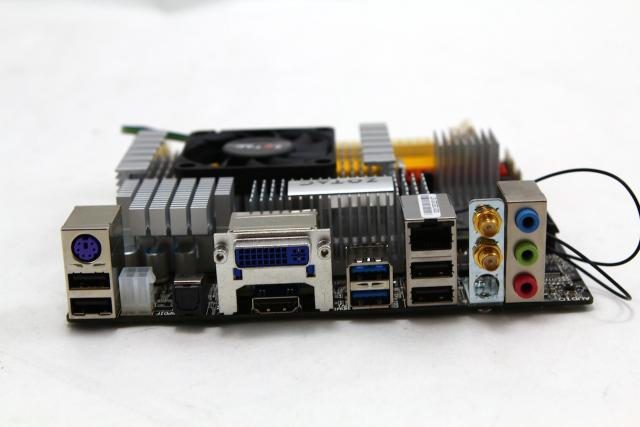 As noted before this motherboard comes with an AMD Turion II Neo K625 Processor that is 1.5 GHz stock and a dual-core. Definitely won't help you play Battlefield 3 or other graphic intensive games but will get the job done for your office needs. The speed of the processor isn't half bad either when you include the factor that they have provided it with you already. There are other ITX motherboards that are the same specs but don't give a processor with it so you have to go out of your way to buy one before building the system. Zotac made it really easy for consumers, when they buy this product they have one less thing on their mind.
These are also great for beginning computer enthusiasts that want to build their own computer since you won't need a lot of money to build a system around ITX motherboards. They are compact, affordable, and go great with your leftover computer components and a small case.
Pages